(View From The Couch is a weekly column that reviews what's new on Blu-ray and DVD. Ratings are on a four-star scale.)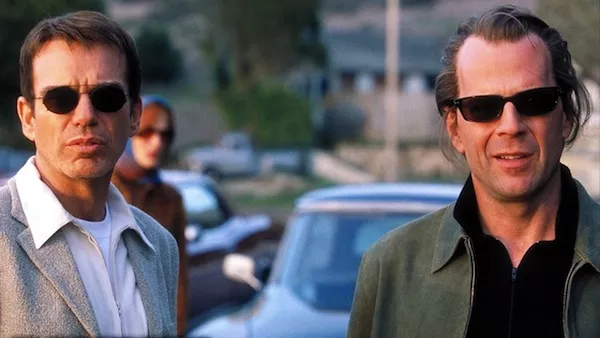 Billy Bob Thornton and Bruce Willis in Bandits (Photo: Olive & MGM)
BANDITS (2001). This criminally overlong misfire from director Barry Levinson (who, let's face it, hasn't made a truly good film since the 20th century) tries hard to be a quirky comedy — God, does it try — but the funniest moment turns out to be a purely unintentional one. Kate Wheeler (Cate Blanchett), a bored housewife who has hooked up with a pair of bank robbers known as "The Sleepover Bandits," is stunned when she hears one of the crooks (Bruce Willis) mouth the words of the chorus from Bonnie Tyler's "Total Eclipse of the Heart." "You know that song!" she bleats, as if that omniscient smash single were some obscure Gregorian chant and they were the only two people in the world familiar with it. Grab your chuckles where you can, because Bandits is such a complete mess that even the prospect of seeing Willis and Billy Bob Thornton mix it up fails to stir anything besides contempt. Like a squeaky axle that won't quiet down over the course of a 500-mile road trip, this grates on the nerves almost from the start, when we realize that Thornton's hypochondriac character is going to spend the entire 125-minute running time whining about his various ailments. Blanchett doesn't fare much better as the bargain basement screwball heroine in love with both men, and, for that matter, neither does Jane Fonda's son Troy Garity as the gang's thick-witted driver. Even though he's cast opposite Thornton, Blanchett and a Fonda heir, it's Willis who comes out on top: Playing it closer to the vest, he at least provides a respite from all the mannered acting smothering the rest of the picture.
The only Blu-ray extra is the theatrical trailer.
Movie: *1/2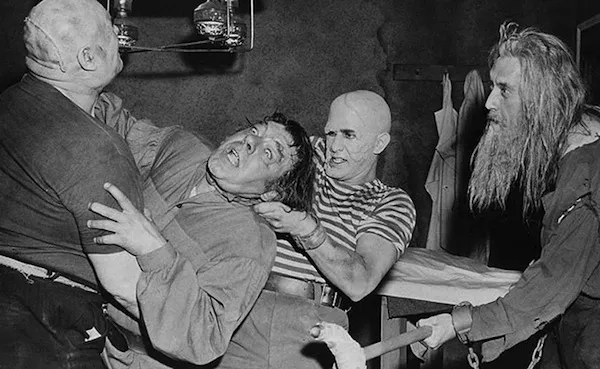 Tor Johnson, Lon Chaney Jr., George Sawaya and John Carradine in The Black Sleep (Photo: Kino & MGM)
THE BLACK SLEEP (1956) / DONOVAN'S BRAIN (1953). Kino Lorber has been doing a nice job of releasing vintage horror flicks on Blu-ray, and these '50s chillers are the label's latest offerings.
A fantastic cast of horror all-stars is the chief selling point of The Black Sleep, although the film itself doesn't come close to living up to its marquee power. Basil Rathbone stars as Dr. Cadman, who's conducting gruesome brain experiments on unwilling subjects provided by a purring gypsy (Akim Tamiroff, offering the comic relief in a role originally intended for Peter Lorre). Cadman's servants are among the botched results, and although Lon Chaney Jr. and Bela Lugosi essay these roles, their participation produces feelings of depression rather than elation: Both men were addicts at this point in their lives — Chaney with alcohol, Lugosi with drugs — and they're handed thankless roles bereft of even one line of dialogue between them (Lugosi would pass away later in the year, but Chaney struggled until 1973). More enjoyable are fellow genre mainstays John Carradine and Tor Johnson, who appear all too briefly in the frenzied finale. The Black Sleep isn't nearly as bad as its reputation, but a higher budget and a more accomplished director than Reginald LeBorg might have yielded a more respectable horror yarn.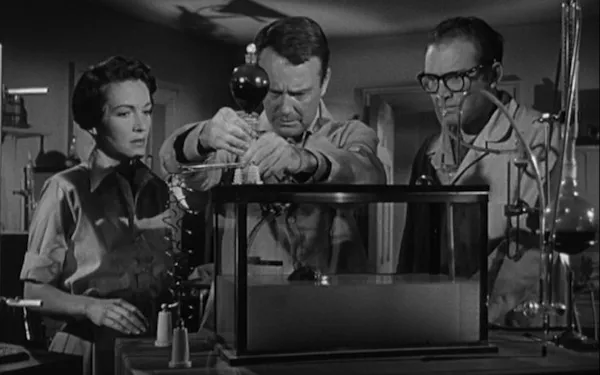 Nancy Davis (Reagan), Lew Ayres and Gene Evans in Donovan's Brain (Photo: Kino & MGM)
Conversely, Donovan's Brain has managed to maintain its reputation over the years as an entertaining film pulled off with a certain measure of smarts. Based on the novel by Curt Siodmak (best known as the screenwriter of such horror classics as The Wolf Man and I Walked with a Zombie), this finds Lew Ayres delivering a committed performance as a doctor who, as part of his current experimentations, manages to save the brain (and nothing else) of a recently killed millionaire, only to find the lab-stored brain eventually controlling his own mind. A potentially risible idea is handled in satisfactory fashion; for an example of how to tackle this sort of material poorly, check out the MST3K fave The Brain That Wouldn't Die. Incidentally, the woman playing Ayres' wife is Nancy Davis, better known as future First Lady Nancy Reagan.
Blu-ray extras on both releases (sold separately) include audio commentary (by film historians Tom Weaver and David Schecter on The Black Sleep and film historian Richard Harland Smith on Donovan's Brain); the "Trailers from Hell" segment with Joe Dante; and the original theatrical trailer.
Both Movies: **1/2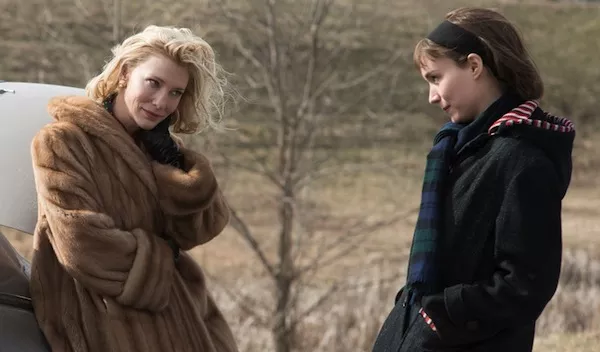 Cate Blanchett and Rooney Mara in Carol (Photo: Anchor Bay & Weinstein Co.)
CAROL (2015). One of the 10 best — make that five best — films of 2015 (see the full Best & Worst here), this exquisite adaptation of Patricia Highsmith's novel The Price of Salt proves to be a perfect bookend piece to director Todd Haynes' 2002 Far from Heaven, merely one of the great motion pictures of the 2000s. This one also looks at the difficulties endured by idiosyncratic women in the 1950s, those who refused to allow societal taboos to throw a straightjacket on their independence or desires. Cate Blanchett plays the title character, a mother and recent divorcee who comes into contact with a department store clerk named Therese (Rooney Mara). The women are immediately attracted to each other, but they move cautiously, aware of the prejudiced and puritanical attitudes surrounding them. An affecting love story, Carol is blessed with a measured script by Phyllis Nagy, exquisite cinematography by Edward Lachman, a gorgeous score by the often overlooked Carter Burwell, Haynes' fine attention to period detail, and not one but two leading performances full of empathy, grace and aching tenderness. Despite earning rave reviews and hefty citations from other voting bodies (including Best Film from the New York Film Critics Circle), conservative (homophobic?) Academy members denied this a nomination for Best Picture or for its openly gay director; however, it did snag six other nods, for Blanchett, Mara (absurdly placed in the Best Supporting Actress race, despite having more screen time than Blanchett), Nagy, Lachman, Burwell and costume designer Sandy Powell.
Blu-ray extras include behind-the-scenes featurettes as well as Q&A sessions with Haynes, Blanchett, Mara and others.
Movie: ***1/2
Peter Fonda in The Trip (Photo: Olive & MGM)
THE TRIP (1967). There's a reason Roger Corman's autobiography is titled How I Made a Hundred Movies in Hollywood and Never Lost a Dime. Known for stretching a dollar — hell, a nickel — beyond the breaking point, Corman made films fast 'n' cheap and sat back as the decent box office receipts were counted. One case in point is The Trip, one of those flicks which found "B" filmmaker Corman tapping into the youth market when most of the major studios couldn't be bothered (their disregard changed, of course, with the 1969 release of Easy Rider). Budgeted at several hundred thousand dollars, the picture snagged an impressive $10 million following its successful run over the remainder of the decade. The simple script (written by Corman stable boy Jack Nicholson) centers on angst-ridden director Paul Groves (Peter Fonda) and how he's struggling with his marriage (Susan Strasberg plays his alienated wife), his job, and his own identity crisis. His friend John (Bruce Dern) urges him to try LSD, and so he does, embarking on an odyssey that includes hooded figures on horseback, a torture chamber run by a druggie (Dennis Hopper), and lots of groovy swirling colors. Corman (serving as director, one of his last such credits before exclusively concentrating on producing) took LSD himself to prepare for the film and reported that he had a pleasant experience — that stance apparently influenced this picture, which finds Paul contending with so few lows (and lots of love-making highs) that the British censorship board banned the film for 35 years since its members felt it was a pro-drug picture. Thematically, the film is as shallow as a puddle, but visually, it's a stimulating experience, thanks to the rapid-fire editing by Ronald Sinclair during the psychedelic scenes as well as the contributions of the special effects team.
The only extra on the Blu-ray is the theatrical trailer.
Movie: **1/2