(View From The Couch is a weekly column that reviews what's new on Blu-ray and DVD. Ratings are on a four-star scale.)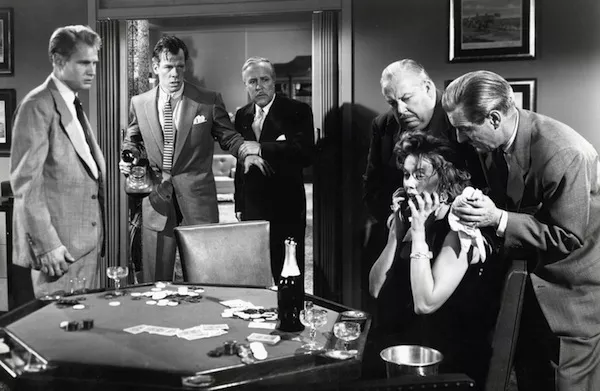 Adam Williams (far left), Lee Marvin (second from left) and Gloria Grahame in The Big Heat (Photo: Twilight Time)
THE BIG HEAT (1953). Here's a brutal bit of film noir that's long been regarded as one of the classics of the genre. Glenn Ford, a dependable actor who starred in a number of hits (including Gilda, reviewed in this column a couple of weeks ago, and The Blackboard Jungle) but whose reputation has unfortunately been largely marginalized in recent times, headlines as Dave Bannion, an upstanding detective and an even more upstanding family man whose professional and personal lives queasily come together as he pursues Mike Lagana (Alexander Scourby), a criminal kingpin who seemingly controls the entire city. Rocked by tragedy, Bannion will let nothing interfere with his apprehension of Lagana and his sadistic goons Vince (Lee Marvin) and Larry (Adam Williams), and he receives some unlikely help along the way from Debby Marsh (Gloria Grahame), Vince's girlfriend and a formidable woman who ultimately gives as good as she gets. The sequence involving a percolating pot of coffee is legendary, but along with the expected bursts of violence and tough-guy swaggering, there are numerous scenes of tenderness, many between Bannion and his wife (Jocelyn Brando) as well as between Bannion and Debby. Grahame, who owned the cinema of the 1950s almost as much as Marlon Brando, is typically terrific; she had received the Best Supporting Actress Oscar the previous year for The Bad and the Beautiful, but she was no less worthy for this picture, which allows her to be funny, sexy, confident, and heartbreakingly tender.
Blu-ray extras consist of audio commentary by film historians Lem Dobbs, Julie Kirgo and Nick Redman; separate discussions about the film with directors Martin Scorsese and Michael Mann; the theatrical trailer; and an isolated score track.
Movie: ***1/2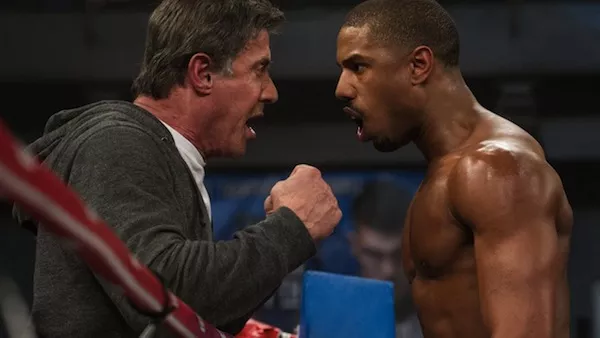 Sylvester Stallone and Michael B. Jordan in Creed (Photo: Warner)
CREED (2015). For a stretch of 30 years (1976-2006), Sylvester Stallone wrote the scripts for six Rocky films — if ever a series could have benefitted from fresh blood, it was this one. The franchise has been gifted to writer-director Ryan Coogler, but what's disappointing about Creed is how slavishly it follows the template of the previous pictures. It's as if Coogler, who made his startling feature debut with the powerful Fruitvale Station, was too afraid of messing with a sure thing, and the result is a movie that might as well have been written by Stallone himself. It's certainly not bad — it's the best entry since 1982's Rocky III — but aside from the character shift, there's nothing here that's especially original, and one's enjoyment depends entirely on how charitable one is feeling in the nostalgia department (apparently lots of people, based on the raves, the box office, and a Best Supporting Actor Oscar nomination for Stallone). Michael B. Jordan is excellent as Adonis Johnson, the result of an adulterous tryst by the late Apollo Creed (played in earlier pictures by Carl Weathers). Now grown up, he returns to Philadelphia and asks Rocky Balboa (Stallone, of course), his father's nemesis-cum-friend, to take him under his wing. Stallone is never better than when he's playing this role he nurtured from birth, and his relaxed and generous performance shows he has no problem moving from series star to supporting sage. But too many beats are overly familiar: There's even a Rocky-cribbed scene where Adonis is surrounded by fans and friends as he jogs down the Philly streets, and anyone who doesn't know exactly how the climactic fight will turn out clearly isn't paying attention.
Blu-ray extras include deleted scenes; a behind-the-scenes featurette; and a look at Jordan's physical training for the film.
Movie: **1/2
Kevin Costner in No Way Out (Photo: Shout! Factory)
NO WAY OUT (1987). Because No Way Out was filmed before The Untouchables, it was already primed for release when the Orion studio suits realized the Paramount picture was going to make Kevin Costner a star, and best to hold off and release their comparatively smaller movie after the Brian De Palma gangster flick. It was a sound strategy that paid off: The Untouchables opened June 3, 1987, and made Costner an overnight sensation, thus allowing No Way Out to reap some of the financial benefits when it finally opened August 14 of that summer. A loose adaptation of Kenneth Fearing's novel The Big Clock (already remade more faithfully in 1948, with Ray Milland and Charles Laughton), the book's publishing-world setting has been replaced with a political stage, but the plot outline remains largely the same. Tom Farrell (Costner) is a Navy officer newly arrived in Washington, D.C., to work at the Pentagon under US Secretary of State David Brice (Gene Hackman) and his right-hand man Scott Pritchard (Will Patton). Farrell meets Susan Atwell (Sean Young) at a party and they immediately embark on a steamy relationship, with Farrell only later learning that she's Brice's mistress. There's a murder, Brice is involved, and Farrell is placed in charged of the investigation, quickly realizing that all of the mounting evidence points to him being the killer. No Way Out is a grade-A thriller, but at the time of its release, even most of its enthusiasts hated the tacked-on twist ending. It was a take-it-or-leave-it addition for me, but the ensuing years have been kind to it, as it offers the sort of narrative gumption lacking from today's brand of high-charged drama.
Blu-ray extras consist of audio commentary by director Roger Donaldson and the theatrical trailer.
Movie: ***1/2
Walter Brennan and James Garner in Support Your Local Sheriff! (Photo: Twilight Time)
SUPPORT YOUR LOCAL SHERIFF! (1969) / SUPPORT YOUR LOCAL GUNFIGHTER (1971). James Garner was one of those stars who was able to move between cinema and television with ease, headlining such long-running shows as Maverick and The Rockford Files while also appearing in A-list moves like The Great Escape and The Americanization of Emily. Garner enjoyed one of his biggest theatrical successes with Support Your Local Sheriff!, an absolutely riotous Western in which he plays Jason McCullough, a personable Easterner newly arrived in a Wild Wild West town rampant with lawlessness. McCullough agrees to become the new sheriff for a hefty fee and immediately appoints Jake (Jack Elam), the local bum, as his deputy. Garner is excellent as a soft-spoken man smarter than everyone around him, and he receives stellar support from Elam, Joan Hackett as the klutzy Prudy Perkins, Walter Brennan (spoofing his My Darling Clementine villain) as Pa Danby, and Bruce Dern as Joe Danby. The running gag involving the jail cell without bars never grows stale, a condition indicative of the entire picture.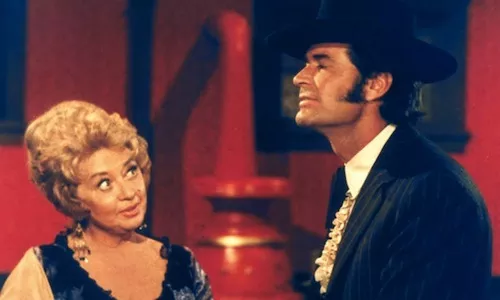 Joan Blondell and James Garner in Support Your Local Gunfighter (Photo: Twilight Time)
Garner, director Burt Kennedy, and numerous co-stars (including Elam and Harry Morgan) reunited for the in-name-only sequel Support Your Local Gunfighter, which displays the same sort of comic sensibility but has to work harder to uncover the laughs. In this one, Garner plays Latigo Smith, a con man who's mistaken for a ruthless gunfighter. Not wanting to find himself in the line of fire but still hoping to profit from the gullible townspeople, he convinces them that his bumbling friend Jug May (Elam) is really the murderous gun-for-hire. This follow-up has trouble getting out of the gate but eventually hits its stride, and Elam is as hilarious as in the previous film.
Twilight Time has released both movies together in one Blu-ray edition. Extras include audio commentary on Support Your Local Sheriff! by film historians Lee Pfeiffer and Paul Scrabo, and theatrical trailers and isolated score tracks for both titles.
Support Your Local Sheriff!: ***1/2
Support Your Local Gunfighter: ***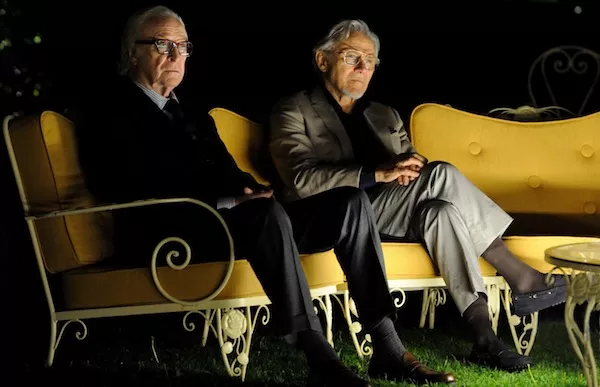 Michael Caine and Harvey Keitel in Youth (Photo: Fox)
Short and Sweet:
THE DANISH GIRL (2015). With its bald ambitions, The Danish Girl might as well have been called The Oscar Bait Movie, armed with a pedigree beyond question thanks to the participation of director Tom Hooper (Oscar for The King's Speech) and star Eddie Redmayne (Oscar for The Theory of Everything). Indeed, the picture earned four nominations (including Best Actor, Best Production Design and Best Costume Design), although it only won the one it richly deserved. The story's a worthy one — the saga of transgender pioneer Einar Wegener/Lili Elbe — but it's given little room to breathe, and Redmayne's performance is technically proficient rather than emotionally stirring. For the latter, one has to turn to co-star Alicia Vikander. As Gerda, Einar's infinitely patient and understanding wife, she's as excellent here as in Ex Machina, and she took home the Best Supporting Actress Oscar (never mind that it was a lead role).
The only Blu-ray extra is a making-of featurette.
Movie: **1/2
THE NIGHT BEFORE (2015). For over a dozen years, three best buds (Joseph Gordon-Levitt, Seth Rogen and Anthony Mackie) have spent Christmas Eve in search of the legendary Nutcracka Ball, a wild party whose location is even more guarded than that of the masked orgy in Stanley Kubrick's Eyes Wide Shut. Finally obtaining (actually, stealing) three tickets to the exclusive bash, the three putz around NYC waiting for the magic hour — during that time, vicious street Santas, copious drugs, and a self-professed Grinch all interfere with their fun. This is cut from the same template as most BFF (Bro Friends Forever) flick: an amusing premise, appealing actors, large laughs in the early going, tedious soul-searching moments in the late innings, and unexpected cameos. What provides most of the film's spark is the deft turn by Michael Shannon, hilarious as a rambling pot dealer who operates out of his car. Even his radical character gets neutered by some dopey plotting toward the end, but until then, he's the performer who most earns his wings.
Blu-ray extras include deleted scenes and a gag reel.
Movie: **1/2
THE SINFUL DWARF (1974). Former Danish kiddie-show host Torben Bille, who someone once described as looking "disturbingly like Jack Black in a trash compactor," stars as the diminutive Olaf, who, alongside his alcoholic mother (Clara Keller), kidnaps young girls, gets them hooked on heroin, and keeps them chained up naked in the attic, where they're pimped out to anonymous johns seeking sex. Into this house come shapely Mary (Anne Sparrow) and her doltish husband Peter (Tony Eades), and it isn't long before Olaf is figuring out how to add Mary to his collection of doped-up beauties. The Sinful Dwarf is such a wallow in depravity that even the name of Santa Claus gets tarnished (it's the nickname of a local drug dealer), yet there's no denying that Bille is suitably demented in the title role, and director Vidal Raski displays flashes of imagination behind the camera — the opening title sequence, for example, is memorably creepy, slowly panning across Olaf's vintage toys.
The Blu-ray contains the hardcore and softcore versions of the film. Extras include an additional XXX feature; trailers; and a TV spot.
Movie: *1/2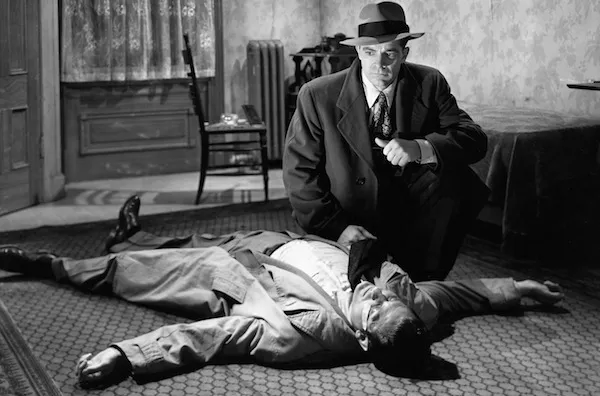 Dana Andrews in Where the Sidewalk Ends (Photo: Twilight Time)
WHERE THE SIDEWALK ENDS (1950). The 1944 masterpiece Laura, directed by Otto Preminger and starring Dana Andrews and Gene Tierney, is one of the greatest of all film noirs — Top 5, for sure — so it's no surprise its helmer and his stars reunited for another shot in the dark. Andrews here plays Mark Dixon, a vicious cop who accidentally kills a man while conducting an investigation and then does everything he can to conceal his crime. Tierney co-stars as the victim's estranged wife, while Karl Malden plays basically the same role he would essay three years later in Hitchcock's I Confess, that of an earnest detective who settles on an innocent person as his prime suspect. The plotline of a man taking part in a murder investigation that might end up implicating him was handled more intriguingly in Fritz Lang's 1944 The Woman in the Window and in 1987's No Way Out (reviewed above), but there's plenty to recommend this one, including Andrews' scowling, sweaty performance.
Blu-ray extras consist of audio commentary by film historian Eddie Muller; the theatrical trailer; and an isolated score track.
Movie: ***
YOUTH (2015). Self-consciously arty and only intermittently successful, the latest from writer-director Paolo Sorrentino (the Best Foreign Language Film Oscar winner The Great Beauty) stars Michael Caine as composer/conductor Fred Ballinger and Harvey Keitel as film director Mick Boyle, two friends dealing with familial crises, professional challenges, and the vagaries of aging — all while spending time at a lavish Swiss resort. Youth is beautifully photographed by Luca Bigazzi, appropriately drenched in Euro-ambience, and offers nice supporting turns by Rachel Weisz and Paul Dano. But the script wavers between poetic and portentous, and Jane Fonda is borderline embarrassing in a small role. Sorrentino clearly meant for Youth to register as his version of Federico Fellini's 8-1/2, but the most it can muster is a 5-1/2.
Blu-ray extras include pieces on Sorrentino and Caine; a featurette on the film's music (incidentally, the tune "Simple Song #3" earned a Best Original Song Oscar nomination); and a photo gallery.
Movie: **1/2