Chuck Connors, Gregory Peck and Carroll Baker in The Big Country (Photo: MGM)
THE BIG COUNTRY (1958) / THE TAKING OF PELHAM ONE TWO THREE (1974) / QUIGLEY DOWN UNDER (1990). "Start Stuffing Stockings Early With 3 New Classics on Blu-Ray," trumpets the press release that accompanies these three titles. Two would definitely be welcomed by any serious film fan, but the third would only be slightly more acceptable than that proverbial lump of coal.
Director William Wyler and leading man Gregory Peck, who had worked beautifully together on Roman Holiday, didn't share such a rapturous relationship during the making of The Big Country, although their squabbles thankfully aren't reflected by what ended up on the screen (for the record, the two men made up a couple of years later). A sprawling Western that was also co-produced by Peck and Wyler, this stars the former as a retired sea captain who settles out West, only to find his manhood questioned by everyone from his ranch foreman (Charlton Heston) to a contemptible cowpoke (Chuck Connors) to even his own fiancee (Carroll Baker). In the midst of all these challenges, he finds himself drawn to a headstrong neighbor (Jean Simmons) and caught in the middle of a feud between two rival landowners (Burl Ives and Charles Bickford). Heston is particularly memorable, although it was Ives who copped the Best Supporting Actor Oscar. (Wyler would direct Heston to an Oscar win the very next year with Ben-Hur.) Jerome Morris' classic score is one of the all-time greats, standing in the company of Elmer Bernstein's The Magnificent Seven theme and Ennio Morricone's Spaghetti Western contributions as the genre's best.
Walter Matthau in The Taking of Pelham One Two Three (Photo: MGM)
Considering the infinite number of motion pictures that have been filmed on New York locations over the decades, it's meant as a compliment of the highest order when I state that few, if any, Big Apple flicks exude such an NYC ambience as The Taking of Pelham One Two Three. Shot in that gritty 70s style that no doubt helped accentuate the city's grungy ordinariness, this exceptional thriller finds four men, led by the ruthless Mr. Blue (Robert Shaw), hijacking a subway car and holding it for ransom. Their directive: Pay us a million dollars or we start killing passengers. The Transit Authority suits, fronted by Lt. Zachary Garber (a wonderful Walter Matthau) and a weak-willed mayor (Lee Wallace) who's keenly aware of poll numbers, assess how best to tackle the situation. This exemplary adaptation (by Charade scribe Peter Stone) of John Godey's novel inspired not only the naming of the central criminals in Quentin Tarantino's Reservoir Dogs after colors but also led to that misguided and mediocre 2009 remake with Denzel Washington and John Travolta.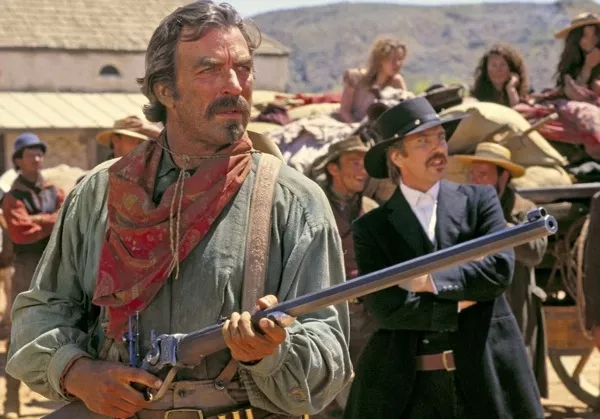 Tom Selleck and Alan Rickman in Quigley Down Under (Photo: MGM)
It's thankful that Tom Selleck's Magnum P.I. duties prevented him from accepting the role of Indiana Jones — yes, he was George Lucas' first choice, not Harrison Ford (although Steven Spielberg wanted Ford all along) — since he's long proven himself to be an actor of limited range. His perfectly pleasant but rather one-note style is best seen in movies that don't matter, like Quigley Down Under, a dopey adventure yarn that plops an American cowboy into an Australian setting. Selleck stars as Matthew Quigley, who journeys to the land down under to work for a wealthy landowner (Alan Rickman) claiming to need help with keeping the dingo population down. But when Quigley learns that the cattle baron really wants him to exterminate Aborigines, he violently refuses, thereby making himself as unwanted as the indiginous locals. As is often the case, Rickman's the best thing about this clumsy, unfocused film, which loses any chance at saving itself whenever Laura San Giacomo, as a wayward Texan named Crazy Cora, turns up on screen — and she turns up a lot.
Blu-ray extras on The Big Country include a vintage behind-the-scenes featurette and the theatrical trailer. Extras on Quigley Down Under include a making-of featurette and the theatrical trailer. The only extra on The Taking of Pelham One Two Three is the theatrical trailer.
The Big Country: ***1/2
The Taking of Pelham One Two Three: ***1/2
Quigley Down Under: **
FULLY TRAINED: Professor Saxton (Christopher Lee), Dr. Wells (Peter Cushing) and Miss Jones (Alice Reinhart) examine the evidence aboard the Horror Express. (Photo: Severin)
HORROR EXPRESS (1972). Also known as Panic on the Trans-Siberian Express, this Spanish-British co-production managed to build a sturdy cult following during the 1980s, and it's subsequently been released on DVD on approximately two dozen occasions. The reason for such a high output, of course, is because the film fell into the public domain, allowing any idiot to release it in a barely watchable edition marred by wretched sound and picture. Severin Films, however, has come to the rescue: Working from (so they claim on the packaging) "vault elements recently unearthed in a Mongolian film depot," they've cleaned up the film for a Blu-ray/DVD combo pack. Of course, we're not talking reference quality a la The Matrix or the Pixar pics, but anything's an improvement on what was previously offered. As for the film itself, it deserves its cult standing, thanks to a crafty premise and the presence of two genre superstars. Set at the start of the 20th century, this stars Christopher Lee and Peter Cushing as rival scientists who team up once a monster long frozen in ice breaks loose on the Trans-Siberian Express and starts murdering the crew and passengers. There's much more to the film than this deceptively simple synopsis — should I drop a hint that a dinosaur makes an appearance? — but part of its allure is that it takes all manner of detours, both fun and far-fetched. Telly Savalas appears briefly as a thuggish Cossack, and there's a suitably loopy turn by Robert De Niro look-alike Alberto de Mendoza as a fanatical priest. It's always a pleasure to see Lee and Cushing perform together, and here they're especially ingratiating, with Lee projecting authority and Cushing getting off some amusing quips (when someone suggests that one of them might be the monster in disguise, he retorts, "Monster? We're British, you know!").
Blu-ray extras include an introduction by Fangoria editor Chris Alexander; a 1973 audio interview with Cushing; a new interview with director Eugenio Martin; an interview with producer Bernard Gordon in which he discusses the McCarthy era and Hollywood blacklist; and a new interview with composer John Cacavas.
Movie: ***
Paul Rudd, Zooey Deschanel and Rashida Jones in Our Idiot Brother (Photo: Anchor Bay & The Weinstein Co.)
OUR IDIOT BROTHER (2011). After the likes of The Change-Up and The Hangover Part II (to name but two of a million), I was beginning to give up on ever again seeing an R-rated "man-child" movie that offered anything of value. Thank goodness, then, for Our Idiot Brother, which realizes there's more to this type of tale than scatological gags. Paul Rudd plays Ned, a clueless free spirit whose behavior alternately endears him to and alienates him from his three sisters: ladder-climbing reporter Miranda (Elizabeth Banks), frazzled wife and mother Liz (Emily Mortimer) and slightly ditzy bisexual Natalie (Zooey Deschanel). The film initially seems as shaggy and aimless as its protagonist, but it improves as it continues, with director Jesse Peretz having secured the right performers for virtually every role (Steve Coogan lends sneering support as Liz's unfaithful husband, while Rashida Jones is quietly effective as Natalie's brainy lover). And while the movie coulda/shoulda been longer than its scant 90 minutes, it's actually surprising just how much memorable material scripters Evgenia Peretz and David Schisgall pack into the piece. For a movie centering on an unabashed clod, it's a fairly intelligent work.
Blu-ray extras include audio commentary by Peretz; a making-of piece; and deleted and extended scenes.
Movie: ***
Jesse Eisenberg and Aziz Ansari in 30 Minutes or Less (Photo: Sony)
30 MINUTES OR LESS (2011). While I've seen worse comedies this year, I haven't sat through any as unpleasant as 30 Minutes or Less. Never mind that newbie screenwriters Michael Diliberti and Matthew Sullivan loosely based their script on a real-life incident that ended in death (their claims to the contrary are blatant lies); if there's one thing we've learned from a century-plus of cinema, it's that just about any subject can explored for potential humor if the right people are involved. But in the case of 30 Minutes or Less, the right people must have been off making another movie. A shrill, clumsy film that has no idea how to orchestrate its black-comedy maneuvers, this finds Jesse Eisenberg cast as Nick, a pizza delivery man who's kidnapped by two grade-A doofuses, Dwayne (Danny McBride) and Travis (Nick Swardson). Needing $100,000 in a jiffy, the pair strap a bomb to Nick and inform him that he must rob a bank or else the device will explode. A frantic Nick gets his best friend Chet (Aziz Ansari) to participate, but matters only get more hectic, not less, in the aftermath of the heist. Eisenberg fares best simply by not straying far from his patented persona (The Social Network star even gets off a joke about Facebook), but whoever thought that casting three irritants like McBride, Swardson and Ansari in the same film was a good idea clearly has a much higher threshold for obnoxious behavior than I do. The shocking story behind this largely laugh-free endeavor is that it was directed by Ruben Fleischer, who previously teamed with Eisenberg on the wild and witty Zombieland. But while that engaging effort brought new life to the zombie flick, this one is strictly dead on arrival.
Blu-ray extras include audio commentary by Fleischer and the four leads; deleted scenes; and outtakes.
Movie: *1/2
Alan Tudyk and Tyler Labine in Tucker & Dale vs. Evil (Photo: Magnolia)
TUCKER & DALE VS. EVIL (2011). While assembly-line movies like Final Destination 5 and Saw 3D: The Final Chapter open on approximately 3,000 screens and gross tens of millions of dollars, here's this poor little film, which opened in a scant 30 theaters and grossed just slightly above $100,000. Hopefully, it will live long and prosper on DVD and Blu-ray: It's a godsend for anyone looking for something different in their horror-film diet, and even folks who generally shy away from gorefests will appreciate the dark humor, surprising plot pirouettes and, most shockingly, developed characterizations. In time-honored tradition, a group of college kids heads to the mountains (in the South, natch) for a weekend getaway, only to cross paths with two shuffling backwoods hicks. They're fearful of these good ole boys, not realizing that, despite their verbal inefficiency and apparent lack of hygiene, Tucker (Alan Tudyk) and Dale (Tyler Labine) wouldn't even harm a fly. In fact, they even save one of the collegians, a blonde beauty named Allison (Katrina Bowden), after she almost drowns, taking her back to their dilapidated cabin so she can recuperate. The other kids, however, assume the worst ("I think I saw one of them eating her face!"), and the heightened miscommunication between the two factions eventually results in corpses canvassing the woods. T&DvE isn't one of those dreadful spoofs that merely take random pot shots at recent films, hoping something sticks (e.g. Vampires Suck, Epic Movie). Instead, writer-director Eli Craig (Sally Field's son!) and cowriter Morgan Jurgenson obviously engaged in some late-night sessions of careful genre deconstruction, breaking down the foundation of the slasher film before rebuilding it with shrewdly added satiric elements in place. The actors are game (Labine stands out as the sensitive Dale), the laughs are plentiful, and the wood chipper stays busy.
Blu-ray extras include audio commentary by Craig, Labine and Tudyk; a making-of piece; outtakes; and storyboards.
Movie: ***