(View From The Couch is a weekly column that reviews what's new on Blu-ray and DVD.)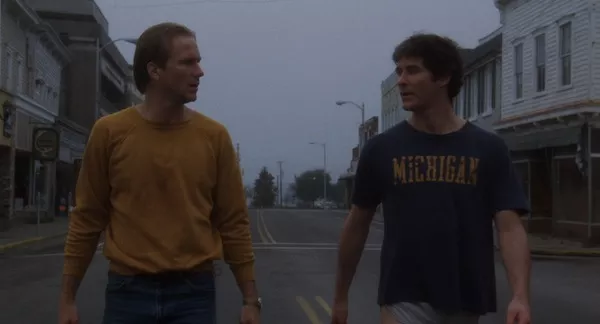 William Hurt and Kevin Kline in The Big Chill (Photo: Criterion & www.dvdbeaver.com)
THE BIG CHILL (1983). A critical and commercial hit when it was released back in 1983, writer-director Lawrence Kasdan's The Big Chill has always had more than its share of detractors, folks who dismiss it as nothing more than a Baby Boomer circle jerk. Fair enough, but for those of us who tap into its frequency (and, for the record, I'm Generation X, not a Baby Boomer), it proves to be a genuinely great film, as universal in its ambitions and appeal as it is specific in its characterizations and timeframe. Following the suicide of their friend Alex (all of Kevin Costner's scenes in this role were deleted before release, although you do see his corpse being dressed during the opening credits), his seven closest college friends reunite for his funeral and end up spending a weekend together. Harold and Sarah Cooper (Kevin Kline and Glenn Close) are the hosts, welcoming everyone into their Beaufort, SC, home. Their guests consist of People magazine reporter Michael Gold (Jeff Goldblum), TV action star Sam Weber (Tom Berenger), career woman Meg Jones (Mary Kay Place), unhappy housewife Karen Bowens (JoBeth Williams), and druggie Nick Carlton (William Hurt); also on the premises is Alex's young girlfriend, Chloe (Meg Tilly). Over the course of a couple of days, these friends love, fight, reestablish connections and reflect on their lost 60s ideals — all while listening to a steady stream of classic songs (the compilation soundtrack was a smash hit and led to a follow-up, More Songs from The Big Chill). The entire ensemble is superb, though the edge in acting honors goes to Hurt, Kline and Place. The Big Chill earned three major Oscar nominations, for Best Picture, Supporting Actress (Close) and Original Screenplay (Kasdan and Barbara Benedek).
Blu-ray extras include a making-of piece from 1998; deleted scenes (alas, none featuring Costner); a new interview with Kasdan; and footage from a 2013 reunion of Kasdan and most of the principal players. The set's only debit is the accompanying booklet; while the ones for other Criterion titles always contain excellent analyses by film scholars and critics, the one for this film includes an insufferable essay by filmmaker Lena Dunham. Really, that's the best the label could do?
Movie: ****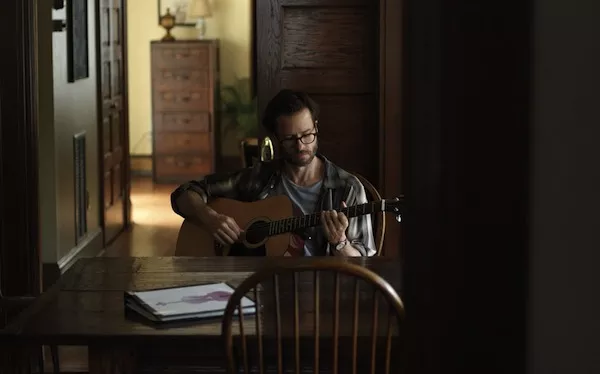 Guy Pearce in Breathe In (Photo: Cohen Media)
BREATHE IN (2014). Writer-director Drake Doremus' 2011 effort Like Crazy won the Grand Jury Prize at that year's Sundance Film Festival, even though it was (as I wrote in my original review) "three-quarters twee and one quarter Glee." This latest picture, which Doremus co-scripted with Ben York Jones (as he had Like Crazy), isn't much of an improvement: A film about a May-December romance, it would be laborious to sit through at any time of year. The Reynolds family — dad Keith (Guy Pearce), mom Megan (Amy Ryan), daughter Lauren (Mackenzie Davis, a promising young actress) — has opened its upstate New York home to Sophie (Felicity Jones), a British exchange student in the U.S. for one semester. Megan does everything to make the young woman (who has just turned 18) welcome, and while Lauren initially balks at sharing her room with another person, she's also as gracious as can be expected. Keith is another matter. A music teacher who longs to land a symphony job full-time so the clan can hopefully afford to move back to New York City, he's nothing but moody around Sophie, and she in turn acts distant to him. While we might understandably think they're just sleepy during the moments of their encounters, it's actually a smoldering passion that's developing between them, and soon, the pair have graduated from wistful stares to touching fingers and patting shoulders. The next step is to consummate their relationship, but will the pesky wife and meddlesome daughter interfere with Keith's attempts to recapture his long-gone youth? It's really hard to care, since Keith is painted not as a middle-aged man suffering from a real existential crisis but merely a guy hoping to score some teenage nookie. While Doremus and Jones receive most of the blame for their characters' failure to communicate with audiences, there's also the fact that Pearce and Jones, while fine individually, have absolutely no chemistry together. The majority of the film is merely a languid affair, but then it adds a series of head-smacking developments (a chance sighting, a car crash) that are as transparent as one's breath in subzero weather.
Movie: *1/2
Tom Hardy in Locke (Photo: Lionsgate)
LOCKE (2014). Adapting such films as The Lion King, Titanic and Ghost for the stage took some mental gymnastics, but if anyone ever elects to do likewise with Locke, the task won't be nearly as taxing. Basically a one-man show set within the confines of a BMW, Locke is the latest from writer-director Steven Knight, whose past credits (both as scripter only) include Eastern Promises and Dirty Pretty Things (for which he earned a Best Original Screenplay Oscar nomination). Knight clearly has a knack for coming up with unique angles for his stories, and this one's no exception. In the central role of Ivan Locke, Tom Hardy is the only performer who merits screen time. A Welsh construction manager who has just left his work site late at night, Locke is driving to London for a reason I won't reveal here. Suffice it to say, it's a reason that threatens to destroy everything important he has achieved in his life, from his job to his seemingly stable home life with his wife and two sons. As Locke drives as fast as he can (but ever mindful of the speed limit), he spends much of the time on the phone, whether to his spouse (voiced by Ruth Wilson), his second-in-command (Andrew Scott) or various other important people. Locke runs an efficient 85 minutes, and it's a testament to Knight's skills that we feel we learn a lot about the characters in what out of necessity are pretty broad brushstrokes. The contributions of cinematographer Haris Zambarloukos and editor Justine Wright are also invaluable, yet it's Hardy who benefits the most from this. Already an acclaimed actor thanks to the likes of Bronson, Tinker Tailor Soldier Spy and The Dark Knight Rises (where he of course played Bane), his stock should only rise due to his tightly controlled performance in this minimalist movie experience.
Blu-ray extras consist of audio commentary by Knight and a making-of featurette.
Movie: ***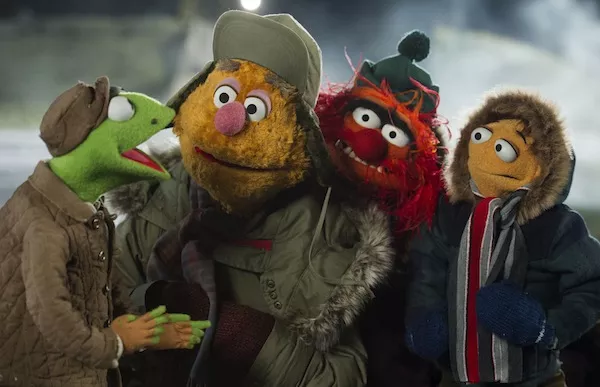 Muppets Most Wanted (Photo: Disney)
MUPPETS MOST WANTED (2014). The 2011 reboot The Muppets was an unqualified delight, smartly mining the nostalgia factor to reunite older moviegoers with the puppet protagonists of their childhood (or, in many cases, young adulthood). Muppets Most Wanted opts for a different approach, leaving the warm and fuzzy feelings behind in order to charge full-steam ahead with a comedic crime caper. In this outing, a grinning talent agent named Dominic Badguy (Ricky Gervais) talks Kermit and the gang into following up their successful U.S. comeback with a European tour; what they don't realize is that he's actually in cahoots with Constantine, the world's greatest criminal as well as a dead ringer for Kermit. With a dastardly plot to use the tour as the cover for stealing the crown jewels in London, Constantine manages to pass himself off as Kermit while the real Kermit gets mistaken for the criminal mastermind and shipped off to a Russian gulag run by the stern Nadya (Tina Fey). While inferior to its predecessor, Muppets Most Wanted does correct the two major flaws found in that first film. Dull Muppet newcomer Walter, a lead in the previous picture, mercifully occupies far less screen time in this endeavor. And while the first film's cameos were on the anemic side (Ken Jeong? Selena Gomez?), this one fares far better in that department, with welcome appearances by Stanley Tucci, Tom Hiddleston, Danny Trejo (as a prison inmate named ... Danny Trejo) and many more. The human leads (Gervais, Fey and Ty Burrell as French inspector Jean Pierre Napoleon) throw themselves into their roles with gusto, although it's the Muppet leads who deliver performances worthy of felt Oscars. Thanks to the chemistry between Kermit and Miss Piggy, their romance ranks up there with the torrid love affairs between Scarlett and Rhett, Jack and Rose, and Bonnie and Clyde, while my fave, Fozzie the Bear, deserves any and all comparisons to Brando, Bogart and Olivier. As for Animal ... well, he remains cinema's best visual effect, a whirling dervish of shaggy countenance, musical derangement and Muppetational resilience.
The Blu-ray contains the theatrical version as well as "The Unnecessarily Extended Edition"; there's also a "Statler & Waldorf Cut." Extras include a blooper reel; a piece with Rizzo the Rat; and the music video for Bret McKenzie's "I'll Get You What You Want."
Movie: ***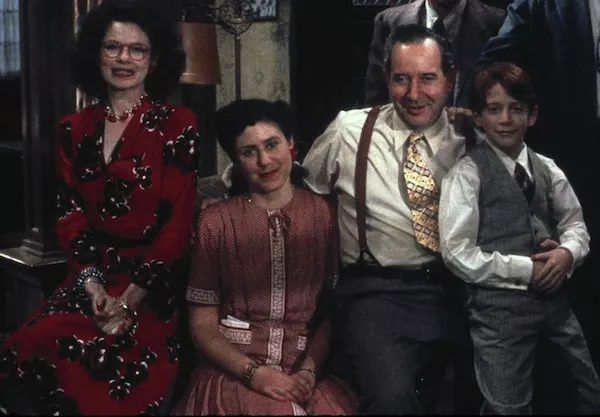 Dianne Wiest, Julie Kavner, Michael Tucker and Seth Green in Radio Days (Photo: Twilight Time)
RADIO DAYS (1987). The 1970s were often championed as Woody Allen's best decade, but clearly there's almost as much of a case to be made for the 1980s, which found the workaholic filmmaker offering two back-to-back masterpieces — 1985's underappreciated The Purple Rose of Cairo and 1986's enormously popular Hannah and Her Sisters — as well as other gems on the order of Zelig and Crimes and Misdemeanors. Here's another one for the hit list — a lovely daydream of a film, it's Allen's affectionate look at the medium that often shaped his world view back in his formative years. Allen serves as narrator but is never seen; instead, his proxy is Joe (a wee Seth Green!), a young boy living in Rockaway, NY, with a family whose members include Joe's gently combative mom and dad (Julie Kavner and Michael Tucker) and his Aunt Bea (Dianne Wiest), who's perennially searching for the right man. The movie smoothly slides from relating their tales to eavesdropping on the celebrities who appear in many of their favorite shows, radio stars like Sally White (Mia Farrow), a gossip maven who worked her way up from being a shrill cigarette girl, and an actor (Wallace Shawn) whose mousy stature belies the fact that he provides the voice for the dashing, heroic Masked Avenger. Allen shrewdly uses historic events to depict the passing of time: Aunt Bea's date is interrupted by Orson Welles' 1938 War of the Worlds broadcast; Joe's first visit to Radio City Music Hall is punctuated by the majestic scene being shown as he enters (James Stewart smooching Katharine Hepburn in 1940's The Philadelphia Story); and Sally's shot at the big time is delayed because of the abrupt announcement that the Japanese have bombed Pearl Harbor. Allen's pre-Mia muse Diane Keaton turns up in one key scene as a singer; look also for lightning-quick appearances by then-unknowns William H. Macy, Mercedes Ruehl and Larry David. Radio Days earned two Oscar nominations, for Best Original Screenplay and Best Art Direction-Set Decoration.
Blu-ray extras consist of the theatrical trailer and an isolated music and effects track.
Movie: ***1/2