There's nothing like a brand-new baby. Even the most hardcore tough guy morphs into a puddle of mush around an incredibly adorable newborn. Unfortunately, Creative Loafing doesn't have what it takes to bring a new baby to every single reader in the city. (That would probably violate a ton of state and federal laws.) We can, however, turn your insides out with our guide to Charlotte's best new restaurants, shops, bands and much more (all founded in the last six months or less). Check out these "newborns" -- you'll go googoo-gaga over them.
– Kimberly Lawson
NIGHTCLUBS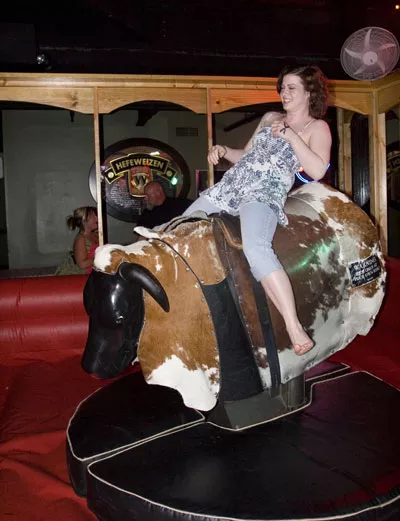 URBAN COWGIRL: The mechanical bull in Daisy Dukes
Soho East/Daisy Dukes: Soho East/Daisy Dukes is not only new to the local nightlife scene, it's new in its approach to nightlife. The multi-level nightclub combines two popular, yet polar opposite, bar themes in one location: half club, half honky tonk. Upstairs is Soho East, the best club the University area has to offer, with its swank ambiance and local DJs spinning hip-hop and dance music. Walk downstairs and Akon fades into Kenny Chesney upon entering Daisy Dukes, a wild country bar equipped with a mechanical bull and hot, half-dressed bartenders.
Given the location, approximately two miles from the UNC-Charlotte campus, Soho East/Daisy Duke's naturally caters to the University crowd by geographical default; however, the uniqueness in genres appeals to all demos. Because whether you're in the mood to train for a rodeo or sip martinis, this best new bar serves it all. And their bar and entertainment menus are just as diverse: Tuesday is "Twos-days" with cover and most drinks costing a mere $2; Thursday is College Night; Friday is Greek Night with nightly earnings donated to the fraternity- and sorority-selected charities each week; and Saturday is, well, Saturday. Unders may attempt to get in, but this spot is primed with fake ID nazis, so don't even bother trying.
And if commuting is an issue, the clubs have a party bus that's available for pick-ups.
8927 JM Keynes Drive, 704-510-0595
– Charlotte Cason
Tilt: Picture the art-deco speakeasies of the 1920's -- without the prohibition -- and you'll have an idea of what Tilt has to offer. The newest addition to Charlotte's Uptown scene is the narrow, brightly lit lounge/sports/dance club/bar tucked into a cozy nook on Trade, feet away from the center city square. Tilt's location gives one the feel of a bigger city, but the staff offer the charm of a small town bar. The club boasts a covered back patio with a stage, a colorful front bar with plasma screen TVs, and a modest dance floor perfect for the midnight hour.
The four owners of Tilt have big dreams -- for themselves and for Charlotte. "We want to be the place people coming to the area should come and see ... [we want to] really add something to Charlotte," operating partner Adam Parker says of their endeavor.
The name Tilt came from "a lot of arguing," Parker says, between him and co-owners Lucas Johns, Christopher Peavey and Anthony Kearey. Tilt was the only name they could all agree on. Ironically, the young upstarts discovered that the building floor actually tilted -- a gradual 12 inches up from the front door to the back of the bar.
A splashing starburst of color covers the face of the bar, unusually bright for any establishment that sells alcohol. The ceiling is a pale cream color reflecting the light of the modern multi-crystal chandeliers. Soft earth tones bounce in oval mirrors gracing the merlot colored walls, oddly yet perfectly placed. Amidst this charm, Parker shows off a delightful feature underneath the surface of the bar: "Pocket book holders," he says with a quick wave. Since no Coach purse deserves to be put on the floor -- however finely made that floor may be -- the small courtesy speaks volumes of the level of care Tilt strives to achieve.
"The Cheers effect" Parker calls it, explaining how he encourages patrons to "Come in twice, and we'll know your drink. We want to be the place that fits everyone's lifestyle."
127 W. Trade St., 704-374-4870
– Natalie Howard
SHOPS
Courtesy Ty Coe
HEAD SHOP: The wigs on sale at Glamour Puss
Glamour Puss: If you still can't spell the word "glamorous" even after hearing Fergie's song chronically played out on the radio, you need to go to Glamour Puss. Forget the items for sale for a moment -- the chic, upbeat music, superstar décor, and even the owner all scream high fashion.
Ty Coe, hair stylist, makeup artist and owner of Glamour Puss, had been toying with the idea of opening her own store for a long time. Last September, she made it happen. "Charlotte is moving in the direction of fashion," she says. "I wanted to bring an L.A., West Hollywood feel to the area. I'm seeing a lot more interest in fashion [here]."