(View From The Couch is a weekly column that reviews what's new on Blu-ray and DVD.)
Andrew Garfield in The Amazing Spider-Man 2 (Photo: Columbia)
THE AMAZING SPIDER-MAN 2 (2014). Overall, the least of this summer's superhero flicks is a slight improvement over the rush job that was The Amazing Spider-Man, but not enough that we can feel excited about the future of this franchise. Its best component is the developing relationship between Peter Parker/Spider-Hipster (Andrew Garfield) and Gwen Stacy (Emma Stone), the latter often feeling like an afterthought in the previous installment. Here, director Mark Webb and his quartet of writers take care to establish the bond between the lovebirds, and Garfield and Stone both do exemplary jobs of conveying the feelings and frustrations of their star-crossed lovers. With this romance landing in the pole position of the positives, the runner-up slot goes to the casting of Jamie Foxx as Max Dillon, a lowly and lonely engineer who's eventually transformed into the powerful and destructive Electro. Foxx brings genuine pathos to the character of Max/Electro, who in some ways brings to mind Ralph Ellison's Invisible Man (right down to his siphoning of vast amounts of electricity), and even as the character's villainy grows, Foxx ensures that he never completely loses audience sympathy. Electro is a compelling enough villain that he could have benefitted from more screen time; unfortunately, the film suffers the same fate as Sam Raimi's Spider-Man 3 by cramming too many villains into the proceedings. Not even counting the peripheral baddies — Colm Feore's slick businessman, Marton Csokas' mad scientist, Chris Cooper's corrupt Norman Osborn — there's overkill in also including both the Green Goblin (although Dane DeHaan is effective as his alter ego, Harry Osborn) and the Rhino (the usually reliable Paul Giamatti is practically unwatchable). Of course, it also doesn't help that Webb maddeningly plays around with the tools of the trade with the reckless abandon of a pubescent kid discovering his own pecker, slowing down many shots to the point of absurdity. There's the obligatory Stan Lee cameo, but it's presented without any semblance of wit or innovation. When even the legendary Stan Lee gets swept aside, it's obvious that the cash register has replaced the comic book as the main source of inspiration.
Blu-ray extras include a lengthy making-of feature that looks at the villains, the visual effects, the soundtrack and more; deleted scenes; and the music video for Alicia Keys' "It's On Again."
Movie: **1/2
The Legend of Hell House (Photo: Shout! Factory)
THE LEGEND OF HELL HOUSE (1973) / PHANTOM OF THE PARADISE (1974) / GINGER SNAPS (2000). Every night is Halloween night around the Shout! Factory grounds, as its Scream Factory arm continues to release terror tales at a rapid clip. Among the titles premiering over the past few weeks were Without Warning (starring future Oscar winners Martin Landau and Jack Palance), Motel Hell ("It Takes All Kinds Of Critters To Make Farmer Vincent's Fritters") and the trio detailed below.
It may not breathe the rarefied air of the haunted-house classics that preceded it — works like The Uninvited, The Innocents and The Haunting — but The Legend of Hell House, adapted from Richard Matheson's novel Hell House by the celebrated author himself, is nevertheless a competent effort in which a choppy storyline is smoothed over by appropriate atmospherics and an entertaining performance by Roddy McDowall. The Belasco House, aka "Hell House," has already claimed the lives of several paranormal investigators when a new group arrives. Dr. Barrett (Clive Revill), accompanied by his wife Ann (Gayle Hunnicutt), believes that science will fix everything, but Florence Tanner (Pamela Franklin), a medium, and Ben Fischer (McDowall), a fellow psychic and the only survivor of a previous visit, know that there's evil afoot. Journeyman cinematographer Alan Hume (Return of the Jedi, For Your Eyes Only) provides some imaginative shots, with director John Hough orchestrating the low-simmer chills.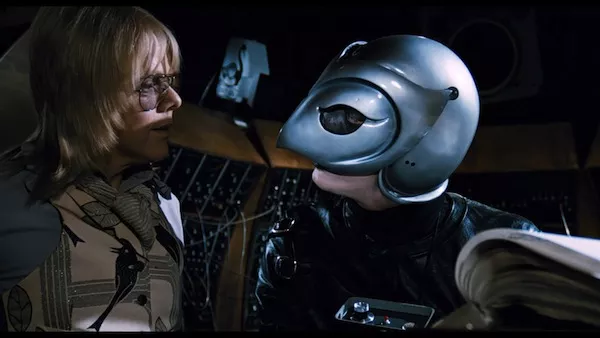 Paul Williams and William Finley in Phantom of the Paradise (Photo: Shout! Factory)
The title clearly expresses its debt to Gaston Leroux's The Phantom of the Opera, but Phantom of the Paradise also manages to include tips of the hat to Faust, Oscar Wilde's The Picture of Dorian Gray, Orson Welles' Touch of Evil, Edgar Allan Poe and, this being a Brian De Palma production, Alfred Hitchcock. With so much movie merriment going on, Fox prepared for a box office hit; instead, the picture proved to be a resounding flop, only finding any sort of appreciation on the midnight movie circuit. Admittedly, the film is ragged — especially by De Palma standards — and falls apart during the frenzied finale, but it works as a satire of the rock operas so popular during the period. Paul Williams, who also wrote the tunes for the Oscar-nominated song score, plays Swan, a powerful record producer who steals the work of an aspiring musician named Winslow Leach (William Finley) and proceeds to destroy the latter's life. After a series of incidents leave Winslow both mentally and physically scarred, he reinvents himself as the Phantom, haunting Swan's new music palace and loving a young singer named Phoenix (Jessica Harper) from afar. Finley is sympathetic as the tormented Winslow, while Gerrit Graham steals his too-few scenes as a rocker named Beef.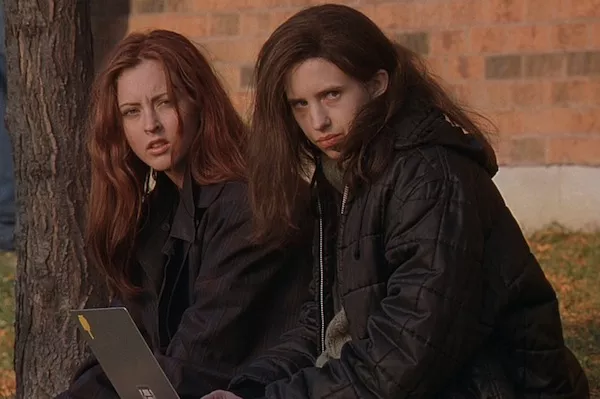 Katharine Isabelle and Emily Perkins in Ginger Snaps (Photo: Shout! Factory)
The Canadian effort Ginger Snaps barely received theatrical distribution stateside, although the passage of time has allowed it to find a devoted fan base on home video. Director John Fawcett and writer Karen Walton have deftly combined a werewolf flick with a coming-of-age tale, with the focus on morbid Goth sisters Brigitte (Emily Perkins) and Ginger (Katharine Isabelle). Despite being high school students, both girls have yet to have their periods, although that changes for Ginger on the same day that she's attacked by what turns out to be a lycanthrope. Ginger's changes (body pains, hair in unwanted places, increased sexual appetite) are assumed by their mom (Mimi Rogers) to be par for the course for a young woman coming into her own; Brigitte, however, knows that something's not right, so she joins forces with the local drug dealer (Kris Lemche) to help cure Ginger of her other curse. The film's ambition sometimes exceeds its execution, but Perkins and Isabelle are both excellent in their well-written roles. Both actresses returned for a pair of 2004 sequels made by other filmmakers, Ginger Snaps 2: Unleashed and Ginger Snaps Back: The Beginning.
Blu-ray extras on The Legend of Hell House include audio commentary by Franklin; an interview with director John Hough; and the theatrical trailer. Extras on the Blu-ray/DVD edition of Phantom of the Paradise include audio commentary by Harper, Graham and the actors cast as the band The Juicy Fruits, Archie Hahn, Jeffrey Comanor and Harold Oblong (aka Peter Eibling); separate audio commentary by production designer Jack Fisk; a making-of feature; new interviews with De Palma, Williams, producer Edward R. Pressman and make-up effects artist Tom Burman; an interview with Williams moderated by filmmaker Guillermo Del Toro; and alternate takes. Blu-ray extras on Ginger Snaps include audio commentary by director John Fawcett; separate audio commentary by writer Karen Walton; a making-of featurette; deleted scenes; a Women in Horror panel discussion of the film; and audition footage.
All Three Movies: ***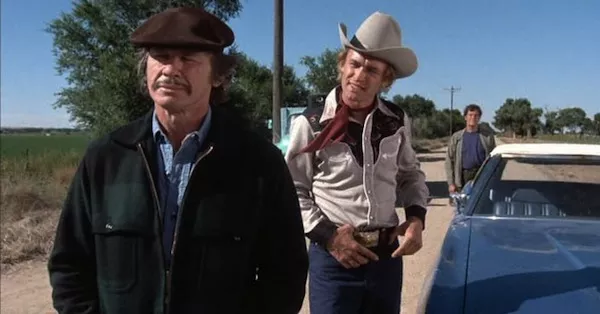 Charles Bronson and Paul Koslo in Mr. Majestyk (Photo: Kino)
MR. MAJESTYK (1974) / BREAKHEART PASS (1975). Just how big a star was Charles Bronson in the 1970s? When TIME magazine opted to print a cover story about "Hollywood's Honchos" Burt Reynolds and Clint Eastwood in January 1978, it made sure to include a sidebar on Bronson and his string of hits. Kino Lorber has seen fit to release two of these efforts on Blu-ray.
Mr. Majestyk, which opened one week before Death Wish transformed Bronson from movie star to superstar, finds the actor working from a script penned by no less than Elmore Leonard. Bronson plays Vince Majestyk, an amiable but no-nonsense farmer trying to get his watermelons picked. But corrupt rubes repped by the grinning Bobby Kopas (Paul Koslo) arrange it so that no one will help out, leaving Vince to depend on a handful of Mexican immigrants to get the work done. Matters only get worse, though, when Vince irks a Mafia hitman (Al Lettieri) who has just escaped from prison; this leads to the unique scene in which gun-wielding thugs shoot a barn full of watermelons to death. Leonard's brusque dialogue, Bronson's charismatic presence and director Richard Fleischer's able handling of action set-pieces combine to make this a breezy watch; it's also nice to see, given today's political climate, a movie that treats undocumented immigrants with sympathy and respect.
Charles Bronson and Archie Moore in Breakheart Pass (Photo: Kino)
For four consecutive years (1973-1976), Bronson landed on Quigley's annual poll of the Top 10 Moneymaking Stars (chosen by movie theater owners and based on which stars they felt drove people into auditoriums). His peak position was #4 in 1975, the year he headlined Breakout, Hard Times and Breakheart Pass, an exciting adaptation of the bestselling novel by Alistair MacLean (The Guns of Navarone, Where Eagles Dare). MacLean himself wrote the script, which showcases the author's usual predisposition toward meaty plots that take off in various directions. Set mostly aboard a train barreling across the Old West, this casts Bronson as John Deakin, a wanted criminal who's not exactly what he seems. Arrested by Marshal Pearce (Ben Johnson), they're both aboard a train whose other passengers include a silky governor (Richard Crenna), his good-hearted girlfriend (Jill Ireland, Bronson's real-life wife), an army colonel (Ed Lauter), a burly cook (former boxing champ Archie Moore), a railway rep (Charles Durning) and a minister (Bill McKinney, who made Ned Beatty squeal like a pig in Deliverance). In true Ten Little Indians fashion, passengers and crew members start getting bumped off — would the deaths have anything to do with the train's mysterious cargo, or with the intended destination of an army outpost currently under quarantine? Breakheart Pass is crackerjack entertainment, effectively combining action and intrigue while also offering Lauter (a great 70s character actor) one of his best roles. This was also the final screen credit for the legendary stuntman, stunt coordinator and second unit director Yakima Canutt, whose magnificent resume also included the likes of Stagecoach, Gone with the Wind and Ben-Hur.
The only extra on each Blu-ray is the respective film's theatrical trailer.
Mr. Majestyk: ***
Breakheart Pass: ***1/2
Tom Hiddleston in Only Lovers Left Alive (Photo: Sony Pictures Classics)
ONLY LOVERS LEFT ALIVE (2014). Trust Jim Jarmusch to craft a vampire flick that's less about frightful fangs puncturing exposed necks and more about the existential crisis that's rocking the modern world. Here, the innovative writer-director foregoes the usual vampire-friendly settings of Transylvania, London and even New York to set his story in, of all places, Detroit. That's where Adam (Tom Hiddleston) can be found; a centuries-old vampire with a fondness for music, he rarely ventures outside his apartment, trusting his only human friend, the unsuspecting Ian (a terrific turn by Anton Yelchin, Star Trek's latest Chekov), to bring him anything he might need (usually, vintage guitars for his collection). Adam has a lover named, naturally, Eve (Tilda Swinton), but she lives far away in Tangier, where she sometimes pals around with a fellow vampire named Christopher Marlowe (John Hurt). Yes, the Christopher Marlowe, and I won't go into details surrounding his identity except to say that there's a reason William Shakespeare is dismissed by the characters as an "illiterate zombie philistine." ("Zombie" is the name the vampires call all humans.) Eve eventually travels to Detroit to be reunited with her Adam; it's a blissful existence for a while, but trouble comes knocking in the form of Eve's little sister Ava (Mia Wasikowska), a party vampire who's selfish, obnoxious and prone to always getting in trouble. There's genuine warmth emanating through a picture that initially appears chilly to the touch, thanks in no small measure to the performances by Swinton and Hiddleston. With its languorous pace and decidedly low-key pleasures, Only Lovers Left Alive isn't a movie for all tastes, but those seeking something seductive and unexpected will want to sink their teeth into it and draw deeply.
DVD extras include a behind-the-scenes featurette; deleted and extended scenes; and the music video for Yasmine Hamdan's "Hal."
Movie: ***1/2
Diego Luna, Maribel Verdú and Gael García Bernal in Y Tu Mamá También (Photo: Criterion)
Y TU MAMÁ TAMBIÉN (2002). Yes, its central characters are two horny teenagers and a beautiful older woman who lights their fires, but to tag this Mexican import the art-house equivalent of a teen sex comedy would be misleading — Y Tu Mamá También (And Your Mother, Too) has more on its mind than the male orgasm. Ultimately, this bold picture from writer-director Alfonso Cuarón (this year's Best Director Oscar winner for Gravity) and his brother, co-scripter Carlos Cuarón, begs comparison with Thelma & Louise more than American Pie, exploring the liberation (sexual and otherwise) of its leading characters as well as the mythos and pathos of the landscape they cross while making their life-altering journey. Gael García Bernal and Diego Luna, who both have gone on to successful careers (Babel and The Motorcycle Diaries among Bernal's credits, Milk and Elysium among Luna's), portray two of the most realistic teenagers ever seen in cinema, raging bulls of hormonal overdrive who, during one fateful summer, decide to embark on a road trip to the beach. They take off with an "older" (late-20s) woman (Maribel Verdú) at their side, a dental assistant from Spain who's trying to come to terms with her failed marriage and the dark secret that seems to inspire her increasingly bold actions. Sexually explicit in a manner rarely seen in American titles, yet also mindful of its country's sociopolitical breakdown, this is a mature drama that snares the viewer with seductive ease. This swiped the majority of the year's Best Foreign Language Film prizes from the critics' groups, but antiquated Academy rules meant it wasn't even in the running for that organization's award; it did, however, earn an Oscar nomination for Best Original Screenplay.
Blu-ray extras include two making-of featurettes; deleted scenes; an on-set documentary; an interview with philosopher Slavoj Žižek about the movie's social and political themes; and Carlos Cuarón's 2002 short film, You Owe Me One.
Movie: ***1/2