I don't usually run around town in my underwear. Frankly, people don't need to see the dimples in my thighs or how pale they are.
But I broke my rule on Sunday to join the 50 or so people who showed up at the Scaleybark Light Rail Station in boxers, briefs or panties for Charlotte's inaugural No Pants Light Rail Ride.
The tradition started in New York City in 2002, when seven members of the comedy group Improv Everywhere pranked subway riders by showing up pantsless. The event has grown in popularity in New York — 4,000 people participated last year — and caught on in 59 cities in 27 countries around the world. Participants in Charlotte were encouraged to donate their abandoned pants to Warm Charlotte, a local group of small-business owners that accepted the clothing as well as cash at the end of the ride at The Common Market in South End.
I mustered the courage to go pantsless after I saw a full-figured woman in polka dot panties with thick patches of cellulite on her thighs standing near the platform. She was laughing with her friends, which made me think that maybe I was the one being weird by not dropping my drawers. Besides, the three or four police officers at the station were neither arresting people nor telling them to put their pants back on.
Spataro sports her Wonder Woman undies proudly.
I zipped down to my Wonder Woman-printed underwear and stood on the light rail platform for the 3:22 train with my equally pantsless friend. When we got on, a teenage boy looked at me but did not leer. He just seemed confused. A little boy craned his head to watch my friend and I gabbing as if taking the train sans pants was the most normal thing in the world. One older woman even asked if I was dressed to go swimming.
"I like that superhero," she said, pointing to Wonder Woman's face on my undies.
Richard F. Purcell, a social investment consultant with The Moxie Project LLC and head organizer of the Charlotte No Pants Light Rail Ride, wanted to bring social consciousness to the worldwide event. As a native New Yorker and Charlottean for eight years, he decided the time was right for the Queen City to get weird — but in a way that benefits others.
"Right now we're doing this as fun, it's kind of a joke," said Purcell. "But guess what; there are people who really don't have pants that can't clothe themselves. That's kind of the meaning behind it."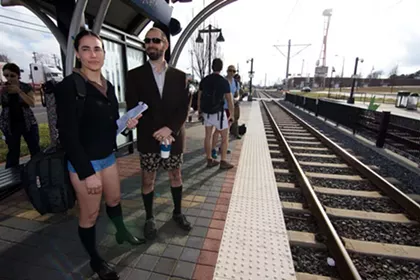 5 slides