Page 3 of 4
Who are these would-be warriors who carry big sticks? An ominous assessment came from Peter Wood of Duke's history department, a former lacrosse player and coach whose opinion has been much sought by the national press.
"A few years ago, a new kind of student began to show up at Duke," recalls Wood, who's had two of the three rape defendants in his classes. "Cynical, arrogant, callous, dismissive -- you could almost say openly hostile. They weren't all athletes by any means, but some of the worst were lacrosse players."
In 2004 Wood sent a letter to his dean, warning of an ugly minority that had grown "beyond the 'few bad apples' stage," and adding that coaches were ignoring classroom schedules and fostering disrespect for academics.
The Graybeard soliloquy -- "What's wrong with the young people today?" -- was a comic cliche in the age of Aristophanes. Careless explorers of the generation gap tend to stumble and wound themselves. But Wood's testimony supports grave misgivings about the demographic that includes the Durham dancer and the athletes she accuses.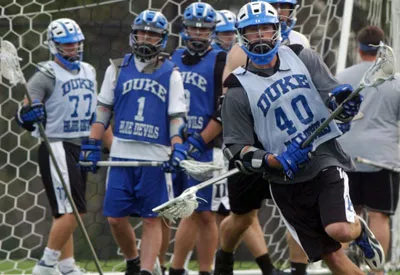 Shawn Rocco/News & Observer
Duke's lacrosse team during better days
We hear a lot about 18-to-34s, the age group that now makes up a good chunk of Creative Loafing's readership. This also is the audience that made a mega millionaire of the creepy sex ghoul Howard Stern -- so much for respecting women -- and a trillion-dollar industry of "reality" television. Reality-show role models are macabre: none stranger than Donald Trump, without an atom of shame or a single glowing neuron in his baroquely thatched head, glaring truculently from the duck blind of his personal foliage like a silly crib toy that thinks it's a wolverine. Do younger viewers understand that all the money in the world doesn't make a jackass less laughable?
The values these shows advertise -- a feral Darwinian struggle to prevail, to exploit any advantage and vault gleefully over the bodies of the fallen -- are values common to Enron and al-Qaeda. It was a lamentable irony when North Carolina Central University, where the unfortunate dancer is enrolled, invited an African-American motivational speaker, the author of Think and Grow Rich, to deliver its commencement address.
"Success sometimes means being lonely," Dennis Kimbro told the NCCU graduates. "It means doing what you have to and not caring what others think, do, or feel."
Good grief. Ken Lay -- or Idi Amin -- couldn't have said it better. Someone should tell the graduates of NCCU to read Eldridge Cleaver, who writes, in Soul on Ice, "Competition is the Law of the Jungle and Cooperation is the law of Civilization."
TV shows endorsing the ethics of corporate predators -- the ethics of hyenas -- create instant millionaires, instant celebrities, instant executives and fast-lane players. Little wonder that instant gratification lures undergraduates like Kaavya Viswanathan, the 19-year-old Harvard sophomore who was about to become a celebrity "chick lit" author when her publisher was inundated with evidence that she'd plagiarized everything but The Iliad. Little wonder that new software to thwart student plagiarists has become a necessary expense for universities, or that technology, this student generation's one vaunted advantage over the rest of us, has been mobilized for such ingenious variations on classroom cheating that professors despair of keeping pace.
Courtesy Duke University
Collin Finnerty, sophomore at Duke University from Garden City, NY, indicted on charges of first-degree rape, sexual offense and kidnapping
"If they'd spend half as much time studying," a frustrated dean told the New York Times, "they'd all be 'A' students." In a four-year study of 62,000 college students, two-thirds admitted to cheating.
It's a culture of expediency -- a culture of short cuts, which reminds me of a preacher I heard once, a Scottish Calvinist who warned, "There are no short cuts; no short cuts to heaven. Every short cut leads to hell."
"The rational incentives to cheat have grown dramatically," suggests David Callahan, author of The Cheating Culture, "even as the strength of character needed to resist those temptations has weakened."
Why has it weakened? From this Witches' Sabbath of bad taste and sick values we call popular culture, it's hard to isolate the specific elements, the toxic agents that might turn our weakest kids crooked and mean. It's a culture based on witless distraction, ruthless competition and instant gratification, and if it's beginning to turn out damaged specimens we can't easily recognize as our descendants, aren't parents and grandparents the ones to blame? If Huckleberry Finn and Holden Caulfield have been replaced by Sammy Glick, isn't it time we confessed that American children have been criminally neglected and misled?
One of the worst things I've ever heard about today's college students came from a graduate student, a woman who tries to rescue puppies that undergraduates dump at animal shelters when they go home for the summer. Often as not, she said, these flint-hearted scholars adopt another hapless animal in the fall. If you ever did such a thing, and thought nothing of it, you'd probably be surprised to know that I'd never hire you or vote for you, and that I'd fight like hell to keep you from marrying my daughter. I don't know you at all, son, and frankly you scare me.
Reade Seligmann, sophomore at Duke University from Essex Fells, NJ, indicted on charges of first-degree rape, sexual offense and kidnapping