Rockingham hasn't been known for much since NASCAR left town two years ago. To outsiders, the quiet town 70 miles east of Charlotte functions mostly as a pit stop on the way to Myrtle Beach. But two or three years ago, the residents had in their midst a medical record-setter.
The 10,000-population town was home to one of the busiest doctors in the state, probably even the country. Later, when he could no longer lay claim to such industriousness, this doctor would tell the North Carolina Medical Board he had treated 244,000 in eight months. That's 1,028 patients a day, not accounting for weekends off.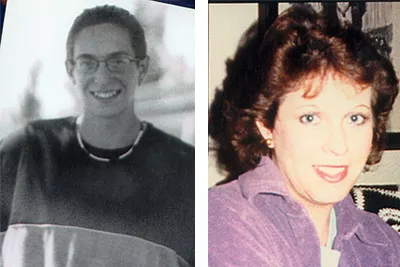 Ryan Kelly (left) and Leisa Kelly, who used anti-depressants bought online to commit suicide
You might imagine this doctor's patients didn't linger long in the waiting room. In fact, they didn't even see him, much less know his name. The doctor approved questionnaire requests for medications; the doctor-patient relationship didn't even rise to the level of pen pal.
For all the good doctor knew, a grandpa from Dubuque, IA, who needed a little extra help in the bedroom, might have had high blood pressure, too. Or a homemaker in Salt Lake City who wanted a little help getting to sleep at night might have been taking those pills for years with no end in sight. Or a suicidal teenage boy from San Andreas, CA, might have, in fact, ordered those lethal antidepressant doses so he and his mother could kill themselves.
Can you guess which one slowed the busy doctor down?
Online Explosion
In the years since congressional investigators have been tracking Internet-based pharmacies, their numbers have multiplied almost tenfold. In October 2000, the General Accounting Office identified about 190 online pharmacies. Four years later, the number mushroomed to 1,400, according to what is now the Government Accountability Office.
As almost anyone who pays the vaguest attention to spam e-mail knows, online pharmacies are ready and willing to fill your prescription drug desires. Those e-mails clogging your account aren't just an electronic come-on: Armed with a credit card and an address, almost anyone can obtain whatever drug they want without leaving the house or facing a physician versed in the ways of doctor-shoppers.
Such availability, of course, arguably could be fine for a mentally healthy adult who has a realistic idea of the drugs she needs. But ask the rehab professionals whose patients got narcotics with the click of a mouse or the parents whose children have used online pharmacies to tragic ends, and you'll hear a dim view of such enterprises. These sites, they say, allow the irresponsible medical fringe to skirt the boundaries of good practice, and make a hefty buck while they're at it -- all while acting under a medical license that affords them the regard and good will that having an M.D. after one's name offers.
Some Internet pharmacies are legit, requiring that a valid prescription be faxed or mailed before medicine can be dispensed. Others are intended to save consumers money by routing prescriptions through Canadian pharmacies. Both are distinct from the type of Internet pill mill that doctors like Dr. Everett Echols have admitted participating in.
Creative Loafing tried to reach Echols at different times during the past year. He returned a phone message once. At 2:25am. "I'm kind of curious about what's on your mind," he said in that brief phone conversation, which took place last summer. A former compatriot who is named with him in a lawsuit said he hasn't seen Echols in about six months. And messages left in person and by phone at the house of Echols' father in Greensboro -- the same address Echols now lists on his voter registration -- weren't returned. But records in Tennessee and North Carolina, as well as conversations with those who have become intimately acquainted with his history, tell their own story.
A Deadly Business
Seventeen-year-old Ryan Kelly was an outgoing, musically inclined kid whom his grandmother, Candy Kelly, of Los Gatos, CA, hoped would go to college. During summers, he would help her at the senior-citizen apartment complex she managed. The older people loved him, recalled Candy.
His mother, 46-year-old Leisa Kelly, was a different matter. "I loved her to pieces, but she was always pushing people away," Candy said recently. For years Leisa had believed people were out to get her. Her suspicious nature made it difficult to hold a job, and by the end, Social Security disability payments made up the bulk of Leisa and Ryan's income.
By 2004, Leisa had driven away most people. In retrospect, Candy said, Leisa showed signs of schizoid personality disorder as far back as her teenage years. People with schizoid personality disorder are loners who show little interest in developing close relationships, even with family members.
But she had not driven away her son. When Leisa urged Ryan not to go to school, he stayed home. When Leisa wanted Ryan to drink with her, he did.