SUNSET EDGE
**1/2 (out of four)
DIRECTED BY Daniel Peddle
STARS Gilberto Padilla, Jacob Ingle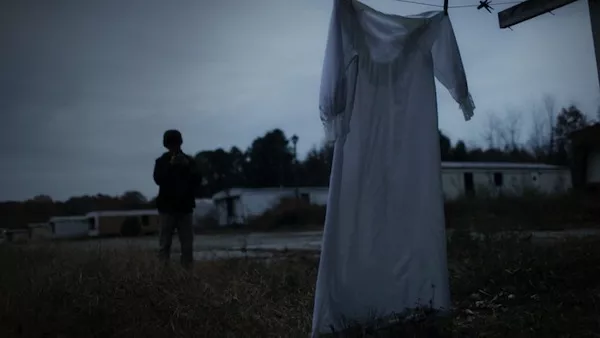 Sunset Edge (Photo: CAVU Pictures)
They say you can't go home again, but that's exactly what Winston-Salem native Daniel Peddle did. An artist and casting director who's long been residing in New York (which is where he "discovered" a teenage Jennifer Lawrence, thereby jump-starting her remarkable career), Peddle returned to North Carolina to shoot Sunset Edge, his third motion picture but his first narrative feature (the others were documentaries). A sterling example of style over substance, this centers on four teenagers (nicely played by nonprofessional actors Jacob Ingle, Haley McKnight, William Dickerson and Blaine Pugh) killing time by hanging around an abandoned trailer park in rural N.C. As the kids explore the area, binge on junk food and amusingly discuss Forsyth County's place in the cosmos, it soon becomes clear that they're being watched by a mysterious figure (Gilberto Padilla) who may or may not be planning to cause them harm.
The plotting in Sunset Edge is rather rudimentary, but Peddle disguises that by presenting his picture in a format that employs plenty of jumping back and forth through time. The movie is being pushed by its makers as "Hitchcockian," but that's hardly the case. It's a far more elemental undertaking, in both its exposition and its execution. If anything, the film's natural look, isolated setting and supernaturally tinged tale bring to mind The Blair Witch Project far more than any Hitchcock endeavor.
Those seeking a respite from the seasonal blockbusters might want to check out Sunset Edge, which opens today at Ballantyne Village for a one-week run. And those interested in seeing Peddle in person should catch either the 7:20 p.m. show tonight or the 7:20 p.m. show Saturday, as he will hold a Q&A session after both those screenings.