Stuck in the thrashes of summer in the South, the best time to get out and play is after the sun goes down. Sure, water provides moderate relief during the days, but balmy yet tolerable nights are where it's at. Activities include outdoor competition (cornhole, ladder gold, horseshoes, etc), music festivals, dancing in the street (or indoors), and my favorite, patio drinking.
The common denominator among all of these late summer night activities is the inevitable creep-up desire to feed your face after 2 a.m., when the bars close, you're bored with whatever you're doing and you have a hankering for something delectable. That's where CL comes in with this handy guide to help you make it through the night. We've scoped out three of the tastiest joints around town where you can satisfy your summertime wee-hour cravings.
Jack Beagles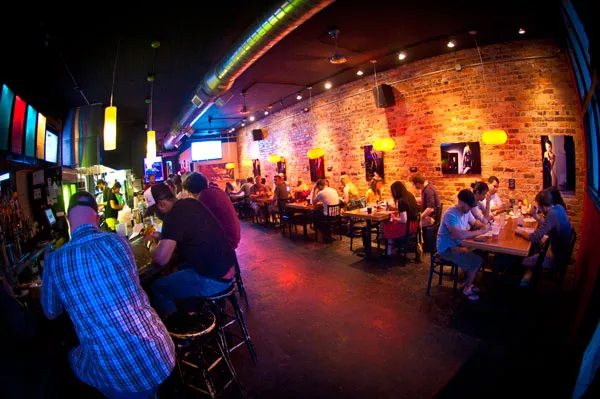 (Photo by Justin Driscoll)
North Davidson and 36th has plenty to keep you busy until closing time. Options include the nearly unbeatable patio and digital jukebox combo at Solstice, margaritas at Cabo Fish Taco, or earhole arousal at The Evening Muse or Neighborhood Theatre. When you find yourself at the intersection of not-ready-to-go-home-yet and pretty-hungry, I suggest you stumble into relative newcomer to the NoDa scene, Jack Beagles.
J.B. is exactly how you would picture a hometown "regulars" kind of bar to be before you're old enough to actually go to bars. It's archetypal in both set-up and décor, with some of the friendliest wait staff around. The crowd, in typical NoDa fashion, is eclectic and upbeat. There is a massive patio, which parallels the laid-back and comfortable atmosphere indoors.
The full menu is offered until 3:30 a.m., and includes standard bar food items like chicken fingers, fries and hot dogs with all the fixin's. Far from standard, everything is made to order, and Jack Beagles offers very few frozen items. Chopped salad, cheese steaks and daily "Blue Plate Specials" are also featured. You can watch your food being prepared in the "open air" kitchen, and in my case, interact/have a dance-off with the cook. You will be just as grateful for the likable staff, if not more so, than the air conditioning.
3213 N. Davidson St. 704-334-5140. www.jackbeagles.com.
The Diamond
If you were to personify Plaza Midwood, it would be the girl you see at the airport with the one small backpack containing everything she needs for a week's holiday. She's wearing a floral skirt/leather jacket/converse sneakers combination and pulling it off. She's lively, diverse and hip without trying too hard.
Much like its neighborhood, Plaza Midwood's Diamond Restaurant radiates that vibe. It's a revamped retro-style legitimate diner, complete with bar and a working old-school jukebox. When you step through the front door, you feel like Reese Witherspoon's character in Pleasantville — somehow transported back in time through the TV remote or a warp tunnel. The wallpaper and lighting fixtures, right down to the text on the menus are mid-century modern with a touch of '50s kitsch.
The crowd is crazy downtown stylish, like they just crawled off the back of the Village Voice. On my recent visit there, the place was crowded but not uncomfortably so; we waited only a short while for a booth, and service was prompt. Phillip was our server and he was excellent. (Hi Phillip.)
The menu is diverse, with everything from your traditional burgers and fries, to a Mediterranean hummus platter with all of the accoutrements, to the special, which, on this particular night, was baked chicken with a choice of two homestyle sides. Everything I ingested was yummy to the max, paired with a reasonable price.
Just like when I wear my mom's old sundress and get ample compliments, The Diamond has proven that what is old is new again, and authentic style always comes full circle.
1901 Commonwealth Ave. 704-375-8959. www.diamondcharlotte.com.
Midnight Diner
Another summertime activity that gets the boys, um, excited is a visit to the strip club. Luckily for me, since I was tasked with writing this article and happen to love strip clubs, Uptown Cabaret is in walking distance of a Charlotte favorite, lighting the way to scrumptiousness with its neon lights 24 hours a day, seven days a week.
I'm talking about Midnight Diner, of course. If you have never been there, I feel sorry for you. As far as diners go, this is a must visit. In addition to having the best middle-of-the-night fried chicken ever in the universe, the menu is littered with an array of other comfort foods.
The demographic at Midnight Diner, particularly in the summer, is primarily young partygoers getting their fried fixes. You may also see some Uptown Cabaret regulars and, if you time your arrival right, a few dancers. (Pole tricks work up an appetite.) My friend and I got into a pretty heavy debate about whether or not another female patron was a dancer. Of course, my friend overheard and confirmed that the women in question was, in fact, a dancer. "So THAT'S what you look like with clothes on?!" It's a fun game, and you'd be surprised how little you look at someone's face when they're wearing nothing but dental floss and 6-inch acrylic heels.
Back to the food: hand-cut onion rings, burgers, wings and breakfast all day. Also, hand-spun milkshakes in everyone's favorite flavor, delivered by a waitress wearing a '60s style A-line skirt and a smile (most of the time). Let's face it: Midnight Diner is the marriage of a greasy spoon and your grandmother's cookbook.
115 E. Carson Blvd. 980-207-3641. www.midnightdinercharlotte.com.