If a tree falls in rural Michigan and only a bunch of hearing-impaired rockers are around to experience it, does it make a sound? That old cliché is moot for Adam Lazzara, the Taking Back Sunday singer who is well known for death-defying stage antics like climbing up precarious scaffolding at big punk concerts and hanging upside-down from the rafters. Somehow, though, the daredevil performer couldn't escape a falling tree this past March. And it wasn't for lack of hearing it.
It was windy in the Midwest. Lazzara and his bandmates were in a recording studio working on new songs when the singer stepped outside for a cigarette. He heard the tree break. But before he could think or respond, the trunk was on top of him. Paramedics were called and Lazzara spent several days laid up in the hospital with a crushed leg. "You'd think you'd have time to get out of the way," he says, "but it wasn't like that." He pauses, and in perfectly droll understatement, adds, "Yeah, it was kind of scary."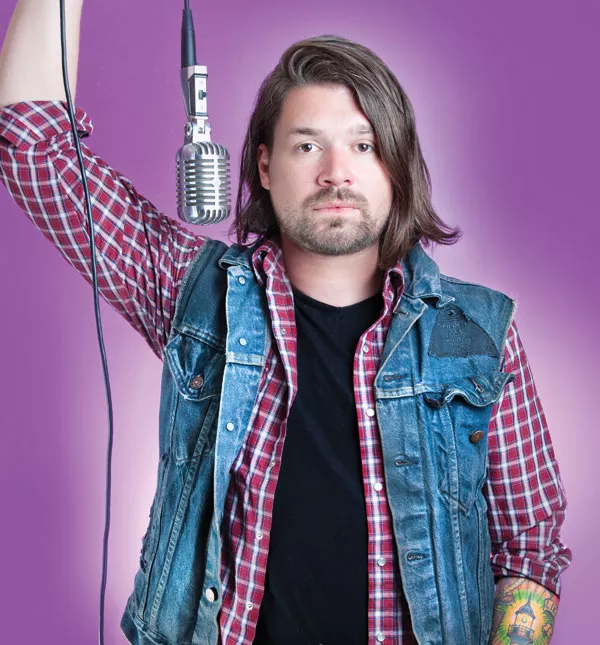 (Photo by Justin Driscoll)
Lazzara, looking disheveled in ratty cut-offs, a faded black T-shirt and denim vest, has hobbled outside the Smelly Cat coffee shop in NoDa, not far from the home he shares in Charlotte with his wife, Misha, and their 3-year-old son, Keaton. It's a rainy Tuesday about two months after the accident — and it's windy. Very windy. You may ask: what, pray tell, is Lazzara doing outside in the wind again? Having a cigarette, of course. He cracks a smile and gestures at the foliage on the patio. "At least, these trees are small."
Rock stars. They're certifiably crazy. Constantly defying odds — whether the odd is a tree, a person, a thing or a substance. This drug didn't kill me? I think I'll try that one. This hooker didn't take all my money? Maybe that one will. This oak tree didn't finish me off? Let's go stand under that giant sequoia.
Lazzara is now back on the road with Taking Back Sunday, headlining this summer's Warped Tour, which stops at Verizon Amphitheatre in Charlotte on July 30. Since the accident, he has transformed from the lean, pop-punk/emo dude of TBS's earlier years into more of a Jim Morrison-like character, with long hair, beard, biker jean jacket and a few extra pounds. From all accounts, he's spent more of this tour twirling his microphone than swinging from the rafters. It's not exactly because he's trying to be ultra-cool, like Morrison. "I just can't move around like I did before," he says, although he does admit to liking the Sons of Anarchy look he's cultivated.
Only a handful of people recognize Lazzara as he walks across North Davidson to 36th Street. A couple say hello, a couple more do a double take, but he's hardly the focus of attention. That's no doubt partly because of his hair and beard. But Lazzara thinks it may be something else, too. "I don't think people in Charlotte like my band all that much," he says, stubbing out his cigarette with his sneaker.
BEHIND THE NEW BIKER LOOK, Lazzara's still the same insecure kid who helped rocket Taking Back Sunday into the mainstream by rewriting the rules of emo and melodic hardcore as fist-pumping, shout-along anthems like "A Decade Under the Influence," the band's 2004 breakthrough about a dissolving relationship, and the stalkerish "MakeDamnSure," from Louder Now, TBS's major label debut two years later. For Lazzara, who was born in Sheffield, Ala., near the Southern music mecca of Muscle Shoals, and raised in the Triad area of North Carolina, his meteoric rise to alt-rock stardom came after a handful of years of just being another teenage skate punk cruising sidewalks along Walker and Tate streets near UNC-Greensboro.
"I was always on my skateboard, riding everywhere," Lazzara remembers. "On the corner where we lived, in Greensboro, was this Bell South building that had these little curves and obstacles to skate on. I'd crawl under the fence and skate there." When he wasn't skating, he was going to punk shows and playing in local bands. At 18, he took a risk and hightailed it to New York's Long Island to play bass with some guys who were part of the late-'90s punk circuit that regularly traveled through the Carolinas. The band was Taking Back Sunday.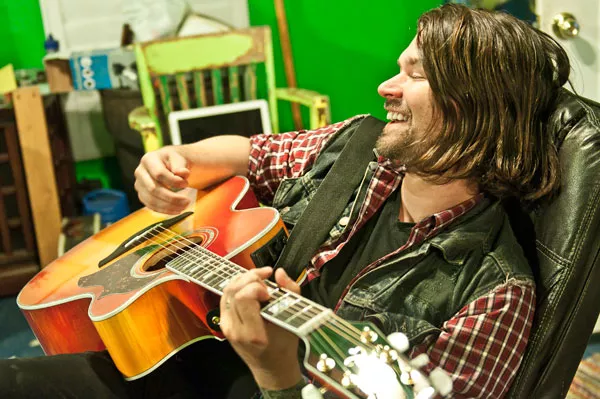 (Photo by Justin Driscoll)
Lazzara conveniently forgot to tell his dad about the move. "I was shocked. I found out from his friends that he'd taken off," says Phil Lazzara, a 55-year-old boat builder who lives in High Point. "I mean, here was a boy who had been born in the South and never been north of Virginia. We finally got in touch and he said, 'Yeah, dad, this is where I am and this is what I'm doing.'"
Within a couple of years, Lazzara had switched from bass to lead vocals, and Taking Back Sunday cut the demo that became the band's 2002 debut for the indie label Victory Records, Tell All Your Friends. Like so many punk-rooted bands that have found mainstream acceptance since the unlikely rise of Nirvana and Green Day in the early '90s — from Weezer, the Offspring and blink-182 up to New Found Glory, Thursday and My Chemical Romance — Taking Back Sunday immediately jumped on the Warped Tour career track, slogging it out in clubs and then hitting those sun-drenched festival stages. With lyrics focusing on angsty relationship issues and feelings of insecurity, Lazzara tapped the same nerve that's propelled so many other sensitive boys and girls of the post-cock-rock, post-punk eras that have seen the demise of music's old boys' network. Lazzara was a sensitive punk poster boy — at once good-looking and gawky, angry and amiable.
Back in NoDa, over chips and salsa at Cabo Fish Taco, Lazzara talks about his feelings of inadequacy in high school and then feeling it all over again, years later, as a naïve Southern kid living in New York. "I remember when I was waiting tables up there and I would put on this fake New York accent, 'cause I didn't want people to make fun of me," he says, and laughs. "I still feel like an outcast. I don't think that'll ever go away."
I FIRST MET LAZZARA a little more than a year ago. He was on his Triumph motorcycle, buzzing around the curve next to my Plaza Midwood house, all hoodie jacket, hip T-shirt and jeans, still skinny and looking every which way but at the road as he whizzed to a stop in my front yard. He was there to do a radio interview. I'd loaned out my living room to DD Thornton, host of the Internet show Deaconlight on ErrorFM.com. Thornton, one of the Carolinas' earliest punk/new wave radio DJs in the late '70s and early '80s, saw in Lazzara what she saw the first time she interviewed U2's Bono in 1983. "He's just so charismatic and has this strong, powerful personality on stage," she says. "And then off stage he's just this nice, quiet guy, the most gentlemanly kind of guy you could know."
Before that day, my own minimal knowledge of Taking Back Sunday was the research and listening I had done to pen a brief TBS bio for RollingStone.com. I had heard the band before, in passing, but wasn't a huge fan. I knew TBS had been lumped into the emo/pop-punk/melodic hardcore categories, but that was about it. I had no idea the singer lived in Charlotte.
What I'm going to say now will make me come off as an old fart, I'm aware, but to me, emo pretty much began and ended with the D.C. hardcore bands Rites of Spring and Embrace, and maybe San Diego's Drive Like Jehu; to me, pop-punk still means the Buzzcocks, and melodic hardcore means the Descendents. Most of what's come since, from Green Day to My Chemical Romance, has seemed like variations on the same themes. After Nirvana's rise and tragic fall, I switched my focus away from the pop end of the punk spectrum. To me, the mainstream use of the term emo is little more than a curiosity.
"It's weird, because 'emo' was once a term we used to make fun of friends who were acting overly dramatic and stuff," says Lazzara, who, as a singer and performer, is no stranger to dramatics. "So, for a while, I was like, don't call us emo. It made me angry for a while."
Then Lazzara got philosophical about it: "I started explaining it away in interviews, saying things like, you know, people are just animals, we hang around in packs, we need to belong to something. But in order to belong to something, it has to have a name. So emo's that name for lots of people."
Lazzara has come a long way since then. For one thing, he's settled down and put the reins on his youthful, more self-destructive tendencies. He got married and had a kid. After a few TBS lineup changes and some bad blood throughout the years, the band's first-album crew reunited for the latest disc, released last year and titled simply Taking Back Sunday. Lazzara quietly moved back to North Carolina late last decade, settling in Charlotte because his wife had family here and the couple thought it would be a good place to raise Keaton.
Taking Back Sunday at Verizon Wireless Amphitheatre in 2007. (Photo by Jeff Hahne)
Lately, Lazzara has been thinking about doing a solo album. If anything, that's where the "emo" and "pop-punk" tags concern him the most. He doesn't listen to much music that would be considered emo or pop-punk anymore, he says. Nowadays, Lazzara likes the rootsy alternative country of fellow North Carolinian Ryan Adams. And he recently checked out the Of Montreal show at the Neighborhood Theatre. "I'm worried that whenever I get my shit together and actually make my album, it'll get dismissed," he says. "I'm afraid people will say, 'Oh, it's just that emo guy.' That's not exactly who I am, and I don't want to have to meet with that kind of immediate dismissal or opposition."
One thing's for sure: Taking Back Sunday has not been dismissed by fans on the current Warped tour. YouTube videos show a Lazzara who's as charismatic as ever, doing sing-alongs with the crowds, even with his injured foot firmly planted on the stage throughout the performances. Another thing is for sure: Lazzara's biggest fan, his dad, will be in the audience when the band hits the Warped stage in Charlotte. "When Adam first expressed interest in music, the first show I went to see him play, I'd never experienced anything like that," Phil Lazzara says. "But I thought, you know, if he was into baseball, I'd go to his games. So I thought, if he's doing this, I better get interested in it."
Vans Warped Tour
Taking Back Sunday along with New Found Glory, All Time Low, Bayside, We the Kings, Yellowcard, Mayday Parade, Senses Fail, Four Year Strong, Breathe Carolina, Streetlight Manifesto and more. July 30. 11:30 a.m. $42. Verizon Wireless Amphitheatre. www.livenation.com.