A long line of ticket holders gathers outside the Broadway Theatre more than a half hour before the curtain will rise for the Wednesday matinee of The Color Purple. Charter buses come to a halt between 52nd and 53rd Streets, disgorging busload after busload to the back of the line -- making it increasingly doubtful that ushers will be able to seat the 1,700+ throng before the orchestra strikes up the overture.
LaChanze and Renee Elise Goldsberry in The Color Purple.
Oprah has descended upon the nerve center of American theater. Like Disney before her, she has triumphed.
But fortunes have changed radically along the Great White Way since Beauty and the Beast started its run in 1994. Disney's dazzling confection seemed to bring fresh life, new hope and nagging misgivings to a faltering theater scene. It took vision and courage to invest in Broadway back then. When Oprah arrived, with a consortium that includes our own PAC and the Independent Presenters Network, she and her fellow investors were riding a wave of prosperity.
The mighty juggernaut threatened to derail before the holidays when MTA transit workers went on strike. Before you could say "Miracle on 34th Street," they were back on the job, saving Christmas for grateful tourists as improbably as any Hollywood script.
So 2005 ended happily, with the highest-grossing week in Broadway history capping off another record-breaking year. We saw 12 shows during the intoxicating final week of 2005 -- and during the first week of the new year. The present is very exciting -- and we're on the job reviewing it.
Broadway
The Light in the Piazza (Rating: **** out of 4) -- Victoria Clark won the Tony Award for her richly textured portrayal of Margaret Johnson, an overprotective mother who makes two very painful discoveries while on vacation with her daughter in Italy. First she realizes that her beautiful Clara is capable of falling deeply in love with Fabrizio, the sincere Florentine who worships her. Margaret wrestles with the question of disclosing Clara's developmental problems to Fabrizio and his family. While learning to let go, she realizes that the passionate love that has barged into her daughter's life has been absent from her own superficially happy marriage.
The book by Craig Lucas, interweaving the personal themes with those of Americans abroad, has a Jamesian subtlety and intricacy. It's nicely wedded to Adam Guettel's music and lyrics, which have a wit and sophistication worthy of Sondheim -- combined with a warmth I haven't experienced since Passion.
Clark is still in the cast and deserves all her accolades. As Clara, Katie Clarke came on board December 6 -- she's an absolute luminescence and makes the role her own. It may also be a plus that the new Fabrizio, Aaron Lazar, lacks the dreamboat charisma of Matthew Morrison.
Quite simply, this is as good as it gets.
The Color Purple (Rating: ***1/2) -- Once you get past the awkward opening, Marsha Norman's book navigates this sprawling narrative rather well. Before you know it, the infectious score kicks in, with a populist mix of gospel and blues, and Celie's journey from downtrodden deprivation to self-sufficient dignity takes shape with a handsome, pulsating arc.
We don't get the full Spielbergian impact of the scenes where sassy Sophia is brutally billy-clubbed or the pivotal dining room confrontation where Celie finally stands up to her abusive husband, Mister. Inexplicably, the movie's most rousing musical moment, when lascivious chanteuse Shug Avery gains forgiveness from her minister papa, is missing from the stage.
But the music gets into the hearts of these women, and LaChanze as Celie, Felicia Fields as Sofia and Elizabeth Withers-Mendes as Shug are perfectly cast. By compressing the plotline even more than the movie, we're more constantly in touch with the mutual devotion between the separated sisters, Celie and Nettie (Renee Elise Goldsberry), the soul of this story. So their reunion packs more of a wallop than it did on celluloid.
The Woman in White (Rating: ***1/4) -- Admirers of Andrew Lloyd-Webber need not hesitate. He's in his melodramatic mode, as sure-footed as he has been since his last grandiose Guignol, Sunset Boulevard. Adapting Wilkie Collins' novel, Charlotte Jones has made the ending more operatic, preserving the contours of an interesting gallery of characters.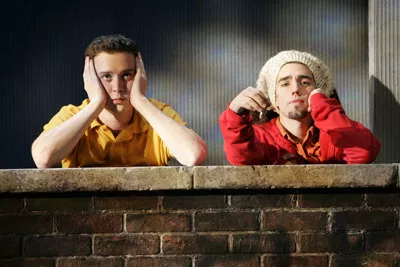 Eddie Kaye Thomas and Keith Nobbs in Dog Sees God.
There are no less than six plum roles in this mystery adventure, none more memorable than the villains, Sir Percival Glyde and Count Fosco. Glyde marries the lovely Laura Fairlie for her fortune, aided by the rogue physician Fosco -- as amorally charming as Glyde is explosively violent.
Norman Large replaced Michael Ball as the rotund Fosco on the night we went, and he was as delightfully reprehensible as you could wish. Tugging most effectively at our heartstrings is Maria Friedman as Laura's conflicted half sister, sacrificing romance to rescue Laura.
A fine pot-boiler of a story with a highly controversial staging technique. Instead of scenery, all is projected on panels that slide and circle around the stage. At times, the animation made me feel like I was at IMAX, floating in the air.