AMERICAN ULTRA
**1/2 (out of four)
DIRECTED BY Nima Nourizadeh
STARS Jesse Eisenberg, Kristen Stewart
HITMAN: AGENT 47
* (out of four)
DIRECTED BY Aleksander Bach
STARS Rupert Friend, Hannah Ware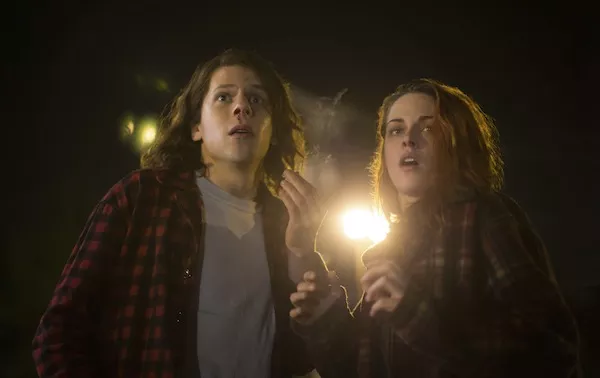 Jesse Eisenberg and Kristen Stewart in American Ultra (Photo: Lionsgate)
It's a terrific year to be a secret agent — cinematically speaking, of course. The spy game got off to a rousing start this past spring with the sleeper hit Kingsman: The Secret Service and continued into the summer with the rousing trio of Spy, Mission: Impossible — Rogue Nation and The Man from U.N.C.L.E. The trend continues this fall with the Spielberg-Hanks-Coens collaboration Bridge of Spies and culminates where it must, with the release of the latest James Bond effort Spectre. For the moment, though, we'll have to make do with the late-summer entries American Ultra and Hitman: Agent 47, both facing their own missions impossible in their attempts to register as anything more than genre also-rans.
Of the pair, American Ultra is by far the more noteworthy picture, a lightweight but likable piece that basically finds Jason Bourne reborn as a slacker. Jesse Eisenberg plays Mike Howell, a stoner leading a dead-end life in a puny West Virginia burg. His only source of joy is his girlfriend Phoebe (Kristen Stewart, Eisenberg's Adventureland co-star), who's supportive even when his frequent panic attacks prevent them from ever leaving their tiny town for vacation. Unbeknownst to Mike, though, is the fact that he's really a highly skilled government agent whose mind has been wiped clean — a situation that's reversed when a supercilious CIA yuppie (Topher Grace) orders him terminated. Activated by his former agency handler (Connie Britton), Mike is as surprised as anyone when he finds himself able to take down trained assassins with his bare hands or, in one amusing sequence, a deftly tossed frying pan.
The notion of a Cheech & Chong burnout as a 007 knockoff is an amusing one, and Eisenberg plays the part perfectly. Equally impressive is Stewart, who continues to demonstrate that she will easily outpace the fanboy detractors — even a late-inning revelation concerning her character doesn't take away from the warmth and empathy she brings to the role. What does detract is the decision of director Nima Nourizadeh to tackle each kill with overkill. Nourizadeh feels that one coat of crimson won't suffice when another three layers can be added, and while this gore should prove too cartoonish to offend many people, it does grow tiresome and occasionally takes us out of otherwise soundly choreographed action sequences.
On balance, American Ultra won't be mistaken as the ne plus ultra of secret agent capers, but it mostly handles its assignment with ease.
Rupert Friend and Hannah Ware in Hitman: Agent 47 (Photo: Fox)
That's not the case with Hitman: Agent 47, which doesn't even get off one shot before its relative wretchedness comes into focus. The second movie based on the popular video game Hitman — the first, starring Timothy Olyphant, arrived back in 2007 — this one finds Rupert Friend taking over as the ruthless government assassin with the tarnished heart of gold (6 carat, at best). Hannah Ware is Katia, whom he must protect from all manner of evildoers. Thomas Kretschmann plays the evil syndicate head Le Clerq, whose moniker makes me think of Justin Timberlake as Le Coq in The Love Guru. And Zachary Quinto, Spock in the Star Trek reboot, co-stars as John Smith, a mysterious figure who starts out like Kyle Reese before morphing into a T-800.
Speaking of Spock, while he has the ability to live long and prosper, the same may or may not be said of the career of debuting director Aleksander Bach, whose movie exhibits all the uniqueness and individuality of a Krispy Kreme doughnut rolling off the conveyor belt (and, hey, at least the pastry has flavor). Hitman: Agent 47 takes such pleasure in reveling in its own banality that it often feels like Bach and scripters Skip Woods (who also wrote the previous Hitman flick, as well as the atrocious A Good Day to Die Hard) and Michael Finch pilfered $35 million from studio coffers merely to proudly state that they punk'd everyone who actually wastes money to see this. Devoid of any distinguishing features in any department (even the acting, as all performers could have been replaced with mannequins and no one would have been the wiser), this ultimately feels like a placeholder banner ad, marking time up there on the screen until an actual movie starts.
Half-asleep when I exited the theater post-screening, I commented that the picture would conceivably only be worth catching on cable at 3 in the morning. Let me now qualify that: IF your DVD player is broken, IF the other 999 channels are playing nothing but infomercials plugging Trump-like hair implants, and IF the liquor cabinet has run dry.