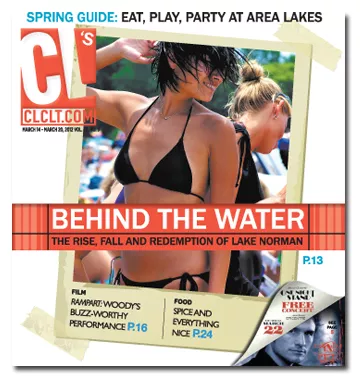 Having lived in the Lake Norman area for three years, I was fairly confident of my understanding of the culture, the average demographic, that kind of thing. I wasn't wrong, I never am, but during a recent drive to LKN for a Creative Loafing take on the lifestyles of the rich and water-worthy, I learned much more about our beloved lake, its history, and its evolution over the past 10 years.
The experience was like watching VH1's Behind the Music about some overexposed rock star. What more could I possibly want or need to know? Then, unexpectedly, halfway through the episode, I'm glued to the TV, captivated by the real-life tragicomedy unraveling before me, completely missing my mouth with the snacks I'm munching on in fear of averting my eyes from the flickering screen for even a second. The parallels between the wild success of Lake Norman and that of, say, MC Hammer or Courtney Love, are so strong that I've chosen to frame this narrative as LKN: Behind the Water.
Chapter One
The largest man-made body of water in the Carolinas, LKN was built by Duke Energy in 1963, the year Betty Friedman published The Feminine Mystique and Coke introduced its first diet cola drink, Tab. In the beginning, LKN was relatively inaccessible — there was no I-77 — and the low demand meant lakefront lots sold for as little as $1,000. Aw, how innocent and untouched she was: a virgin, curvaceous, sparkling clean, with that sweet scent of youth.
Today, you'd be hard-pressed to find waterfront property for less than $100,000 (and that's just for the lot); at her most decadent, LKN demanded millions.
Chapter Two
When I first arrived in Charlotte at the tail end of the glorious summer of 2007, Lake Norman was the place to be. If you didn't have a boat, you at least had a friend with a boat, or your social life was downright depressing.
By the middle of the decade, LKN was reaching her prime. She was popular, gorgeous — all the boys wanted to dock their boats in her slips. Local celebrities — i.e., racecar drivers like Dale Earnhardt Jr. and Denny Hamlin, race-team managers, pit-crew leaders, the dudes who carry the racecar tires, the people who own multiple gas stations — had palatial estates along LKN's shoreline. Each weekend saw a mass exodus from the steamy city to LKN's cool waters, and the lake economy flourished.
The wealthy went to live with LKN, and the "$30,000 millionaires" hung out along her shoreline, making believe they were wealthy. LKN was a wonderland of extravagant boats and over-the-top homes, short-skirted "racer-chasers," tan legs, tiny bikinis, shirtless peacocks, and good ol' alcohol flowing along with your favorite country songs.
[This is the part of the episode when our subject is riding high, selling out stadiums, winning that big Grammy. Life is good — a blur of dollars, status and endless merrymaking. Then, the novelty wears off, the indulgence becomes a problem, a few extra lines form on that fresh face, the wealth dries up — or, in this case, Wall Street melted down.]
In 2008, when the economy went south (and we don't mean to Georgia), Lake Norman's ultra-posh lakefront property, vacation homes and big boats were no longer priorities. The racecar drivers got a little older and traded in the short skirts and three-day parties for respectable trophy wives in Myers Park.
LKN is neglected, depressed, alone. [Cut to commercial.]
Chapter Three
We've reached the point in our story in which our subject has hit rock bottom; she's spent all her money on booze, drugs and flat-screen TVs. The paparazzi's caught her passed out with her skirt up. She's forced to call an apologetic press conference and rebuild her reputation. But her real friends are standing by their LKN.
Those old friends are the folks sweet Lake Norman started out with before NASCAR went mainstream: the pro anglers, a few professional athletes (real athletes, not racers), and executives like Humpy Wheeler (technically he's racing, but he's so much more!).
In the end, our celebrity doesn't overdose and die — she bounces back. Today, LKN has found a proper balance of party and family, country and classy, although those lines sometimes blur a little in the best possible way. There's still affluence at LKN, just not the overly obvious, look-yonder-at-my-racecar kind. The ginormous lakefront houses now belong to normal, everyday rich people who are perfectly content sitting on their gabillion-dollar porches drinking lemonade and talking about the big fish that got away.
Finale
Thus, we reach the final chapter, those last three minutes of the episode, wherein our subject gets introspective, thanks Jesus and her family for all of the love and support during the "ride," and describes how she wouldn't trade her newfound humdrum stable life for all of the money and fame in the world. If Ms. LKN could tell her own story, she would end this tale with gratitude. And so will we. Y'all go visit LKN some time, tell her "Hey," have a glass of sweet tea and take a boat ride, maybe go fishin'. She'll 'preciate it.