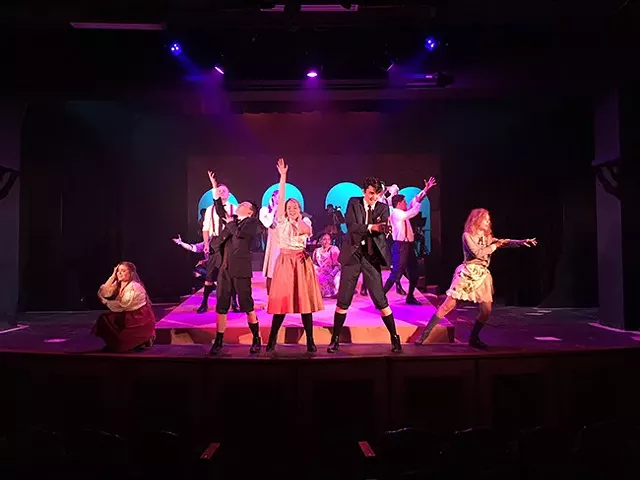 Front left to right: Emily Roy, Patrick Stepp, Renee Rapp, Liam Pearce, Jocelyn Cabaniss. Back row left to right: Daniel Hoffman, Morgan Wakefield, Maya Sistruck, Carlos Jimenez. (Photo by Chris Timmons/Theatre Charlotte)
For more than a century, the playwright Frank Wedekind was best remembered as the creator of the character Lulu, the libertine protagonist in two of his erotically charged dramas, Earth Spirit (1895) and Pandora's Box (1904). In 1937, Alban Berg combined the two works into one Lulu, an opera that stands as one of the sexiest of the 20th century.
Then came 2006.
Wedekind's notoriety was refueled for a new millennium when Steven Sater adapted the German's first script, Spring Awakening, for an off-Broadway production. If Lulu was risqué and amoral, Spring Awakening was angry, raw and a bit shocking — teen chaos rather than salon decadence. The score, composed and orchestrated by singer-songwriter Duncan Sheik, certainly wasn't opera. It was a wicked mix of sensuous, anguished ballads like "Touch Me" and "The Word of Your Body," juxtaposed with raging frenetic rockers like "The Bitch of Living," "My Junk" and "Totally Fucked."
Schoolkids stood up rebelliously on their desks, dancing and stomping catatonically. Vilifying parents and teachers. Ecstatically screwing just before intermission. Even liberal newspapers had to tiptoe around the song titles, lyrics and actions.
The production was an instant sensation, picking up an armful of awards for the Atlantic Theatre Company before going on to Broadway that same year. Eleven Tony nominations and eight Tony Awards were added to the haul, including Best Musical. Somehow the Victorian repression, the withholding of sex education and the perils of unprotected sex, backstreet abortions and teen suicide of Wedekind's 1891 script had leapfrogged into the 21st century in a theatrical triumph — with no mealy-mouthed concessions whatsoever to the older generation.
Underscoring the generic, unsympathetic nature of Wedekind's adult characters, all 14 were portrayed by one male and one female actor. It was not merely a tragedy of star-crossed lovers. It was an explosively presented nightmare of what can go wrong when adults refuse to discuss sex with their children.
And now this scorching musical hits Charlotte on Friday, May 25, barreling into our community theater for a three-week run, thanks to Theatre Charlotte. The run includes three Sunday matinees and two Saturday performances on June 1 at 8 and 11:30 p.m. Somebody at Theatre Charlotte's Queens Road barn believes they're going to sell a whole bunch of tickets. Nobody seems worried that we may experience a repeat of the Angels in America uproar that rocked the city in 1996, with aftershocks that ultimately capsized Charlotte Repertory Theatre in 2003.
"We have no trepidation about Spring Awakening being a bridge too far," Theatre Charlotte executive director Ron Law says. "Many young performers and audience members have lobbied for it, and it has always performed strongly in our show selection survey."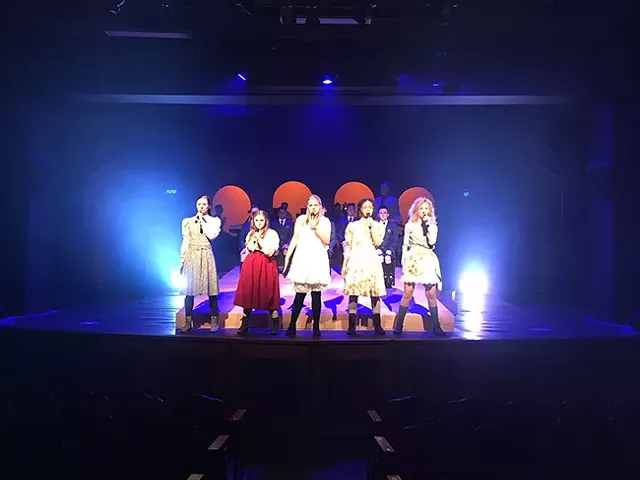 'Spring Awakening' cast members: Morgan Wakefield (from left), Emily Roy, Renée Rapp, Maya Sistruck and Jocelyn Cabaniss. (Photo by Chris Timmons/Theatre Charlotte)
Touring versions of the show came here in 2010 and 2011, but of course, these weren't shows with local artists funded by local dollars. The feeling was, even then, that the city had changed and audiences had matured since the Angels debacle. But there is likely another factor at work. Theatre Charlotte has better prepped its audience than Charlotte Rep had.
Oleanna, Falsettos and Miss Evers' Boys were as far as Rep pushed the envelope before fielding Angels in America, playwright Tony Kushner's gay fantasia. At 501 Queens Road, Theatre Charlotte has pushed further in more recent years with its more diverse audience, bringing The Full Monty, Rent, Hair and La Cage aux Folles. One way or another, the unholy trinity — nudity, foul language and homosexuality — have all been addressed.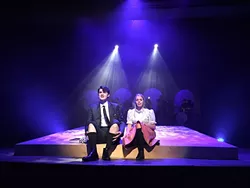 Renée Rapp (right) and Liam Pearce in 'Spring Awakening.' (Photo by Chris Timmons/Theatre Charlotte)
"All those shows were huge box office successes for Theatre Charlotte, with little pushback," Law reports. "For this show, we even offered season ticket buyers the opportunity to buy a package that did not include Spring Awakening. A very small number took us up on this."
Caution was not altogether thrown to the winds in scheduling this potential powder keg. Some niceties were also observed on the production end, beginning with auditions for the roles of the kids crossing the threshold of puberty. Nobody was allowed to audition unless he or she would be 18 on opening night. "There were many disappointed 15 and 16 year olds who love the show and couldn't audition," Law says.
Most of the teens who did audition were savvy theater students, Law says. Some have participated in Theatre Charlotte's youth-oriented summer stock productions and others have been groomed in the robust theater programs of Charlotte's local high schools.
Nominated for the prestigious Blumey Awards for high school musicals across metro Charlotte, three of the major players in Spring Awakening are so accomplished they put a major crimp in director Billy Ensley's rehearsal schedule.
Three seniors at Northwest School of the Arts, Renée Rapp (Best Actress), Liam Pearce (Best Actor) and Maya Sistruck (Best Supporting Actress), all earned Blumey Award nominations for their work in the school's presentation of Big Fish, which is nominated for Best Musical honors. As finalists, the three were spirited away to Belk Theater, rehearsing for multiple segments of last Sunday night's award ceremonies, where they performed individually and together.
Rapp performs at the Blumey Awards on May 20. she took home best actress for her role in 'Big Fish.' (Photo by Daniel Coston)
Rapp first landed a role at Theatre Charlotte when she was 10, transferring to Northwest her junior year. She praises fellow actors Pearce and Sistruck. "They are both truly such talented and good-hearted human beings," she says. "Working amongst them all these years has helped me grow as a performer, [and] watching the dedication they put into what they do. We have so much love amongst the three of us that even in this especially stressful time with the Blumeys, Spring Awakening and graduation, they make every day and every rehearsal feel like a celebration for me."
As Wendla Bergmann, Rapp launches the horrific scenario of Spring Awakening when she asks her mom how babies are made and gets a bogus answer. The only teen around who seems to have the lowdown is Melchior Gabor, a voracious reader who quietly shares the news with his shy neurotic bestie, Moritz Steifel — with explicit illustrations and written descriptions. But the atheistic, amoral Melchior does not share the facts of life with Wendla before he deflowers and impregnates her.
Dire consequences all around.
"Melchior has many layers to him," says Pearce of the charismatic troublemaker. "He clearly wants to experience all of these activities he has read about but may not necessarily be ready to deal with the aftermath of what they may lead to. While he is extremely intelligent, he is still a teenager who has not completely grasped all of the knowledge he needs to be a functioning adult in society."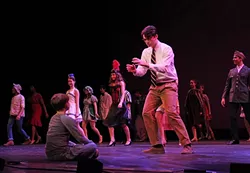 Pearce performs in 'Big Fish.' (Photo courtesy of Blumenthal)
Pearce isn't altogether sure why he landed this plum role, but he has worked with Ensley — and choreographer Lisa Blanton — before at Theatre Charlotte in Jesus Christ Superstar. Ensley saw Pearce as a clear choice at his auditions, both as a singer and an actor.
"Melchior needed to be a double-threat actor/singer, who could understand the commanding 'big man on campus' ego and the broken-hearted lover," Ensley says.
The character Matha Bessell, in love with the misfit Moritz and abused by her father, takes us to other dark regions of Wedekind's story. "I always thought that her character arc was one of the strongest and most complex of the girls in the show, and I thought it'd be a wonderful challenge for me to take on," Suskind says of the character. "As for being nominated for Blumeys, it was quite nice to be able to link up our busy schedules and have a little 'buddy' looking out for any missed rehearsals or information. We were always on the same page."
All three actors are on the same page about delving into their troubled teen characters. They give props to director Ensley, with Rapp offering the most detailed insights.
"I have heard countless people tell me how amazing working with Billy is," Rapp says of Ensley. "But it wasn't until I had a one-on-one with him that I truly understood the depth of what they meant. He puts his heart into this production, 100 percent, and that is so evident and inspiring for me.
"We sat and talked about myself and my character, and he really helped me break down what this show will mean," Rapp continues. "His direction is unmatchable. He works and tweaks things with such a specific eye, and I absolutely love it."
Update: Renée Rapp took honors for Best Actress at the Blumey Awards on Sunday, winning a trip to Broadway with Ethan Holtzman from Charlotte Latin School for a chance at the national Jimmy Award on June 25. Ceremonies will be rebroadcast on WTVI on May 29 at 8:00pm.