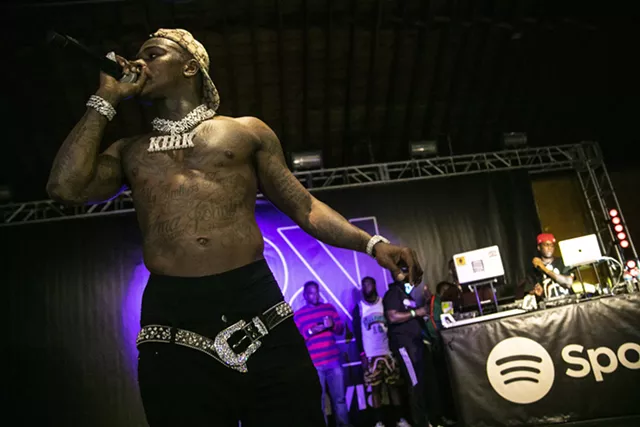 Photo Credit: Jeff Hahne, Getty Images
Tuesday October 8th,
Spotify's RapCaviar
hosted a legendary House Party to celebrate breakout rapper
DaBaby
and his latest album
KIRK
in his very own hometown, Charlotte, North Carolina. The event, hosted at
[email protected]
, brought all the elements of a house party to life with real photos of DaBaby, illuminating his life growing up in Charlotte. With southern comfort food, drinks "Baby on Baby" and "Kirk" named after DaBaby's music, and unique rooms dedicated to DaBaby, guests were able to have a true "at home" experience with the rapper.
To enhance the DaBaby House Party experience, the guest of honor treated fans to a live performance of several of his popular songs including "Next Song," VIBEZ, and "Suge," one of the best performing songs of the year on the RapCaviar playlist. DaBaby's performance was lively and interactive, with the rapper jumping into the crowd and asking fans which songs they want to hear.
At the end of the night, guests were able to take home RapCaviar x DaBaby tees so they'd be able to remember this one of a kind experience.
He's from Charlotte, the biggest new artist🔥 @DaBabyDaBaby @Spotify @RapCaviar #RapCaviarHouseParty #KIRK pic.twitter.com/5xrH2RTZxv

— Creative Loafing (@cl_charlotte) October 10, 2019