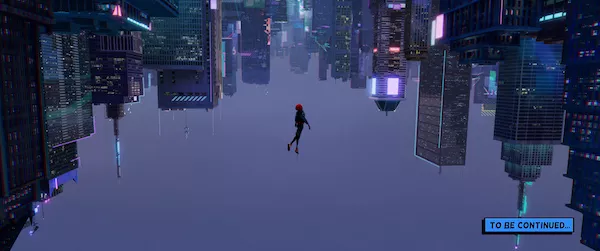 Columbia
Spider-Man: Into the Spider-Verse
The moldy adage "You won't believe your eyes" takes on new life in the wake of
Spider-Man: Into the Spider-Verse
(
***
out of four), which is pretty good as a superhero saga but absolutely phenomenal as an animated feature.
Employing animation in ways not usually found on the big screen – but definitely found inside the margins of an actual comic book – this latest Marvel adventure comes on the heels of the live-action hit
Spider-Man: Homecoming
and, like that film, assists in erasing the memories of those disappointing
Spider-Hipster
films starring Andrew Garfield as a GQ-approved webslinger. Of course, it doesn't erase memories of Sam Raimi's trilogy starring Tobey Maguire – but how could it, when several moments are direct homages to events that occurred in those pictures?
The tributes don't end there, as even the popular TV toon series from the late 1960s gets a shout-out. And the late Stan Lee? Yup, he's here, too, and let's honor what might be (depending on
Avengers: Endgame
and
Captain Marvel
rumors) his final appearance in a superhero flick.
The principal Spider-Man in this film is Miles Morales (voiced by Shameik Moore), but he's not the only webslinger on display. Peter Parker (Chris Pine) also shows up, at least until he's killed by the Kingpin (Liev Schreider) as the latter dabbles with a machine that opens up portals to other dimensions. It's through this device that Morales' world is flooded with other Spidey variations. Chief among them is another Peter Parker (Jake Johnson) — this one older, more cynical, and sporting a pot belly — but also joining the fray are Gwen Stacy / Spider-Woman (Hailee Steinfeld), the 1930s-era Spider-Man Noir (Nicolas Cage), Peni Parker (Kimiko Glenn) and her mechanical SP//dr, and the diminutive Peter Porker / Spider-Ham (John Mulaney). Together, they must pool their resources to combat not only the Kingpin but also Doctor Octopus (Kathryn Hahn) and other colorfully garbed villains.
To say that
Spider-Man: Into the Spider-Verse
is packed with incident is an understatement, but scripters Phil Lord and Rodney Rothman do a fine job of delineating all the overlapping universes and shared storylines and allowing every character at least one moment to stand out (Johnson's alternate Parker is an especially vivid character). The personal drama is more boilerplate than the humorous interludes, but, at any rate, the story here isn't the real story here. Instead, it's the look of the film, which meshes together all sorts of styles: comic book paneling (including thought bubbles), anime, intentional pixilation, black and white, even Looney Tunes riffs ("Wait, is he allowed to say that?").
Ample praise was rightly directed at the unique visual slant of the likes of
The Incredibles
and
Batman: Mask of the Phantasm
, but the phantasmagoric look of
Spider-Man: Into the Spider-Verse
will doubtless ensnare more than just filmgoers. It's the sort of cutting-edge graphics that will inspire aspiring animators ready to produce something they hope will similarly be deemed amazing.