In the middle of another toxic workday at the Asarco copper mine in the tiny desert town of Hayden, Arizona, George Banda decided that he'd had enough. The powerful stench of reagents — the chemicals used when copper ore is crushed into a fine powder during a process called froth floatation — smelled like a combination of rotten eggs and dirty gym socks.
Banda was 19. A few years earlier, he'd told himself he would never work in the mines. But then he graduated from Hayden High School. What else was he going to do?
"In Hayden, you do one of two things: You either waste your life away or you work for the mine," Banda says, and shakes his head. He's sitting at an outside table at Mugs Coffee Shop on Park Road, under a crisp autumn sun, cradling a custom Taylor cutaway acoustic guitar with a lovely figured koa top. "So I thought, 'OK, I'll be a heavy equipment operator, I'll be a welder."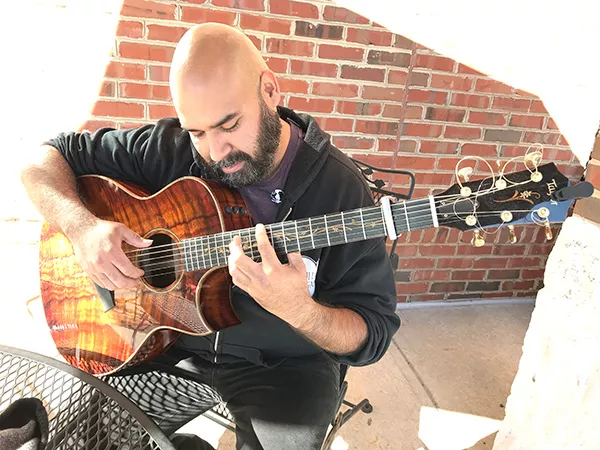 Banda sits at Mugs Coffee, picking the custom Taylor acoustic he named Ele.
He got a job with the Ashton Company, a construction outfit that was contracted to fix Asarco's floatation agitators and tailing pipes, where the depleted dirt goes after all the copper has been extracted. It was hot, dry, dangerous work.
"One day I was in there smelling all the reagents, and I realized: I can't do this anymore," Banda says. "That was the moment I knew I had to go, and I just said a little prayer. I said, 'God, if you don't get me out of here, I'm gonna die.'"
Banda had played guitar in high school and dreamed of making music for a living. He'd even hung a Hal Leonard guitar theory poster on his bedroom wall. "I would stare at it and just desperately wanted to understand it, but I couldn't," he says.
The schools in the depressed mining town that butts up against the sprawling San Carlos Apache Indian Reservation — about 100 miles southeast of Phoenix and 72 miles north of Tucson — weren't exactly the highest ranking in the country.
"They didn't even teach music at my high school," Banda says. "My dad played guitar and my mom sang, but they did it by ear. We didn't have the language. We couldn't read or write music, and I definitely couldn't explain what I was doing when I was playing."
All that was more than a decade ago. Today, Banda is 30, and sports a shiny bald dome, thick black eyebrows and a black beard specked with gray. He lives in Charlotte now, where he's completed degrees in music theory and guitar performance at both Central Piedmont Community College and Queens University.
Banda will perform this week at the Evening Muse.
He finds peace riding the rural backroads on his yellow Harley Davidson Road King (which he named Pikachu, for the Pokémon species), and doing volunteer work with forgotten, underserved communities wracked by homelessness, addiction and neglect.
And today, Banda has achieved his childhood dream: He writes deeply emotional, acoustic-based songs that sometimes recall the whispery British folk of Nick Drake and other times the gruff and soulful fare of singer-songwriter Ray LaMontagne. And Banda performs them at local venues like the Evening Muse in NoDa.
"George is one of those songwriters that can bring a quiet to the audience that is uncommon," says Erik Button, front man of the Charlotte punk band Dollar Signs and host of the Muse's 'Find Your Muse' open-mic night. "I've seen him play at a talkative open mic that, by halfway through his first song, you can hear only the clank of bar glasses."
On Friday, November 3, Banda will headline a show at the Muse, performing tracks from his 2016 self-titled debut EP on a bill with two other Charlotte singer-songwriters, Alexa Jenson and Ellie Morgan.
Banda and Jenson both were part of the recent Down Yonder project that showcased eight Charlotte bands and solo artists playing their music in videos set in an old abandoned building at the Camp North End art complex on Statesville Avenue. The whole thing was shot in a day.
"That was super fun — me, Alexa, Dollar Signs, Junior Astronomers, Sinners and Saints. . . " Banda says, then trails off. "Just to be able to see all these different artists and bands thriving here in Charlotte, and to see so many supportive people who are willing to come out and say, 'Look, we have something germinating in this city. We should give it a little more light.'"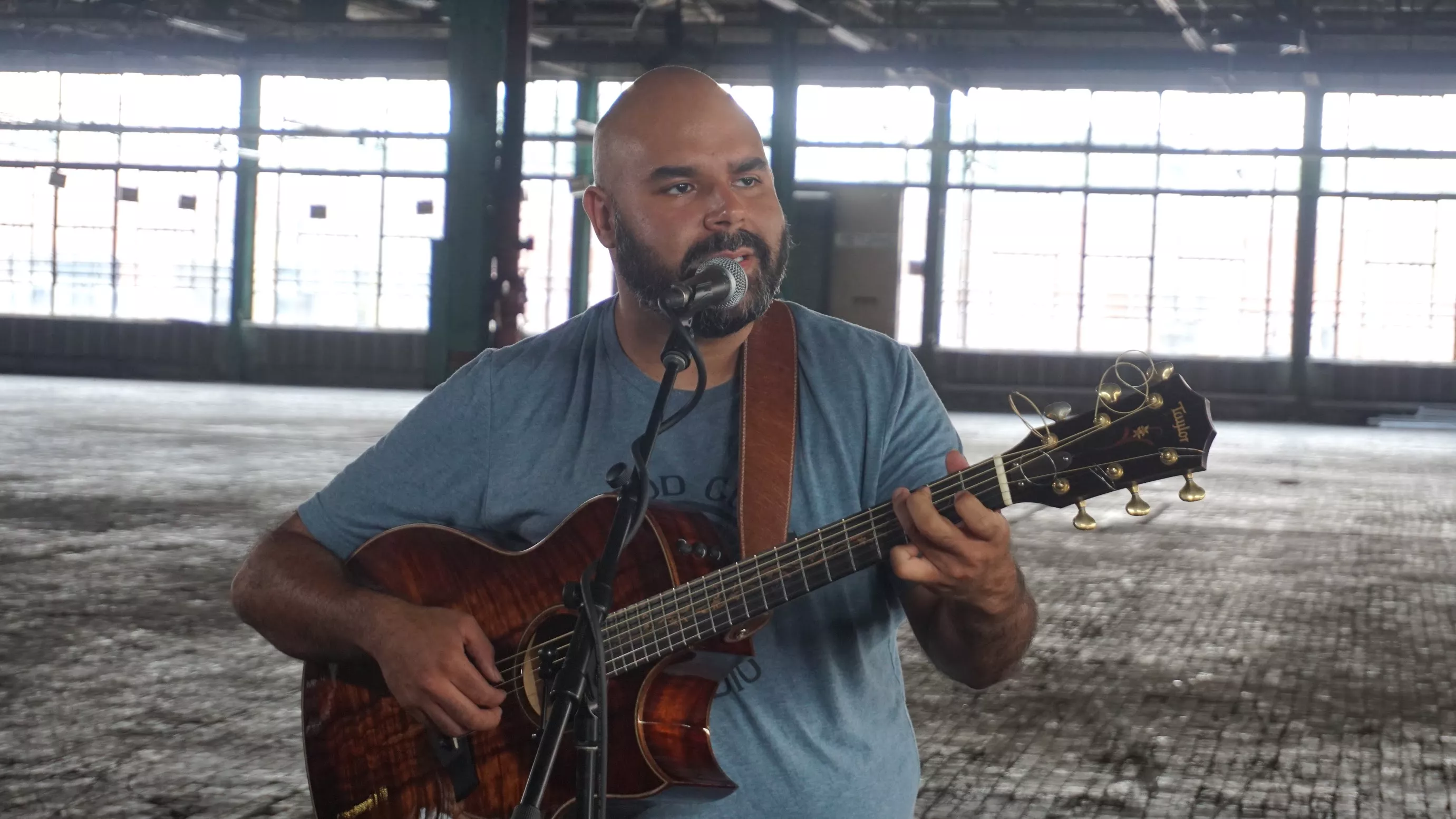 Earlier this summer, Banda performed as part of the Down Yonder video series shot at Camp North End. (Photo by Alex Cason)
The world was not always so bright for George Banda. When he arrived in the Charlotte area in 2006 he was broken and in desperate need of spiritual and emotional healing. He had enrolled in the School of Ministry at MorningStar University in Fort Mill, just below the South Carolina border. He chose MorningStar, he says, because it was as far away as he could get from Hayden, where he'd experienced a rough childhood — an abusive mother at home, and taunting from the kids at school.
"I was an outcast in that little town. I was the kid who would get up in the morning and go pray at the flagpole. I was the weird guy who would skip his lunch breaks to go play guitar. I struggled with my weight," Banda remembers, and then pauses. "I mean, look, we all have stuff, right? But that was my stuff," he continues. "I just needed to get away, and coming out here was my way of getting as far away as possible."
MorningStar provided a soft landing for Banda, but it didn't scratch his most intense itch. Music had been his escape from the abuse at home and teasing at school, and he needed to continue pursuing it. One hot August day, after attending seminary for a while, he had his second-most-important epiphany.
"I was living down in the Steele Creek area at the time, and I would work out at the Planet Fitness on Whitehall," he remembers. "I had just finished my workout and was sitting in the parking lot when it hit me like a train: 'I want to understand everything about music.'" He looks up. "I was almost in tears, man. That was my moment of clarity."
He left MorningStar, enrolled in CPCC and began his musical journey in earnest. He learned music theory, studied guitar under Bob Teixeira, who taught him classical techniques, and songwriting under John Parks, who continues to help Banda hone his lyrics and melodies.
The guitar part, he has mastered. Banda's hands flutter about the strings of his Taylor like a hummingbird.
"He's always been an exceptional guitar player," says Button, "and it's been very inspiring watching him develop his songwriting skills. Very few people I know think as much about their songs as George. He'll incorporate things like the sounds his phone makes into the melody of his song about text messages he got. I mean, who does that?"
But to Banda, his lyrics and melodies remain works in progress. "Just being able to be a good communicator on your instrument — that's what's most important to me," he says. "In fact, sometimes, it takes precedence, and that's gotten me into trouble with my songwriting teacher. John will tell me, 'You can play the guitar well — now, let's work on your lyrics and your songwriting.'" Banda's songs all end up centering on love — "unrequited love, girls, that kind of thing," he says. "That's where I hang out; it's my medium. But I'm starting to expand beyond that."
He looks down at his Taylor and begins picking two notes, an octave apart. It's the intro to "Just For Love," the second track on his EP in which he sings, "I have been in lovely love, but not like this before. / It was just emotions, tingles, butterflies, nothing more." This particular song speaks to a different kind of love — the unconditional kind that can't be snuffed out. "I pushed you out the door," he sings later in the piece. "Yet you persist with endless gifts. . ."
Thinking about the song's genesis makes Banda emotional. "It's my favorite song on the album," he says, still playing the two-note intro but now adding an ascending chord progression. "It's a story of finding the kind of love that walks in at those times when you're completely broken, and it just mends you — whether it be my dad's love, or whether it be a dear friend's love, or my grandmother's love, or my faith.
"The song is about the people in your life who are unwilling to let you sink," he continues. "They're going to just kick down the door when you don't want to let anyone in. They'll make a door."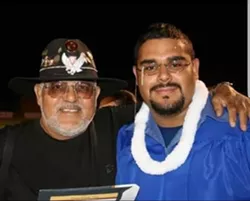 Banda's proud father (left) beams on his son's high school graduation day in 2005.
Banda's father, also named George, is the one person in his life who has consistently kicked down that door. When the younger Banda's mother was abusing him, both mentally and physically, his father provided sanctuary. The elder Banda is an artist who immigrated to the United States from Guadalupe, Mexico, and attended Arizona State University, where he majored in philosophy and minored in art. He also fought in the Vietnam War, and came home riddled with Agent Orange. Today, he is blind and on dialysis three times a week. But he's always there for his son.
"He's my best friend," Banda says, his eyes tearing up slightly. "In this vast sea of life, my dad is a lighthouse that always lets me know where my boundaries are. He shines so bright. Anytime I feel like I'm lost, I can always see him. He's the person who pushes me and still gets on my case." Banda pauses, his voice breaking slightly, then continues: "He's a special, special man. If I can be a fraction of what he is, I'll be doing something."
Banda has gone back home from time to time to visit his family, which also includes a younger sister, Valerie, and two older sisters, Rosana and Carolina. But in the past decade, he mostly knows his father from the sound of his voice on the phone.
"Realizing that I've now spent 11 years not seeing my dad every day has been difficult for me," he says. "But I always hear his voice. I've talked to him for 11 years on the phone, so the sound of his voice is always in my head."
As for his mother, Gloria — the person who tormented Banda when he was a child — he's forgiven her.
"That may be the most beautiful story of all," Banda says. "One of the main reasons I left Arizona was the way my mom treated me when I was growing up. She was very, very cruel, and it was very difficult to grow up around her. The abuse that came from her was palpable, and it showed up for years until I finally began to work through some of those things."
The Arizona native visited the Grand Canyon for the first time last year.
Three years after he arrived in Charlotte, Banda sought counciling and began to slowly shed himself of the pain that he now expresses in his music. And the beautiful part for him: Gloria ended up getting help, too.
"When she opened up and became willing, she said to me, 'Tell me what I did to you. Let's talk about it,'" Banda remembers. "And when you allow someone into your personal space again, and into your trust again, it's a little scary, because you're vulnerable. I had to make the choice to just love her and push all those things from the past aside and let her go through her thing.
"It's not that I buried it; you never bury stuff," he adds. "You just have to talk about it. So that's what we did, and watching how my mom has changed after all these years has been incredible."
Banda believes his leaving Arizona helped push his mother to seek the help she needed. "It created a vacuum that made her look into herself, and she's done that," he says. "And for her to do that — and for me to watch that process and be a part of it and watch her grow from it — that's been one of the greatest honors of my life."
Forgiveness has been crucial, he says. "I don't want to repeat what she did. So I wanted to make sure that we built a relationship now, so that when all things are said and done, that woman knows I love her and I know she loves me. And now my mom — who was hurt herself as a child — has become someone who is in my corner. She got there. She's herself now. She's Gloria."
And when Banda steps up to the mic at the Evening Muse Friday night to sing lines like "you left me bleeding, broken and worn," in a coarse but vulnerable, sandpaper voice, over sweet, fingerpicked acoustic guitar, he will be George.
Not a mine worker. Not a MorningStar student. Not a minister. Just George Banda — a very grateful singer-songwriter from Charlotte, North Carolina.
Watch Banda's performance and interview for the Down Yonder video project.