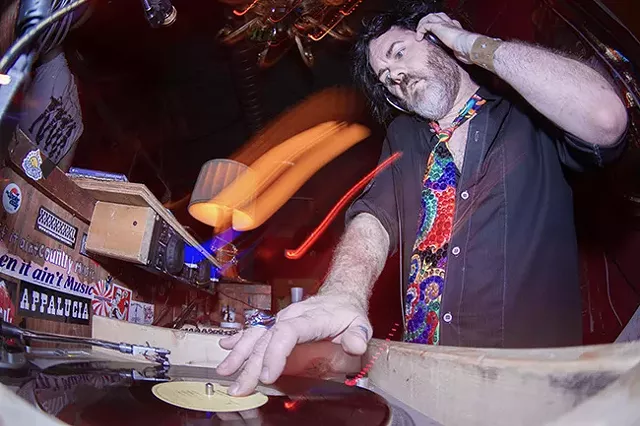 Scott Weaver (Photo by Brian "BT" Twitty)
Last week an event post appeared on Facebook that began with some of the happiest words an O.G. Charlotte party kid can hear: "Hey y'all, it's Weaver and I'm back with a new party..."
That's Scott Weaver, for those new to Charlotte (or maybe just to partying in Charlotte). He's the Wolf of Plaza Midwood and the former captain of a weekly go-go, drag and debauchery extravaganza called Shiprocked!, which ran for a decade at Snug Harbor before ending in May of 2017.
Each year during the Shiprocked reign of glitter and glam, it picked up awards for being the best party in Charlotte. It was the first party to combine drag, burlesque, rock-n-roll and ass shaking in an environment where people of all cultures, sexualities and backgrounds came together comfortably and without pretense. Weaver's new concept promises to follow the trail that he blazed himself. Its name? MUTHAFCKR, of course.
Weaver describes MUTHAFCKR as "fun, campy and funky" with a focus on live performances. What will differentiate it from other parties is "a very healthy dose of girl and queer power...and serious dance party vibes." Think female emcees like Missy Elliot and Cardi B, queer hip hop a la Cakes Da Killa, vogue, trap and some good ol' Nola bounce.
"I'm gonna style it though," says Weaver, "There'll be glitter, dancers, make-up, live performances...it won't just be me up there DJing. It's gonna be a thing."
Big Dipper (Photo by Rene Rodriquez)
The inaugural edition of this "thing" is going down Friday, April 27, at Snug Harbor, and it will feature a live performance by the queer Chicago rapper Big Dipper. You may know him from his viral video "La Croix Boi." It's a 90s-style R&B ode to the seductive power of America's favorite sparkling water that's been viewed about half a million times and hailed by NPR as "peak summer."
"I've wanted to bring Big Dipper to Charlotte for a long time and he fit perfectly for this event. I plan to bring in a lot of cool guest artists for these parties," said Weaver.
Weaver says MUTHAFCKR is "bi-monthly" but that word can be misleading. You'll be disappointed if you show up at Snug for the event every other week month, because it will actually take place every other month. He also plans to resurrect Shiprocked! on a quarterly basis. "It works out so that I have a party every month for three months, and then I take the fourth one off."
In that downtime, he'll just be running several of the stores he owns, playing in his band, Miami Dice, maybe doing a little interior design on the side — no big deal. Just kidding, Scott Weaver is totally a big deal and if he's taking the time to curate and DJ one of his signature parties for us, we'll be there bi-monthly.