Even for a stranger who chances upon Devan Penegar's "I Dream of Goats" essay, to read the recollections of what he's gone through can be a dark and even shattering experience. Yet these are experiences that Penegar kept to himself for 11 years, left to seethe under the surface until they almost cost him his life.
"I Dream of Goats" includes a first-hand account of Penegar's own sexual assault at just 15 years old. He describes how his psychiatrist drugged him and showed him a snuff film involving a woman being sodomized with a power drill until Penegar lost all control of his faculties, at which time he says he remembers being raped.
The next 11 years were like a new torture to Penegar, who fell into the grips of alcohol abuse and attempted suicide multiple times.
Things began to change for him when he told his story to friend Camille Dalke backstage at a Charlotte comedy show one night. Dalke had been editing a collection of essays Penegar had written, though they danced around his darkest issue. After he opened up to her, Dalke eventually convinced him to confront his trauma in writing, leading to the publication of "I Dream of Goats."
In January 2015, Penegar joined the Rape, Abuse & Incest National Network (RAINN) Speakers Bureau and speaks at the organization's events when he can, including a speech at UNC Charlotte's "Take Back the Night" event in April 2015. It was around that time, he and Dalke began work on Frayed Fabric, a documentary that gives sexual assault survivors — most of whom live in Charlotte — a platform to tell their stories. Penegar and Dalke hopes the film will inspire others who haven't confronted their trauma to do so.
Creative Loafing recently sat down with Penegar and Dalke to discuss what led them to this point and the process of filming their first documentary.
Creative Loafing: How can you describe what you went through for those 11 years before meeting Camille?
Devan Penegar: The best way I can sum it up was that I had memories in my head and I thought, "I can't live with these in my head so the only way to get them out of my head is suicide."
I tried to numb that feeling with an insane amount of alcohol on a daily basis. That wasn't enough after a while and I just couldn't stop thinking about it. It put certain images in my mind. It took a while, but just having that first conversation, I think people underestimate how important that is. That changed something. "OK, maybe I can live with these memories a few more months." Then it turned into years and then you start a project like [Frayed Fabric] and it's like, "Oh shit, this is how I live with it. I can create art based around it that can help people." Then eventually it's not even at the forefront of your mind and enough time has passed where it's not as horrific because you know you're doing this other shit to help other people.
What can you say about living with PTSD in comparison to the stereotypes you might see on television?
DP: It's similar to that. Some of the stereotypes are true. I slept with a butcher knife under my pillow for years, just in case. There was a fear that if I woke up and someone's there I could hack them up.
For a while — not now, I've gotten past it — I used to have terrible dental hygiene. A lot of the images of [my attacker] were like penises in my mouth. Putting a brush back and forth in your mouth, that thought would trigger shit for a while. There were long stretches of time where I would just use mouthwash and not even brush, and I know that sounds gross, but just because it's a phallic-shaped object in your mouth and it would trigger things. I would floss sometimes instead of brushing my teeth because I thought, "Well, this isn't phallic." But I would space out still thinking about it and when I came to I had flossed until there was a lot of blood in the sink. It got weird.
What was the feeling like once you finally did tell Camille?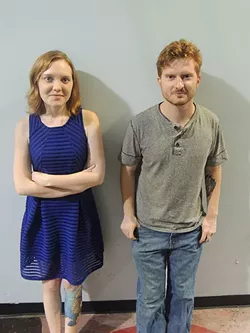 Ryan Pitkin
Camille Dalke (left) is executive producer of Frayed Fabric and carries out the interviews. Devan Penegar will direct, edit and produce the film.
DP: I felt like I couldn't stop talking for a while. It was 11 years worth of stuff. It felt like having a double life, and one life was phony and no one knows the real you, and it's like, "Well, I'm telling someone the entire real me now."
Camille Dalke: It was definitely like he was opening up his whole heart and soul and letting it spew everywhere.
What inspired you to make a film?
DP: I've always wanted to be a filmmaker. Mark Duplass gave a speech at the South by Southwest festival. It was very influential to me. To sum up a 45-minute speech in a few sentences, he said, "Stop waiting on people to give you money. Nobody's going to give you money. Nobody gives a fuck what you're working on except you, so just use what you have." He said, "The cavalry's not coming, you are the cavalry." Hearing that, a lot of stuff in my head clicked all at once. If your goal isn't to get it in theaters, if your goal is internet distribution, then anything is possible.
What will the movie consist of?
DP: I view it as each person is a chapter in a book. Each survivor, their segment is their chapter. The film will be divided up in chapters. It's just conversations really. There might be a few art house-type montages and things, but 95 percent of it is Camille having conversations with people. It's not like a rigid Q&A. We film them for two hours, if needed. We want them to feel comfortable and it's a very back-and-forth, honest conversation.
CD: It's mostly just conversations with people. We're going to include RAINN's contact info at the end of the film so if survivors do want to come forward and talk with someone they'll have someone to talk to. But I think ultimately we just want people to be able to have that same sort of cathartic experience that Devan and our other survivors have had just by being able to talk about it.
Why Frayed Fabric?
DP: I don't remember where I read it, and I think it was quoted as an anonymous person anyway, but somewhere out there there's a quote that says, "Trauma frays the fabric of time." It was used to describe someone who had been in war. I thought, "Well, the majority of people in America who have PTSD have not been to war, they're actually sexual assault survivors." So that's where we got the title.
What obstacles have you run into during this process? Is it difficult to find people who are comfortable telling their story?
CD: At first it was really hard and Devan was reaching out to everybody that had even mentioned something to him. As we've gone, "I Dream of Goats" is all over the internet and all different places, more people read that and they want to get involved. We had one girl in India that wanted to do a Skype conversation. She was so desperate to tell her story and talk to somebody that she was like, "Lets film it through Skype." It's just not really feasible to do that.
DP: It's hard enough honestly just finding [cisgender] white people and getting them to talk. It's even harder when they're minorities. I know 60 percent of transgender people have experienced sexual assault. If you're a black transgender person it's higher than 60 percent. We may or may not get a transgender person to talk on camera. A lot of them fear for their lives. One transgender woman was going to do it and she backed out and the reason was, "I don't want someone to kill me because they see this film." They face harassment more than probably any other minority in this country. But if someone does feel comfortable speaking out, we want to hear from them.
Do you personally still deal with PTSD, Devan?
DP: I don't know if it ever ends, but I don't feel like I have it now. But, who knows? Maybe something a year from now will trigger something. I don't know.
If you would like to reach out to Penegar about his film, email him at [email protected]. If you need help, support or information, call RAINN's National Sexual Assault Hotline at 800-656-4673.