Wednesday, February 08
Brace yourselves for a glorious, region-wide onslaught of Shakespeare, from Belmont Abbey to Children's Theatre to Salisbury. It begins at beautiful Robinson Hall, on the UNC Charlotte campus, with The Merchant of Venice. Presented by Actors of the London Stage (who are currently based at the University of Notre Dame!), the production runs nightly through Saturday with performances beginning at 8pm. Of all Shakespeare's plays, Merchant is the most malleable: Will the director portray the moneylending Shylock as the villain -- or will the dishonor go to his anti-Semitic tormentor, Antonio? Tickets are $18 for civilians, $15 for UNCC faculty/staff, and $10 for students and senior citizens. Call 704-687-2599. (Tannenbaum)
Thursday, February 09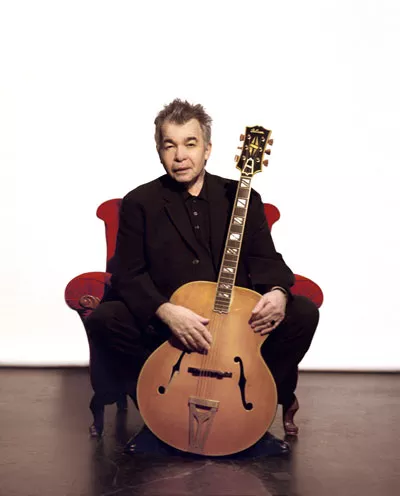 Marc Marnie
Singer-songwriter John Prine plays Ovens Auditorium on Friday, Feb. 10.
So they tossed BareBones Theatre Group out of its home on Rampart Street, and they show up at the nearest bar! Never fear, they're serving up The Bar Project in an environmental staging at the Sunset Club. It's another happening by that wily schemer, Anne Lambert, mastermind of the City Stage fringe fest and "The Hotel Project." This time, Lambert brings us Canadian playwright Stephanie Young's Torches with Adyana de la Torre and Blake Edwards providing the heat as a couple attempting to rekindle their tortured romance. Thursdays to Saturdays through Feb. 25 at 1820 South Blvd. (underneath Pewter Rose restaurant). Tickets -- just 40 are seated per show -- are $15 on Thursdays, $20 on Fridays and Saturdays. All performances at 8pm through Feb. 18. On the final week, there's no Friday performance and an added Wednesday show -- all at 9pm. Confused? Call 704-332-5300 ext. 1. (Tannenbaum)
Friday, February 10
If only for "Your Flag Decal Won't Get You Into Heaven Anymore" -- a song that still rings true, two or three wars later -- a John Prine show is worth recommending. However, last year's Fair and Square, released after the legendary singer/songwriter's bout with cancer of the neck (and a hip replacement), showed a new side of Prine. He is darker, grittier (part of which is due to his voice, now about an octave deeper) and yet as smirk-worthy as ever, even as the funny stuff reveals a few clouds behind every silver-tongued lining. Tonight at Ovens Auditorium. Showtime is 8pm and tickets are $42.75-$47.75. Details available at 704-522-6500. (Davis)
Actors from the London Stage perform Shakespeare's Merchant of Venice at UNCC Feb. 8-11
You've heard of Talking Heads? Well, The Vagina Monologues speaks from a different part of the anatomy -- the heart. UNC Charlotte's production of this enlightening, empowering play by Eve Ensler celebrates V-Day, the global movement to stop violence against women and girls. Proceeds from the show will go directly to local organizations with programs that raise awareness to end violence. Performances are Friday at 7pm and Sunday at 2pm in McKnight Hall of the Cone University Center on the UNCC campus. Admission is $7 for the general public and $5 for students with a valid ID; tickets are available in the college's King Building, Room 119. Call 704-516-7943 for more info. (Vespa)
At Creative Loafing, we know there's plenty to make fun of in Charlotte. The creative team of Brian Kahn and Keith Martin knows it, too, and the duo has put together Charlotte Squawks -- Strike Three, the third installment of the musical parody of our fair city's foibles, follies and foolishness. NPR talk show host Mike Collins co-directs and performs, along with some of the area's most talented singers, dancers and actors. Head over to the McGlohon Theatre in Spirit Square for tonight's 8pm performance, or catch the show at 5pm or 8pm on Saturday. Tickets are $25-$35. Call the Performing Arts box office at 704-372-1000 or visit www.blumenthalcenter.org. (Vespa)
If you thought the recent Charlotte's Web at ImaginOn was some heavyweight drama, the gloves are really coming off as Children's Theatre artistic director Alan Poindexter brings The Yellow Boat to intimate Wachovia Playhouse. Our hero, Benjamin, is a budding young artist who learns he has contracted HIV during a hemophilia transfusion. And the playwright is the boy's dad, David Saar, who drew inspiration from his son's joy in living. After all his midwifing exploits at ImaginOn, Poindexter finally directs the Tarradiddle Players during one of their finest seasons. Due to sensitive subject matter, you still might be able to snag good tickets! Just five performances through Feb. 19; Fridays at 7:30pm, Sundays at 2pm and Saturday (Feb. 18 only) at 3pm. Call 704-973-2828. (Tannenbaum)
Saturday, February 11
In light of the recent death of Coretta Scott King, it's more important than ever to make sure the current generation of young people remembers the opportunities made possible by this great woman and many others who fought before, alongside and after her. With that in mind, why not embark on Queen City Tours' 8th Annual Charlotte Black Heritage Tour and Pilgrimage 2006? As you live, work and play in this modern Southern city, also be reminded of its history by visiting slave cemeteries, a slave church and a home bombed during the Civil Rights era. Tours depart from the Levine Museum of the New South, 200 E. 7th St., on Saturdays in February: 11, 18 and 25 at 10am and 1:30pm. Tickets are $16-$30 (with group rates available) and can be purchased by calling 704-566-0104 or online at www.queencitytours.com. (Calloway)
Sunday, February 12
Michael Gomez
CeCe Winans offers a musical blessing Sunday, Feb. 12, at Blumenthal Performing Arts' Belk Theater.
It's another delicious concert at the corner of Providence and Sharon Amity roads as the Providence Chamber Music Series offers up the world premiere of Sonata in D minor performed by its composer, Theodore Harvey, on cello, with Paul Nitsch on piano. This musical adventure is followed by another treat, Francis Poulenc's Sextet for piano, flute, oboe, clarinet, horn and bassoon. Eugene Barban takes over at the keyboard with Charlotte Symphony stalwarts Amy Orsinger Whitehead on flute, Hollis Ulaky coaxing the oboe, Allan Rosenfeld on clarinet, Robert Rydel blowing horn and Mary Beth Griglak on bassoon. The free concert begins at 7pm at the Providence United Methodist Church. (Tannenbaum)
For decades, the Winans name has been synonymous with gospel music. CeCe Winans continues in that tradition, combining the spirituals of her childhood with pop, R&B and dancefloor rhythms to bring her religious message to all audiences. She comes to Charlotte for one night to promote her latest disc Purified, her seventh solo album, a celebration of heart, soul and spirit. Winans performs at Belk Theater, 130 N. Tryon St., tonight at 7:30pm. Tickets range from $26-$36 and are available at the box office, 704-372-1000 or at www.blumenthalcenter.org. (Calloway)
Tuesday, February 14
What better way to cap off a great Valentine's Day than with An Evening of Classic Lily Tomlin at big Belk Theater? Get ready for the infamous porcine laugh and the impossibly nasal voice of Ernestine the operator as she snorts one of the catchiest -- and silliest! -- taglines ever: "One ringy-dingy." Tomlin revives the adorable characters she created three decades ago, including Edith Ann, Sister Boogie Woman and Mrs. Beasley. Every baby boomer in town will likely be lapping up every precious moment with Lily. Tickets are $35-$55. Call 704-372-1000. (Tannenbaum)