This fall will undoubtedly include days in which craft-beer enthusiasts will take in more calories from beer than from food. It's inevitable.
That's because folks who love craft beers, myself included, have been eagerly awaiting the arrival of this year's autumn seasonals, which are only available for a brief period. It's a great opportunity to sample beers that have never been brewed before and may never be brewed again. Asking a beer lover not to try as many of these delicious offerings as possible is like asking an avid music fan to forgo seeing a favorite band's reunion concert: The group may play another show, but then again, it may not. So, why take the risk?
When the weather turns brisk, brewers capitalize on the availability of freshly harvested hops, barley and other grains, as well as ingredients such as pumpkin, nutmeg, ginger, cinnamon and allspice — the stuff that makes up special seasonal brews. Charlotte breweries have been releasing their fall beers, many using local and regional ingredients, for weeks. Most of the choices fall (so to speak) into one of three categories: Oktoberfest, pumpkin beers or harvest ales.
Oktoberfest
Oktoberfest, the annual beer festival held in Munich, Germany, runs from late September to early October. Oktoberfest beer is the only type served at the festival, and in order to be classified as such, the beers must meet strict criteria: adherence to the Reinheitsgebot Purity Law (only water, barley and hops can be used to make the beer), a specific alcohol level, and brewed by a company in Munich.
Obviously, U.S. breweries can't meet all those requirements, but that doesn't stop them from creating their own "Oktoberfest" beers to celebrate the occasion. Charlotte's Olde Mecklenburg Brewery recently released its "Mecktoberfest," a Maerzen-style amber lager that pays homage to Oktoberfest, and like all of Olde Meck's beers, follows the Reinheitsgebot Purity Law. Heist Brewery has an Oktoberfest-style beer brewed with biscuit malts, which lend a toasted flavor to the lager. Both can be found in their respective taprooms and in various bars and restaurants throughout Charlotte.
Pumpkin Beers
Brewed with pumpkin and a myriad of spices such as nutmeg, ginger and cinnamon, pumpkin beer runs the gamut from spice-heavy to sweet like homemade pie. Every craft beer fanatic has his or her favorite, and there is no lack of choices in the Charlotte area.
Ass Clown Brewing Company is making seven pumpkin beers, releasing one each week starting this month. This includes the Pumpkin IPA, Orange Pumpkin brown ale and Dark Chocolate Pumpkin stout, to name a few. Other local breweries are throwing their hats into the pumpkin beer ring as well. Four Friends Brewing Company has a single batch of its American amber ale spiced with pumpkin, called Punkin Brewster, and NoDa Brewing Company has a Gordgeous Pumpkin ale — a 6.4-percent ale brewed with more than 155 pounds of pumpkin and 40 pounds of brown sugar per batch. VBGB at the N.C. Music Factory showcased some of these pumpkin beers during its Craftoberfest event, and you'll see some of these on tap in various other locations. Stopping by the individual breweries is the best way to try them fresh, though.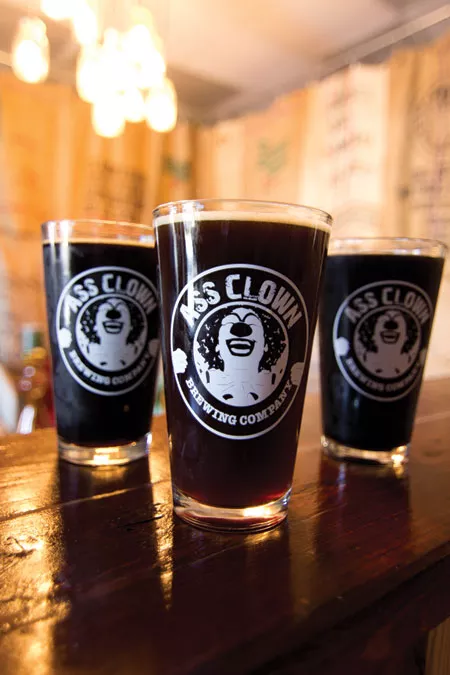 Ass Clown Brewing makes seven pumpkin beers. (Photo: Meredith Jones)
Harvest Ales
The term "harvest ale" usually acts as a catch-all for beers showcasing the season's harvest of hops, a climbing plant that produces small, conical flower clusters. These harvested hop flowers act as a bittering ingredient in brewing to balance the sweetness of the malt. Depending on when they are added in the process, they lend citrus, pine, grass and other aromas and tastes to the finished product. Typically, hops are dried before use in beer-making; however, "wet-hopping" uses freshly harvested, undried hops. That process requires brewers to use hops just hours after harvest in order to retain their freshness, and it's this immediate freshness that lends a "green" or "young" (sometimes chlorophyllic) characteristic to the finished beer. Wet-hopped beers tend to have more perfume-like aromas and taste more vibrant and "fresh" when compared with their dry-hopped counterparts.
Ass Clown Brewing Company will be bottling two of its harvest ales — the Simcoe Wet Hop IPA and Citra Wet Hop IPA — as well as some other beers throughout the fall.
Other Fall Seasonals
Not all fall seasonals fit perfectly into the three categories above. Birdsong Brewing Company brewed its Raise a Ruckus Rye using raisins and rye malt from Riverbend Malt House in Asheville. With raisin and fig aromas, the dark ale has a great mix of rye spiciness and sweet caramel. Triple C Brewing Company has its 10 percent Up All Night breakfast porter. With flaked oats, honey, coffee and more chocolate malt than you can shake a stick at, this one will be delicious fresh or aged over time. Both are perfect beers for cool weather.
Mark Iafrate is the founder of Charlotte Beer Blog and has a passion not only for craft beer, but the social community it creates. When he isn't drinking beer, he's probably doing his best to brew it. Read more at www.charlottebeerblog.com.