In a dance studio in Plaza Midwood, eight women glide gracefully across the cold, gray floor. Their bare feet squeal occasionally, as they make turns and circles, but the music has them hypnotized. Another person, also barefoot, tiptoes around their sways and bends, careful not to get in the way. The video camera hanging from Kevin Beaty's neck seems obtrusive, but the dancers at Open Door Studios pay him no mind.
This isn't the first time Beaty, 22, has been caught in the middle of documenting the goings-on of Charlotteans. He is one-half of the founding team of the Charlotte Video Project, an art venture seeking to tell Charlotte stories through 100 Web-based videos in time for the Democratic National Convention. At press time, he and his partner Scott Lazes had 80 videos uploaded with more to come, and they are continuing to film during convention week.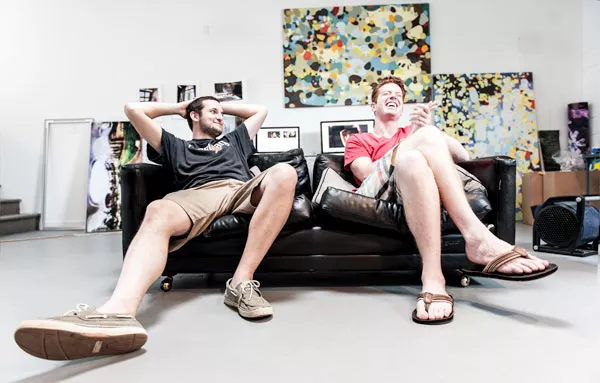 BEST FOOT (MAKE THAT FEET) FORWARD: Kevin Beaty and Scott Lazes keep the Charlotte Video Project running.
In a studio not unlike Open Door — same non-distinct floors, same silent, creative energy — Lazes works with two freelancers to edit the video Beaty has shot, using the same equipment they bought when they began the project in June of last year. Hours of footage are cut to become films that run less than five minutes. But it's so much more than just piecing together some clips and uploading it to YouTube.
"I often say that there's video as art and there's video for information," Lazes, 23, says, "and for the most part I would say Web video is there for information. What we wanted to do was create a large quantity of Web content but not sacrifice the quality."
As the man behind the camera, Beaty doesn't wait for the perfect sequence to come to him, nor does he try to dictate it. During this particular filming, he is all over the studio, from sitting on the floor and focusing on the dancers' feet to standing on a bench near the wall to get an expansive shot of the connected group. When the dancers finish their piece and begin to discuss how to make it better, the camera stays on.
"You absorb all the pain everyone else has been going through," the choreographer advises her fellow dancer, demonstrating in slow motion the movement she should replicate. The dancer nods. Beaty's camera has captured the dance, but it's also captured this exchange.
The style is called direct cinema, and Beaty and Lazes have gone this route with many of their films. "It has a very voyeuristic feel to it," says Lazes.
The attention to detail not only falls on the videographer, but also the video editor. For example, the scenes in a video showcasing the Grand Slam Finals of Slam Charlotte earlier this year are sequenced in such a way that the viewer gets more than just a portrait of spoken-word community. The varying audio clips of each competitor's poem start to run over each other. The speeds of the frames increase, and some turn upside down or sideways, creating chaos that mirrors what a poet might feel. The viewer becomes anxious, his pulse racing a bit. And all of a sudden, the chaos stops, and Slam Charlotte host Bluz calls out in a clear voice: "Judges! What say you?"
"This is the championship," Lazes says. "These people have been working a long time to get to this level and it's a big deal for them. What I noticed in talking with them beforehand was this level of anxiety that each poet seemed to express that you couldn't detect from the outside."
Purposeful, meticulous decisions like this are what make the Charlotte Video Project more than just a fun initiative dreamed up by two guys fresh out of college. A recent Kickstarter campaign that only ran for 10 days was fully funded for $7,000, revealing how well-received the project has been.
That's not a surprise, considering YouTube is the third most visited site on the Web. Tony Jackson, an English professor who also teaches film studies at the University of North Carolina Charlotte, says Web-based film productions are "democratizing mass media."
"Most anybody can create video that has, at least, the possibility of being viewed by the entire Internetted world," Jackson says. "The fact that mass media is no longer purely a corporate enterprise is a huge historical change."
But it's Beaty and Lazes' attention to detail that makes this art. Their varying formats — from straight-up single-subject documentaries to a number of series — have kept the creativity flowing. One series, LIVE!, is a set of 10 videos highlighting independently owned music venues through performances of local artists (the series will publish on CL's music blog www.qcvibes.com). Beaty and Lazes' refusal to stick with a specific format is much like that of the cable TV network Adult Swim, in that the two are just doing what they think is interesting.
"What I love about Web video is the fluid nature that online content provides," Lazes says. "Basically, there are no rules. You don't need to be 22 minutes with 7 1/2 minutes of commercial time. You don't have to adhere to any space requirements. It's pretty open-ended."
Beaty smiles as he packs up his equipment after filming the dancers. He talks about how much he loves shooting stuff like that — capturing art on film. The subject speaks for itself, he says. He seems satisfied, much like the dancers and choreographer he's just documented.
In a way, there's no difference between him and them. After all, he says, "I consider myself an artist, first and foremost."
(For more information on the Charlotte Video Project, or to view the films, go to www.charlottevideoproject.com.)