Curry and spice don't make everything nice. But for Vir Das, a standup comedian hailing from the heart of India, the aroma could be used to entice American readers unfamiliar with his act.
Das' mouth speaks sweetly and sarcastically about random subjects (from relationships and marriage to cross-cultural male/female differences and more), but his act is also geared towards his ethnic background and surroundings. On the side, he sings satirical scores — predominately in his rock outfit, dubbed as Alien Chutney.
Overall, Das is currently one of India's most successful comedians. But in America, which he refers to as "the Holy Grail of standup," he's largely unknown.
"There's a lovely kind of anonymity that comes with playing in America. People don't know who you are there's no pre-established context to who you are," said Das, who performs in Charlotte at The Comedy Zone, July 14-16.
Though Das is popular in India, he's not a complete stranger in America. Largely because the country is brimming with different cultures and ethnicities; Indian being well represented. He appeals mostly to folks of Indian descent, but he welcomes all to attend his shows — noting that they won't get lost in translation, though escaping the effects of culture shock is no guarantee.
"In America, sometimes I have to end up explaining the references a little bit more, but apart from that it's largely the same act. I'm kind of unapologetically Indian, so I don't Americanize it too much."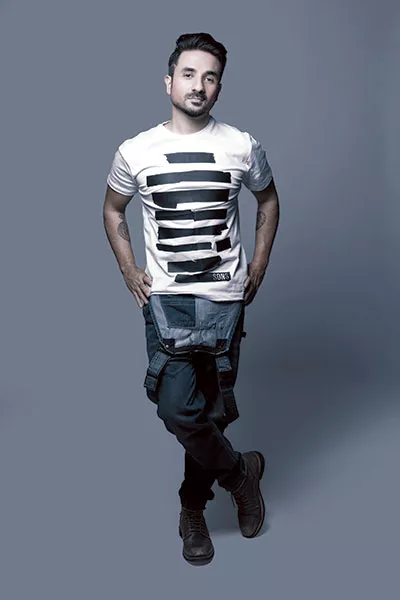 Vir Das (Photo courtesy of Personal Publicity)
The upcoming shows at The Comedy Zone will de Das' first in North Carolina. Besides a spate of shows in Los Angeles, California, during a three-week tour in the U.S., he'll be performing in Charlotte, one of three cities that he's slated to visit on the side.
He chose Charlotte after consulting with one of the most powerful tools on the planet: Google.
In his search, he was looking for a city in North Carolina with a large Indian population. That being said, it's obvious he hopes to draw fellow Indians out to his shows. He emphasizes that he hopes "Indians will bring more Americans with them."
Even though Das makes references to his Indian ethnicity and culture, he also touches on subjects that most Americans can relate to. Das grew up in Nigeria, but attended boarding school in India then college in the United States. He graduated from Knox College in Illinois with a Bachelor's degree; having double majored in economics and theater. Through theater he was introduced to the world of standup. For his senior thesis he wrote Brown Men Can't Hump, a one-man show with comedic elements.
"It's kind of ironic because usually the first time you do standup you do about four to five minutes in front of a few people, but the first time I did it I ended up doing 90 minutes in front of 800 people," Das said. He didn't inform his parents of the theater classes he was taking until he was a year and a half through college. They urged him to stick with economics. He did — receiving a GPA of around 2.0/2.1 in economics and 3.8 in theater.
"So, I barely scraped through [economics]" he recalls.
Luckily, his theater degree paid off and after returning to Mumbai he was asked to star in several Bollywood films. These have prompted more appearances, some of the latest being appearances in flicks like Mastizaade and Santa Banta Pvt Ltd. In the next 12 to 15 months, three films starring Das are scheduled for release.
"Bollywood is really good to do, especially for a comedy career," Das said. "Being a comedian kind of short-cutted me into Bollywood and I got to skip the audition line."
When asked if he gives more prominence to himself as an actor or comedian, Das hesitates to answer directly.
"I feel sleepy and jetlagged. That's the best way to describe me," he says with a laugh. He goes on to note that he can't pick one career over the other because it would be ungrateful.
"I'd never give up either one. I claim to be an actor but I got known because I'm a comedian."
On the flipside of that, his acting career has introduced him to fans that in turn have followed his standup.
"When you're going outside of India, a lot of people are coming in to see you just because they've seen a movie," says Das. "They may never have seen you on YouTube. They may never have seen you do standup, but they've seen a movie."
Vir Das (Photo courtesy of Personal Publicity)
On top of starring in Bollywood movies, Das has been at the forefront of the rapid expansion of India's English-speaking comedy scene.
"I'm bankrupt because of it," he laughs as we go on to discuss the Weird Ass Pajama Festival, a growing comedy festival stemming from his Weird Ass Comedy Company.
The touring show gathers Indian comics from across the globe and gathers them in India for shows that range in size. "Pajama shows" occur in theaters with approximately 2,000 seats; "boxer shows" go down in clubs with approximately 400 seats; and "brief shows," are offered in smaller venues with around 50 seats. The festival has created a hot spot for comedy within the Indian subcontinent, but it's also introduced Das to international Indian fanbases.
Last year, Das performed 30 shows in 40 days within the U.S., where 27 of the 30 shows sold out. His comedy shows in India sell out on a regular basis, as well. In addition to standup, he regularly performs with his band Alien Chutney, a viral sensation turned full-fledged rock outfit. Das' History of India: VIRitten is one of his largest selling Indian comedy shows of all time, having sold a quarter of a million tickets in the last four to five years.
While Das has generated ample success within India, he's also generated controversy in the country, which struggles with freedom of speech and where the lines between comedy and government are not clearly drawn. In 2015, when Das was performing a standup show in New Delhi, he was asked to stop the show midway through the act. The reason? Someone was offended by comments he made about the former President of India, Dr. APJ Abdul Kalam.
"The larger your audiences tend to be, the more you have to think. The show we did in Delhi, I think there were about 3,000 people in the audience and it was at a big arena. You're always going to have somebody who gets pissed off," Das said.
"India is a billion people so somebody is going to get upset at some point, but when they want to do something about being upset, naturally they become a douche bag and call the cops. We had about 25 policemen show up at my show. We gave them a sandwich, we sat them down and they enjoyed the last 20 minutes of the show, so that kind of went away pretty fast."
Following the incident, Das wrote an open letter that was published in India Express. In one part of the letter, he wrote "I don't apologize for the subjects in my material because I consider myself an intelligent, moral and patriotic person. I will not change my material and I shouldn't have to based on what government is in power or who is attending the show."
Das hasn't had anymore incidences like he had in New Delhi since that show, but he does feel that part of what happened was partially due to standup being somewhat misunderstood in India.
"We're an early comedy market and we're just adapting to satire and edgy comedy with political and religious references, etc.," Das said. "I feel like the only solution to that is to do a lot more comedy so that people understand."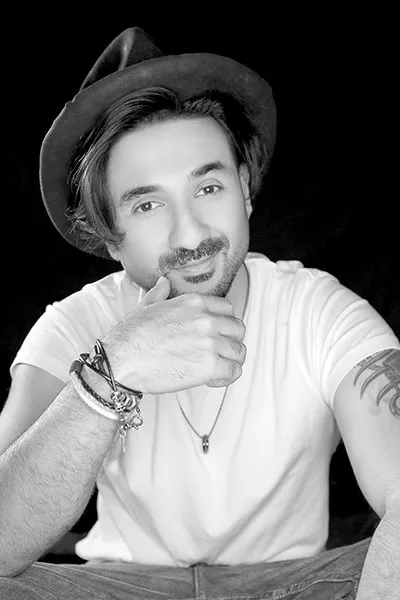 Vir Das (Photo courtesy of Personal Publicity)
In India and across the globe, Das performs his standup in English, which makes his audiences diverse. Since he got a closer look at American culture during college, he sometimes makes references to things that caught his attention during his stay.
In a past clip of a standup show that can be found on YouTube, he speaks about the idiotic euphemism "the birds and the bees." Back in India, where you'd think expressions like this could be misunderstood, they usually come out crystal clear.
"I think most of my audience is watching Game of Thrones or House of Cards and most of my audience is English-speaking," he says. "We're kind of all on the same page at this point."
In another clip, he sings a rendition of the Chinese proverb "Buy a man a fish and he will eat for a day. Teach a man to fish and he will fish for a life time," adding his own philosophy to the mix: "I say, teach him to fish and then eat half his fish. It's called outsourcing."
Das lists American comedians George Carlin, Eddie Izzard and Bill Cosby — carefully noting, "I'm a fan of his jokes, not his behavior" — as inspiring him with their standup.
And like most folks in the entertainment industry, he's had his fair share of being compared to other comedians. India Express referred to Das as "India's answer to Jay Leno," a description he didn't appreciate.
"To be honest with you, I was not too excited about this description on two fronts. Number one, there are better comedians to be compared to. Also, it implies that Jay Leno is waiting for an answer from India and I think he has better things to do."
When asked about Aziz Ansari, a popular Indian-American comedian who hails from South Carolina, he's quick to acknowledge Ansari's success with comedy. But he also wants to set the record straight by distinguishing himself from comics like Ansari.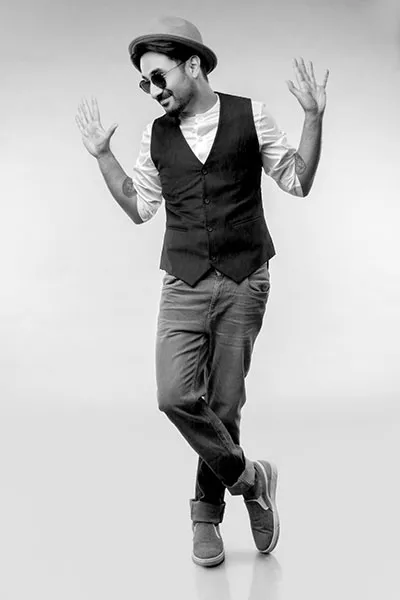 Vir Das (Photo courtesy of Personal Publicity)
"I think Indian-American comedians like Aziz Ansari and Russell Peters have done an amazing job of putting us on the map. They put Indian culture on the map. Having said that they are Indian-American comedians," he said. "I look forward to showing Americans what an original Indian comedy voice is because that's something they haven't seen a lot of either. It's usually the American version of India as opposed to India."