SAW 10TH ANNIVERSARY
**1/2
DIRECTED BY James Wan
STARS Cary Elwes, Danny Glover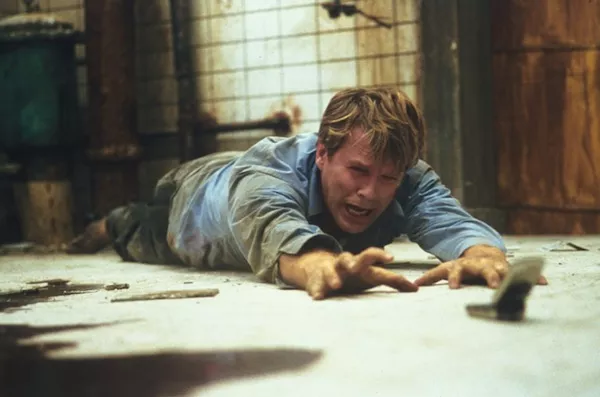 Cary Elwes in Saw (Photo: Lionsgate)
There have been seven Saw movies to date, with the last one — a 3-D effort, no less — hitting theaters back in 2010. Having run the franchise into the ground, Lionsgate Films has opted to re-release the picture that started it all on over 2,000 screens, in hopes of making some easy money over the Halloween weekend (and perhaps beyond). For those who missed the movie on its first go-round, here's my original review from Oct. 29, 2004:
In this age of cookie cutter thrillers, here's one that, for better or worse (or a bit of both), stands apart from the pack. Most moviegoers didn't want to spend even two minutes discussing the imbecilic likes of Taking Lives or Twisted, yet they'll be endlessly jawboning after seeing this grisly serial killer opus that clearly aspires to be the next Seven.
Two men, a doctor (Cary Elwes) and a photographer (Leigh Whannell, who co-wrote the script with director James Wan), wake up to find themselves shackled to the plumbing in an abandoned building's bathroom. Realizing that they're the prisoners of a notorious serial killer who's fond of playing mind games with his victims, they decide to work together in an attempt to outsmart their captor. But their suspicions of each other's motives — as well as the specific guidelines laid out by their torturer — work against their success, and the involvement of an emotionally scarred detective (Danny Glover) doesn't seem likely to help them in any manner.
As director, Wan needs to trust his instincts more — the rapid-speed camerawork and choppy editing occasionally on display prove to be pointless and distracting — and as writer, he and Whannell could have taken more care to plug up some gaping inconsistencies. Yet the unique setting adds some intrigue, and the twist ending should jolt the majority of moviegoers right out of their seats.