Ruthie's on Tryon has only been open for five months, but its legacy spans three generations.
The story began in 1997 on Dekalb Avenue in Brooklyn, New York. Ruth West opened the doors to Ruthie's Soul Food and became famous for bringing Southern staples to the big city up north.
Two more Ruthie's locations were established in New York and West's daughter, Deborah Monroe, began looking for a spot in Charlotte to open a fourth. However, the recession kept her from finding one. When West died at 75, Monroe knew it was time to expand her legacy to the Carolinas. At that time, the food truck craze was on the rise.
With West and Monroe's faces painted on the side, Monroe rolled out into Charlotte to serve food out of the window of her Ruthie's truck. She was serving the same soul food that her mom was known for in Brooklyn, calling it "Southern food with a twist." Late in 2017, two of West's granddaughters, Kia Spell and Kenyota Farmer, helped Monroe open a new restaurant on North Tryon, where Luna Restaurant and Lounge once stood.
Creative Loafing visited the family in their new spot and talked with Spell about the past and future of Ruthie's. We also got to the bottom of what some of those "twists" are.
CL: What was the transition from a food truck to a brick-and-mortar restaurant like, and will your food truck keep on running?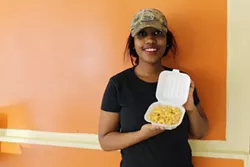 Kia Spell (Photo by Alexandria Sands)
Kia Spell: The food truck is definitely still up and running. Right after the end of this month, we're gonna be starting to roll it back out every day.
For me, I would say with the food truck it's constant. You're always at a rapid pace. This right here, being at the restaurant, it's much more slower as of right now. Since we're just now opening, a lot of people are finding more out about us. Now we actually have a little bit of time to sit down, take a breath and fix our mistakes also.
The food truck brings more people to the restaurant. It gives awareness that we're here. Cooking wise, we cook a lot more at the restaurant. Everything is here so it's much easier. I still love the food truck.
Was the goal always to go from food truck to a restaurant in Charlotte?
After my grandmother passed away, [my mom] still wanted to continue my grandmother's legacy, so that's when my mom opened the food truck. At that time, food trucks were just now coming in ... The food truck was, I think at that time, the best.
Our ultimate goal is to definitely franchise. We're trying to, within the next two years, be on the West Coast ... We're also trying to box all of our foods. So we're trying to be able to box our meatloafs and you're able to go in the grocery store and get a kit where you can make our meatloaf at home — so it's Ruthie's at home. We're going to bottle our tartar sauce and our seasonings. That's another way how we're going to keep my grandmother's legacy going.
How do you come up with these recipes, and what are the most popular ones?
It's my mom. She's the whole thought of this, the whole brain of everything. We just really wanted to stand out ... We just started doing little things and seeing if it worked and it worked. It was like, "Let's try this and put the collard greens on a tortilla," cause we all love quesadillas so we put the collard greens on it, put the cheese on it, and we tried it and it was good. We actually started with a pulled pork mac and then added meatloaf macs, fish macs. We added a best melt which is half pulled pork mac, half meatloaf mac so you can try the best of both worlds.
Ruthie West and Deborah Monroe are depicted on the new sign. (Photo by Alexandria Sands)
Our meatloaf is hands down the best. We had a couple people saying it makes you wanna smack your mom. We had this guy say that he died and came back to life after eating our meatloaf. We have meatloaf in different forms also. We have just the regular meatloaf as a dinner, we have it as a melt, which is a meatloaf mac; it's a grilled cheese sandwich with meatloaf and mac and cheese in the middle. We also do that with other meats too.
Our collard green quesadilla, that's different. A lot of people never heard it. They're like, "What's a collard green quesadilla?" It's just collard greens, monterey jack cheese in a tortilla.
We don't have our full menu out right now so we're still adding things to the menu as we get busier and busier. We're going to be adding oxtails, turkey wings, baked chicken. We're going to be adding a lot of different sides like rice and beans.