RUBY SPARKS
*** (out of 4)
DIRECTED BY Jonathan Dayton & Valerie Faris
STARS Paul Dano, Zoe Kazan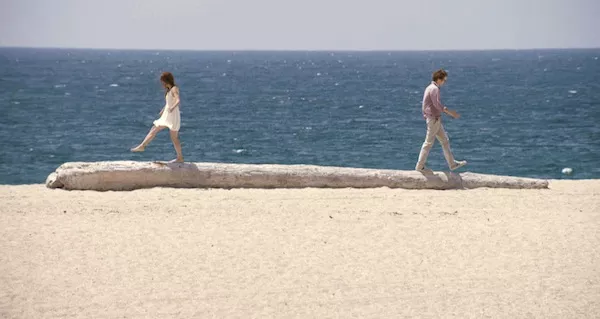 BALANCING ACT: Calvin (Paul Dano, right) tries to keep his fantasy woman (Zoe Kazan) in check in Ruby Sparks. (Photo: Fox Searchlight)
Hollywood is often criticized for not providing enough meaty roles to actresses, so Zoe Kazan tackled the problem head-on: She wrote herself a doozy of a part. She's the title character in Ruby Sparks, a film that superficially appears to be a romantic comedy but whose disturbing undertones guarantee that it will never be mistaken for some Katherine Heigl stinkbomb.
Paul Dano plays Calvin Weir-Fields, a writer who has done nothing but struggle since producing a masterpiece of a debut novel many years earlier. Inspired by his dreams, he creates a new character called Ruby Sparks and slowly finds himself falling in love with her, much to the displeasure of his worried, alpha-male brother (a funny Chris Messina). Calvin soon discovers that his fictional character has miraculously come to life, and that he's able to control her every move merely by spelling it out on his typewriter ("Ruby speaks French," he pecks, et voila!). Content with their relationship, he soon backs away from manipulating her via keyboard, but as she comes into her own as a person and once squabbles start to mar their bliss, he considers wielding his word power again.
Kazan and Dano are a real-life couple, as are the husband-and-wife directing team of Jonathan Dayton and Valerie Faris (Little Miss Sunshine), but don't expect starry-eyed sentimentality to rule this joint project. Dano's character can be downright hurtful and hateful — not only to Ruby but also to his mom (Annette Bening, channeling Catherine O'Hara) and her boyfriend (Antonio Banderas) — and the movie deftly uses fantasy to delve into serious issues involving abusive relationships, patriarchal rigidity and artistic etiquette. Dano and Kazan are both excellent, but let's give the gold medal to the latter, since her screenplay is almost every bit as noteworthy as her performance.