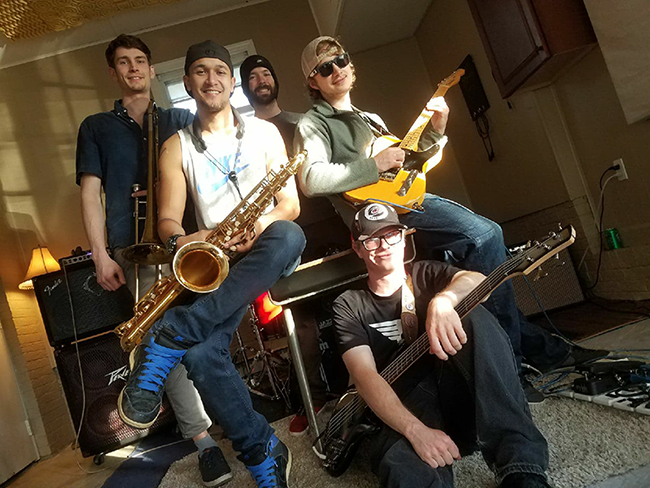 AKITA is ready to funk you up: Dan Hamalainen (from left), Charlie Lampercht, Patrick Buckley, Sam Farnham and Zak Ferrell (seated). (Photo by Jamar Perry)
ON A RECENT FRIDAY, 'round midnight, AKITA is cooking up a warm and meaty stew of deep, throbbing funk — guttural bass lines and stinging guitar that creep and crawl in lockstep with some sharp, spot-on drumming and tasteful blurts of tenor sax and trombone. Right now, the music is simmering in the intro of the band's original tune "FTS (Funk This Shit)," but the song soon becomes a big, bubbling, high-energy instrumental workout.
Later in the set, AKITA will segue into a taut cover of the Meters' classic "Cissy Strut" followed by an original take on the Incredible Bongo Band's iconic "Apache" — two of the most influential funk tracks ever put to wax. By the end, the crowd packed in front of the stage inside the Rabbit Hole in Plaza Midwood will explode into a frenzy of dancing, waving and shouting for more.
Just a typical weekend gig for AKITA, a Charlotte band whose five members you'd never believe have been performing togther for less than a year.
Drummer Patrick Buckley laughs. "Neither can we," he says. It's a few days after the Rabbit Hole gig, and Buckley is sitting with his band mates — bassist Zak Ferrell, guitarist Sam Farnham, saxophonist Charlie Lampercht and trombonist Dan Hamalainen — at a picnic table in Freedom Park under a cloudy sky and occasional raindrops. The five are talking about how they came together in November of 2017 and gelled so quickly.
"The speed at which things are happening for us is extremely exciting and unanticipated," Buckley says.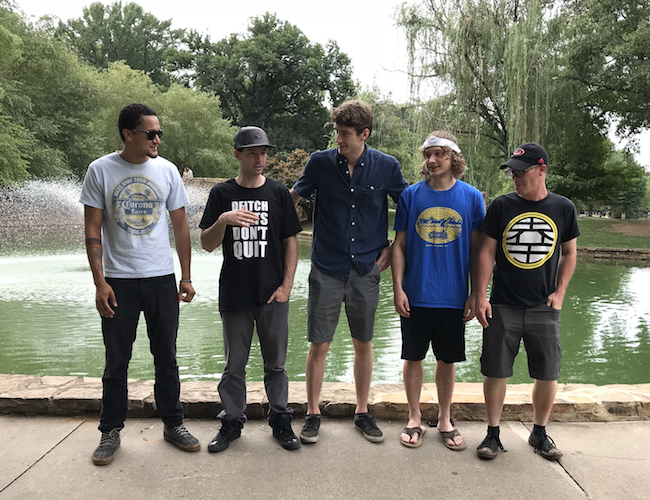 AKITA lines up at Freedom Park: Lampercht (from left), Buckley, Hamalainen, Farnham and Ferrell. (Photo by Mark Kemp)
Buckley, AKITA's founder and leader, had very specific ideas for the band and made damn sure he assembled the right players for it. He didn't want part-timers who were only interested in doing music as a side gig. He wanted musicians willing to work hard and stick it out for a decade or more.
"Our commitment to each other as a band and to the music is what has helped push us forward quicker than some bands typically move," Buckley says.
Within six months of jamming together, the band posted its first song to Soundcloud, "Freak," which features introductory soloing by each instrumentalist. Two more tracks followed: the progressive-funk workout "Hot Step" and the sweet, slinky "Mori."
None of those recordings do the band justice, though. To really get what AKITA does best, you have to see them onstage, because, Buckley notes, "People recognize your commitment to the music the most during your live performances."
________________________________________________________________________________
Watch AKITA tear the roof off the Rabbit Hole in this full set from Friday night.
(Video by
Piedmont Artist Profiles
.)
________________________________________________________________________________
On July 27, residents of Camden Suites will get the opportunity to see AKITA perform live when the band plays a private rooftop gig there, followed by public performances on Aug. 5 at the Pizza Peel on Central Avenue and a slate of September shows — VBGB Beer Hall on the 7th, Thomas Street Tavern on the 8th, and Olde Mecklenburg Brewery on the 14th.
In the meantime, the band has been woodshedding new material and a new sound for a full-length debut album they'll begin recording next March and release in May. "We're going to do a video production for one of the songs on the album that will capture everything from the first idea of the song through to the completion of it," Buckley says.
AFTER POUNDING it out for a few years as a sideman in other people's projects, including CL contributor Kia Octavia Moore's Hip Hop Orchestrated, Buckley, 30, was itching to pursue his own vision last fall. In September, with Moore's blessings, he left Hip Hop Orchestrated and formed AKITA.
"Patrick is such a talented and dedicated drummer. His enthusiasm to blend sounds to make something new helped Hip Hop Orchestrated stand out," Moore says of Buckley. "His drumming — as the heartbeat of our performances — brought that special live hip-hop sound that we needed. He was always ready to help and ready for a gig."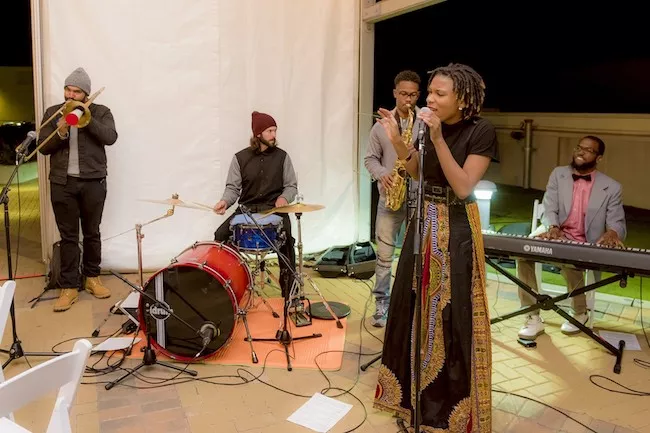 Buckley (second from left) behind the kit with Hip Hop Orchestrated.
AKITA began life as a simple rhythm section — which is also the heartbeat of a funk band — when Buckley and bassist Ferrell, 27, got together for some jam sessions. They soon added 27-year-old saxophonist Lampercht, singer Mori Bea and an earlier guitarist. When Mori Bea and the first guitarist moved on, Buckley posted a notice on Craigslist that got the attention of guitarist Farnham and trombonist Hamalainen. Buckley made it clear to the two that AKITA would not just be a side project, and they agreed to commit.
Lampercht and 25-year-old Hamalainen began working on their horn parts alone, and in band rehearsals the quintet folded the arrangements into its already rock-solid rhythm section. The lineup was complete, and ready to hit the stages of local clubs.
Each member of AKITA comes from different backgrounds, but they all share a fondness for the NYC-based funk outfit Lettuce. "They're a band whose members all met at Berklee [College of Music in Boston], got known around that whole northeastern area and then just branched out and became this phenomenal funk outfit," Buckley says. I have so much respect for those guys," Buckley says, "both for their music and for the way they've gone about building their career. They each individually have their own solo careers on top of this phenomenal band."
Like Lettuce, AKITA is part of a continuum of jazz-based funk bands that have followed in the wake of Miles Davis' famous fusion albums of the early 1970s, Bitches Brew and On the Corner. Guitarist Farnham says as a kid he was inspired by John McLaughlin, the guitarist who played the angular parts on those albums and later formed Mahavishnu Orchestra. McLaughlin and other Miles and Parliament-Funkadelic players were pioneers of the kind of experimental fusions of funk and jazz that Bill Laswell would bring into the '80s with his downtown NYC outfits Golden Palominos and Material, the latter of which introduced a young Whitney Houston to the world before she became a pop star.
"My dad hooked me up with a guitar instructor who was always pushing things on me like McLaughlin," Farnham, 26, says. "And I always liked funk bands, from Earth, Wind and Fire to the [Red Hot] Chili Peppers, and soul singers like Al Green and Marvin Gaye. That led me to start listening to Lettuce and got me more and more interested in funk."
Lampercht and Hamalainen blow hard. (Photo by Darnell Sanders)
Farnham and Hamalainen had attended the same high school together in Cary, and reconnected in Charlotte after Hamalainen came here to study at UNC Charlotte and Farnham followed upon graduating from N.C. State in Raleigh. In Charlotte, the two played guitar and drums together, but Hamalainen, who had played trombone in high school, picked up the instrument again for AKITA. From his playing, you'd never know he ever stopped.
Lampercht began playing alto sax as a kid growing up in Berlin, Germany, and continued playing in the band at North Mecklenburg High School when his family relocated to Charlotte. He briefly put performance behind him when he enrolled at UNC Charlotte, where he studied political science and philosophy, and got his master's in public budgeting and finance. "Between three different jazz bands and two different orchestras, it just got to be too much," Lampercht says. "So I quit the bands but I never quit playing the saxophone. I just got tired of playing the music they wanted me to play — the corny stuff. I wanted to experiment more."
So did bassist Ferrell, who had attended Charlotte's Northwest School of the Arts during his middle and high school years, and continued his music studies at CPCC, where he took a jazz improv class under Charlotte jazzman Bill Hanna. Ferrell, who earlier played in the punk-funk band Fireman Bill, was ready for a change and jumped at the opportuity to join Buckley's new funk project.
Ferrell and the others appreciated that Buckley wanted AKITA to operate as much like a business as an art project.
"The thing about music is that it's not just about being an artist, and if you only want to be that, then you have to sacrifice part of what you earn by getting a manager," says Buckley, who grew up in Gastonia and studied entrepreneurship at Western Carolina University. "Because of my background in college, I gleaned a lot of knowledge about how to run a business. And right now I work for a wholesale furniture company, Trade Winds Furniture, where every day, in addition to just doing my job, I'm picking the guy's brain, trying to figure out how I can use his business model for my band, whether it's doing marketing or selling or whatever it is he's doing."
Buckley's got the beat. (Photo by Darnell Sanders)
Buckley had played drums since age 16, but didn't get serious about music until about four years ago. That's when he began sitting in at the weekly jam sessions at Smokey Joe's Café, honing his chops. "I'd go there every Tuesday for the first two years, and it really sucked at first, because when you go to a place like that and you're batting 60 and everyone else is batting 90 or 100, you have to learn to up your game really quickly," he says. "Because it's not fun when you're the one who sucks onstage — especially when you're a drummer, because it's really obvious when the drummer sucks."
Buckley also started meeting up with Charlotte percussionist Jim Brock, the Monday Night Allstars member who's played with national acts ranging from the late British soul man Joe Cocker to country singer Kathy Mattea. "Jim has done everything in the music industry, and he's the most humble guy about it," Buckley says. "You go into his house and there are records upon records, and all these crazy percussion instruments everywhere. In fact, I just had lunch with him the other day, and he's always as cool as a cucumber. He's an observer, and there's a lot of wisdom in him that you can learn from."
Once Buckley felt comfortable with his skill level on the drums, he began accepting invitations to perform at local music venues and art spaces. He met Moore while doing a gig for the artist collective UrbanZue. "They had asked me to come play my drums with a DJ — like a musical chairs kind of thing — and it was the weirdest gig I'd ever done, but it was a lot of fun, and I met Kia there."
After performing with Moore's Hip Hop Orchestrated in late 2016 and 2017, Buckley was ready to jump out on his own to form the ultimate funk band. "We hated to see him go," Moore remembers, "but we knew that him starting his own band was in his heart."
RIGHT NOW AKITA's heart is pumping hard and the band's future looks bright. For one thing, Buckley says, he and his bandmates' willingness to throw smart cover choices into their sets, like "Cissy Strut," "Apache" and James Brown's "Night Train," along with original tunes makes them a surefire draw at nontraditional venues.
"Charlotte is a city where if you're an original band but you're willing to do a few well-chosen covers, then you can grab a lot of great brewery gigs," Buckley says. "And that's been a massive advantage that we've had. I knew that if we were going to end up being a good funk band, having covers would not only be a great way to honor those great musicians from the past, but also a way to get people interested. It means our music is not only danceable, but familiar — and then we also get to do our original material.
"I think that's a wise mix," he adds. "It makes you better."
Ferrell, a big Meters fan, suggested the band should do "Cissy Strut"; Lampercht recommended "Apache," which he says the band takes for granted because it's easy to perform. The cover that's closer to Lampercht's heart is "Night Train."
"When I was younger, I would come home and play Aretha Franklin songs and other James Brown songs, but when 'Night Train' would come on, I would just stop and listen — put down the sax, let the greatness play," Lampercht says. "So when we play that one, I get a special joy."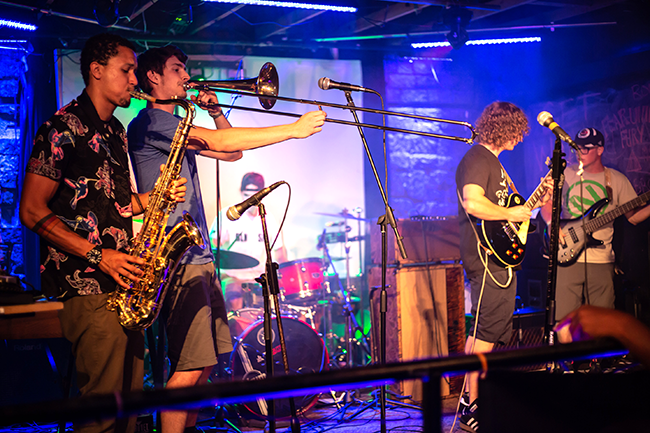 AKITA funks shit up at the Rabbit Hole: Lampercht (from left), Hamalainen, Buckley, Farnham and Ferrell. (Photo by Darnell Sanders)
The guys in AKITA are happy with their current set list, but Lampercht says after August, fans should expect a new sound. "We recently looked over our list and we feel like we're ready to close the book on a lot of those songs and further develop our own voice, move into some different directions," he says. "So you might find a different AKITA in September — but with the same vibe."
The band also would like to reconnect with earlier singer Mori Bea. The guys miss her so much that they named their track "Mori" — which the band began writing when she was a member — in her honor.
"We've tried relentlessly to get ahold of her, because she has such a great voice, but we just kind of lost touch," Buckley says. "We had started to write that song with her, so now we call it 'Mori' and we always play it live, hoping that she's somewhere out in the crowd and will come up and sing it with us."
Lampercht laughs. "I'm laughing," he explains, "because every time I hear that story and then listen to the song, it really does have this very melancholy sound when the horns come in. It's almost sad. It's like happy sad. Maybe she'll come back eventually and we can do 'Mori (The Remix).'"
This could be the shout-out she needs. So Mori Bea: If you're out there reading this, hop on the Night Train and get on over to the rehearsal space. Your seat remains vacant.
________________________________________________________________________________
Listen to "Mori":
________________________________________________________________________________