RED SPARROW
*1/2 (out of four)
DIRECTED BY Francis Lawrence
STARS Jennifer Lawrence, Joel Edgerton
Jennifer Lawrence in Red Sparrow (Photo: Fox)
Eventually, a movie will emerge that will exemplify the #MeToo movement in all its righteous fury and cathartic representation, but that moment hasn't arrived yet. The ability of Three Billboards Outside Ebbing, Missouri to capture a slice of this zeitgeist is largely what has enabled its ascension as an award winner, yet controversy in other regards (chiefly, its hazy take on racism) has prevented it from serving as any sort of definitive poster child. Still, it's a far better bet than Red Sparrow, which has appeared on the scene promising to topple the patriarchy but choosing to cut a backroom deal with it instead.
Reuniting with director Francis Lawrence (he of the three Hunger Games sequels), Jennifer Lawrence stars as Dominika Egorova, a Russian ballerina whose career ends abruptly following a mishap during a performance. Fearful that she and her ailing mother (Joely Richardson) will be left homeless once the dance company kicks them out of the apartment it has provided for them, she reluctantly accepts the aid of her uncle Ivan (Matthias Schoenaerts), a mid-level government official. Ivan is convinced that Dominika has the making of a first-rate spy; his superiors (Jeremy Irons and Ciarán Hinds) aren't so sure, but they opt to give her the benefit of the doubt.
Ivan sends his niece to an academy that trains its agents to give themselves completely to whatever ugly task is on hand, usually of a sexually deviant nature (a "whore school," as Dominika calls the joint). One female agent is expected to blow a confessed pedophile; another must allow a male trainee to rape her.
Enter Nate Nash, who, despite the alliterative name, shouldn't be confused with the Bond villain Nick Nack. Nate Nash (played by Joel Edgerton) is a CIA agent and the only man who knows the identity of the Russian mole who's been feeding him secrets. Despite Dominika's understandable difficulties at "whore school," the Moscow brain trust decides that she would be the best spy to use her feminine wiles on Nate Nash and convince him to reveal the mole's identity. For his part, Nate Nash is certain he can turn Dominika into an American asset.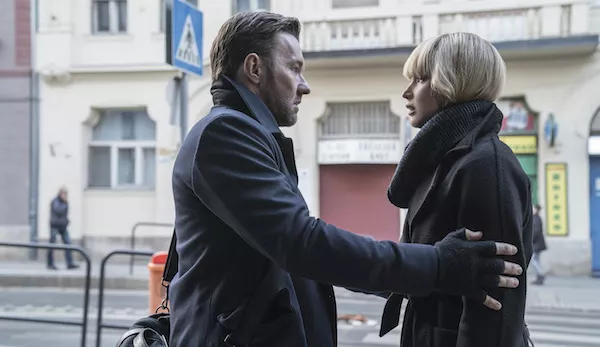 Joel Edgerton and Jennifer Lawrence in Red Sparrow (Photo: Fox)
As a straightforward spy thriller, this adaptation of Jason Matthews' novel (with Justin Haythe handing scripting duties) is awfully turgid, with a plot that never builds much momentum and zero chemistry between Lawrence and Edgerton. The entire endeavor plays out with even less believability than any given Spy vs. Spy cartoon from MAD's golden age.
Indeed, Red Sparrow contains little of the wit and wisdom of the best of yesteryear's spy flicks — that gathering includes last summer's unjustly ignored Atomic Blonde, an espionage caper as stylish as this one is stuporific. And like other exemplary films of this genre, Atomic Blonde chose to wear its danger on its sleeve – Red Sparrow, on the other hand, is content to merely shove it into its jockstrap.
In short, this is an ugly movie that thinks nothing of repeatedly placing its female characters in degrading positions. As one example, it's not enough that Dominika gets raped by a creep – he has to still be thrusting inside her as he's strangled from behind, with his blood splattering her body like a wayward ejaculation.
One could argue that this is the way the world operates. Or one could cut the filmmakers additional slack and contend that they mean the entire picture to be a commentary on the cozy relationship between Trump and his Russian comrades, and how they all get aroused by the humiliation and brutalization of women (indeed, watching Dominika's lecherous uncle sexually respond to her recalls Trump's nauseating statements regarding his desire to date and bang his daughter Ivanka).
But that's an awful lot of slack – enough, in fact, to circle the globe twice. It's hard to feel like a movie is striking a blow against misogyny when its camera leers as obsessively and as attentively as a virginal frat boy at a strip club. There isn't any abuse endured by Dominika and her fellow female agents that isn't captured in loving detail (male agents, on the other hand, have it comparatively easy). Of course, our heroine gets her revenge on (most of) her abusers, but it's hardly compensation for the nastiness doled out over the majority of this picture's punishing 140-minute run time.
#MeToo? Nope. Just hashtag this one #NoneForMeThanks.