He calls his music "folk rap," but don't expect Nigel Hood to be dropping knowledge over strummed acoustic guitars, bongos or pristine, three-part harmonies. To Hood, folk is a philosophy.
"At its purest form, folk rap is music about day-to-day life — everyday life in the pursuit of happiness," Hood says. "Sonically, folk rap is groovy, it's funky, it's got soul."
He pauses between sips of coffee, then continues: "But mostly, it tells a story."
Like the story of the "cool kids with no cares at all," in "Funkshun," from Hood's 2016 EP This is Folk Rap. (Listen to the full album at the Spotify link at bottom.) It's a simple song about the Funkshun parties thrown by local hippie party promoter Oba Amitabha.
In "Funkshun," Hood raps and sings over a sweet, bumping, '70s-style keyboard line and percussion: "Big Afros, the girls gone natural / Lookin' at themselves in the mirror of the bathroom / Steppin' out the door like a motherfuckin' classroom."
"Nige's nature is energetic and charismatic," Amitabha says of Hood, who goes by his nickname Nige when performing. "His music genuinely casts about bringing people together to have a good time."
"Funkshun" could be any song from any album by any member of the late-1980s Native Tongues collective. But the song doesn't sound dated — it sounds timeless.
"If I were to put other artists into the category of folk rap," Hood says, "I would say it's the tradition of A Tribe Called Quest. That's folk rap. I would even say Chance the Rapper would be considered folk rap. It's rap that talks about things we all can relate to."
The 28-year-old rapper is sitting at a bistro table inside Amélie's French Bakery in NoDa, wearing a tie-dye T-shirt, black jeans and white Adidas. It's a rainy Thursday in late August. Bleak news reports about the hurricane that devastated Texas are coming in every half-hour or so. Even the sky over Charlotte is dark and menacing. But Hood's smile lights up the café like the sun peeping out from behind charcoal gray clouds when he describes his music. He searches for the right words to distinguish his sound from other rappers.
"A lot of rap is self-promotion, and that's cool," Hood eventually says. "But I don't really get into that."
Hood picks at pastries and checks his texts at Amelie's. (Photo by Mark Kemp)
In the past year, Nige Hood has released This is Folk Rap and put together a band to back his signature mix of rock, R&B and rap that bubbles with golden-age hip-hop stylee. On September 7, Hood will bring this concoction to Petra's on a bill with the atmospheric indie-pop of the Virginia band Mammoth Indigo. Two days later, Hood will be off to Raleigh to perform at a Hopscotch Festival day party called The Art of Sound, along with Charlotte rapper Black Linen and several regional acts including experimental ambient-noise artists blursome, from Raleigh, and Kendall Cahan, from Boone.
Then next month, on October 21, Hood will be among numerous Charlotte acts performing at LeAnna Eden's big Bla/Alt Music Festival at Camp North End, a local version of the Afropunk fest in New York City. That event will surely drive home Hood's ideas about folk music.
"I see folk music as the pulse of people," Hood says. "That's why I feel like it was so strong in the '60s, and it's why in the '60s folk was so heavily laden with protest. People were at a consensus on that stuff back then; it was what was on everybody's minds.
"But if you look back even further to traditional folk songs like 'House of the Rising Sun' — that was a simple story about going to a gambling house," he continues, as he picks at a flaky pastry and checks his phone for text messages. "So folk music, to me, is just songs about people and their day-to-day lives. It's Simon & Garfunkel, but it's also the tradition of West African storytelling."
He pauses and laughs. "I guess I'm a griot," he says.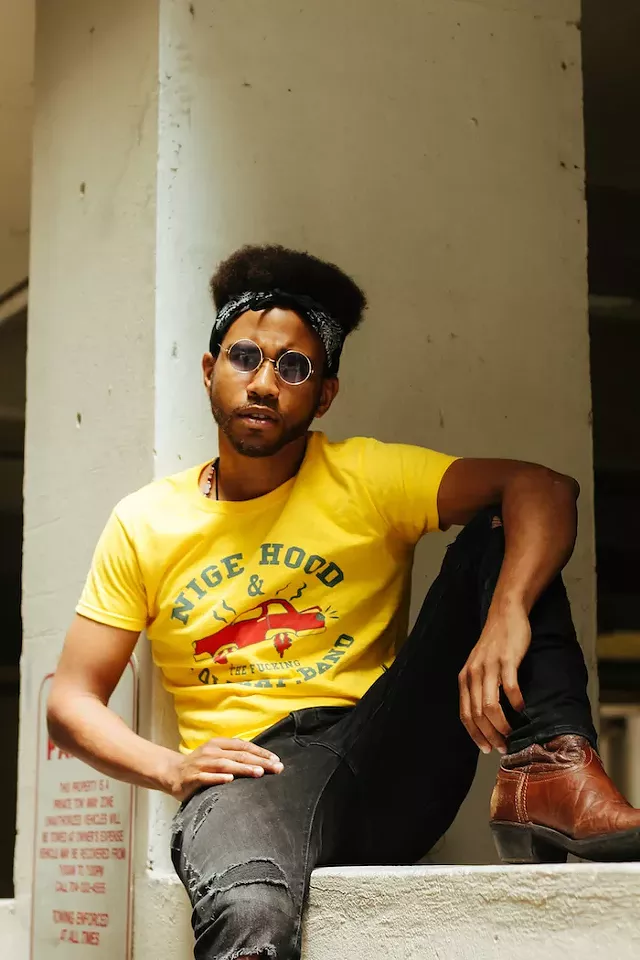 This is a griot. (Photo by Carey J. King)
Hood may be a griot, but he was born and raised in the middle-class suburbs of Charlotte, his dad a buyer for Duke Energy and his mom an engineer for the same company. When he was just 5, Hood remembers, his dad would play the Temptations, Jackie Wilson, Sam Cooke and Wilson Pickett. Nigel loved the sound of his dad's deeply soulful, old-school R&B, and as he got older, he gravitated to Charlotte's then-oldies station Magic 96.1. There, he heard songs by the Beatles, Jimi Hendrix, the Mamas and the Papas, and the real king of rock & roll, Chuck Berry.
"Chuck Berry, in particular, was a big influence on me, because if you listen to all the stuff he was saying, it was just about having fun," Hood says. "It was basically folk songs about day-to-day life."
Then one day, a friend turned Nigel on to Eminem's "My Name Is." It changed his life.
"I was always a little rambunctious, so I guess I related to Eminem's juvenile jokes," Hood says. "From then on, I was just sucked into rap. I watched VH1's Behind the Music on Dr. Dre and learned about N.W.A and other artists. It was then that I wanted to start writing songs." He began rapping with classmates. "I got a lot of notoriety for that in middle school," he says, "and then in high school, there was a kid who said, 'Yo, do you want to record this stuff?' And I was like, 'Yeah.' And that's when it all started."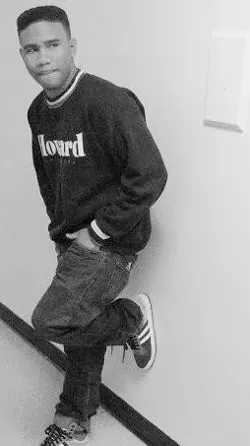 Hood sports a Howard U sweatshirt in his teenage 'Lost Boy' years.
He was 18 when he released his first mixtape as Nige Hood, Lost Boy: Dynamics of a Child of Color, in 2007. He never looked back. During his college years at Howard University in Washington, D.C., then North Carolina Central University, in Durham, where he studied history, he continued writing, rapping and recording music, and even got a chance to open for Kendrick Lamar. Hood returned to Charlotte in 2013, and immediately founded the local free-style rap collective UNCC Cypher, an offshoot of the N.C. State Cyper movement that began in the Triangle.
"I knew a lot of the people involved in the N.C. State Cypher when I was at North Carolina Central, so I started one here," he says. "But I'm not really a free-style rapper, so other people, like [Charlotte rapper] La La Specific, really got into it and it took off. I'm so glad to see what they've done with it."
Since he's been back, Hood has continued to put out new music, releasing Excursions, in 2013; the two-series Thoughts (Vol. 1, in 2013, and Vol. 2, in 2014); Return of the Nasty, in 2015; and last year's This is Folk Rap.
Hood says his studies in history — in particular, his concentration in the history of ideas — taught him that "time doesn't really exist." That freed him up to borrow from across the historical spectrum of music for his own sound.
"This may sound cliche, but music is timeless," Hood says. "And having that perspective allows me to pull in certain styles, certain sounds and certain ideas from older music." He gives an example. "Like, if I listen to [the Beastie Boys'] 'Paul Revere' or Kid Rock's 'Cowboy,' and I get caught up in, 'Oh, this is just an old-school beat,' I would never have come up with the idea to do the song that I wrote called 'Cowboy.'"
Hood says he listens to older music to get ideas about the continuum of popular culture — the importance of context in everything we listen to or look for in our music and art. "Tone Loc taught me a lot about just writing a song — just tell people what happened and let it live. It's that simple," Hood says. "So for my song 'Fried on Friday'" — his upbeat tune about partying after work, from Return of the Nasty — "people can listen to it, and it doesn't matter what time period or era it comes from, they can relate to it."
For some, Hood's continuum is more of a spectrum, in the literal sense. "Nige has a way of colorizing words; he has very colorful music," says fellow Charlotte rapper Black Linen. "I think he sees music in color."
In other words: folk rap. Songs for everyday people. Timeless tunes. Like "Monday Monday," by the Mamas and the Papas, or "Daydream," by the Lovin' Spoonful — or "I Left My Wallet in El Segundo," by A Tribe Called Quest.
"Or 'Funky Cold Medina' or 'Wild Thing,'" Hood adds, citing two Tone Loc songs. "My music is potent," he continues, "but at the same time, the fact that I'm kind of oblivious to music that's on the cutting edge right now makes what I do sound new and different."
Not that he doesn't get self-conscious from time to time. He laughs. "I do sometimes ask myself, 'Am I stuck in the past?' And then I'm like, 'Nah, nah, nah — let's just see how these songs stand the test of time."
He points to two other acts that have drawn from the past to create potent new music: Green Day and The Strokes. The success of those bands gives Hood the confidence to know that being himself and not following the latest trend is what makes him special.
"It definitely gives me the zeal to dig my heels in and remain focused on what I do best," he says. "When we talk about music that may be separated by 40 or 50 years, but that remains timeless — I know what it is about that music that makes it stick. And that keeps me from getting too caught up in the 'now.'" Hood looks up and a ray of sunshine peeps through the window of Amelie's.
"We give 'now' so much more importance than it deserves."
Watch the video for "McLuven," from This is Folk Rap:
Listen to This is Folk Rap in its entirety, on Spotify: