Bullhorns, pamphlets and full-color posters the size of flat-screen TVs depicting dead fetuses — that's how pro-life groups commemorated the 42nd anniversary of Roe v. Wade in Charlotte. About 20 volunteers for Cities4Life, along with members of Christ Fellowship Church and other anti-abortion activists, converged on Trade and Tryon streets on Jan. 22 to protest the historic Supreme Court decision legalizing abortion.
Jeff Hahne

A 'memorial service for babies lost to abortion' was held Jan. 22 Uptown.
Though a staunch believer in the right for safe and legal access to abortion, I drew near to do a little reconnaissance on "the enemy's" doings. What I found surprised me.
While preachers and leaders blasted passersby with biblical verses and rhetoric, a secondary cadre passed out pamphlets and drew people into more personal conversations, answering theoretical and often very personal questions as to what they believed and why. This softer approach makes their movement more palatable or more dangerous, depending on where you stand on the issue.
In recent years, the schism between hardline ideologies like zero tolerance for abortion and mainstream American mores has become more pronounced. Numerous polls suggest most Americans support safe access to abortions in cases of nonconsensual sex and to save the mother's life, as well as it simply being a woman's personal decision about her body. Yet time and again, conservative politicians have shown themselves in unsympathetic light on the issue, from West Virginia state senator Brian Kurcaba's recent comment that childbirth as a result of rape is "beautiful," to former U.S. Rep. Todd Akin's theory that the bodies of "legitimate rape" victims know how to "shut down" and avoid pregnancy, to Rick Santorum's suggestion that rape victims "make the best" of it and see unwanted pregnancy as a gift of life. These kinds of public stands are decimating conservatives' image among millennials, and as the new and much more right-leaning Congress settles in, some conservatives seem to be becoming more conscious of that backlash: If not changing the message itself, at least looking at more effective ways to deliver it.
I experienced the gentler one-on-one approach with Vicky Kaseorg, a Cities4Life volunteer counselor who was at the Charlotte rally. Kaseorg blogs, and is fond of quoting from Horton Hears a Who: "A person's a person, no matter how small." With her diminutive stature, salt-and-pepper hair and compassionate yet direct responses, she called to mind the kind of aging, socially active hippie who might invite you to split a brownie. Kaseorg passed out brochures with a warm smile, inviting people within a few blocks of the rally to come and hear, and on the way to the nucleus shared a bit about her mission with me.
"These women are in desperate situations. Many of them, their biggest issue is hunger," she noted, saying that her organization did not stop at abortion counseling, but also provided some free prenatal and food services. "We don't wanna say 'Choose Life,' then leave the women hanging."
She said her group provided two years' worth of baby supplies for one of her clients, who already had three children. But Kaseorg readily admitted the woman, who has a felony record, is still struggling. Kaseorg's brand of faith frames her activism as a gospel issue, one of loving your neighbor. She cited higher rates of suicide for post-abortive women but acknowledged that the study she saw didn't track other factors, and said she herself didn't do rape counseling because she is unqualified. "It's such a devastating and serious event. I refer women who need it to a rape crisis hotline," she said.
THAT SAME DAY, U.S. Rep. Renee Ellmers, an Asheboro Republican, led a coalition that successfully thwarted a bill to ban abortions at 20 weeks unless the woman filed a police report saying she'd been raped. The language in the bill was the same as in the Pain-Capable Unborn Child Protection Act, which Ellmers spoke on the House floor in favor of in 2013. Scheduling the vote on the anniversary of Roe v. Wade was supposed to strike a symbolic victory for staunch abortion foes. What prompted her switch? Apparently, optics. "The first vote we take, or the second vote, or the fifth vote, shouldn't be on an issue where we know that Millennials -- social issues just aren't as important [to them]," she told the National Journal.
Millennials are overwhelmingly pro-choice and supportive of gay rights, two issues that are likely to cause trouble for the GOP as they become more active voters.
Some mainstream media outlets characterized Ellmers' actions as a sign of a "revolt" among female Republicans against hard-line Tea Party ideals. But North Carolina's Planned Parenthood spokeswoman Sarah Eldred scoffs at the idea. On the very same day, the House voted 242-179 to pass a bill that would prevent Medicaid from covering abortions; restrict a woman's ability to buy private insurance plans that include abortion coverage; and deny small businesses a tax credit, currently received through the Affordable Care Act, if they include abortions in their health insurance.
"When voters understand the implications of these laws they tend to disagree with them, because the majority of Americans believe abortions should be safe and legal," Eldred said. "Both bills were introduced and passed with the sole intention of banning safe and legal abortions, or at least restricting access to them. We think it's appalling to swap one extreme bill with another."
Rank-and-file conservatives aren't crowning Ellmers a hero, either. Of the representative and her coalition, "They're not pro-life. They can say what they want, but they're not. The most useless places on earth are Washington, D.C., and Raleigh, and other state capitals." So said Flip Benham, director of Concord-based Operation Save America. He led the rally that day in a suit and overcoat.
Recently on a right-wing radio program, Benham called homosexuality, abortion and Islam different incarnations of "the devil's fist." He was sued a few years ago for stalking a Charlotte doctor, papering the man's neighborhood and the area around his office with pamphlets calling him an "abortionist."
Benham, who identified his last name as Metzger when asked for comment, had the forced joviality of a high school principal — as though, despite his smile, it might please him to put the whole world in detention. Self-righteousness permeated the air around him like poisoned gas.
He quickly dismissed preserving the life of the mother and rape as reasons a woman might terminate a pregnancy, and laid out a detailed scenario of pedophile uncles impregnating their nieces with the collusion of abortion providers. Asked why doctors who provide healthcare services to women would protect an incestuous predator, Benham fairly shouted, "Money!" But with abortion, he insisted, women are "guilty of a crime worse than rape." Women, not poverty or lack of options, seemed to be the culprits in his eyes.
Ante Pavkovic, pastor of Christ Fellowship church near Concord, was also at the rally. Pavkovic has been protesting weekly outside of a women's health clinic in east Charlotte for over a decade. He may be as fire-and-brimstone as Benham, but he seasons his beliefs with compassion and stresses that abortion is not the only solution. He and his wife have five children, and he supports adoption. "There are 2 million couples waiting to adopt in the United States, and we kill 1.5 million children a year," he said. "The money is there, but the heart isn't there [to take care of them]. Children are treasures, not conveniences."
As for rape or incest, he insists society should "punish the perpetrator, not the innocent party." Pavkovic admitted he was molested as a child, and the experiences pushed him toward a young adulthood of bad choices until "Jesus freed me. But I would never minimize the rape question." He invited me to come and witness the weekend protest at the clinic, where I would see the truth of what they do. "They're upset we're there because we awaken their consciousness with what we're doing, but we offer them a way out," Pavkovic said.
IT'S MID-SATURDAY, morning, and about a dozen people are gathered out front of A Preferred Women's Health Center on LaTrobe Drive. The placards of dismembered fetuses have returned, and a junior pastor is preaching over the PA system, set up under a tent to shield it from the drizzly weather. My attention is drawn to an RV marked "pregnancy ultrasound bus," and I barely miss hitting a young man in a fitted cap who steps into the path of my vehicle with a pamphlet in his outstretched hand. "All babies matter," he calls out.
Grant Baldwin

The modified RV parked in front of the LaTrobe Drive women's clinic, offering ultrasounds and counseling to woman considering an abortion
Couples, families and groups of friends leave and enter the building. The clinic's patients are diverse in terms of age and race, but no one looks well-heeled. "You're caught red-handed; you're busted," the junior pastor shouts in the microphone, amidst an analogy about God that entails going before a judge in a courtroom. "Adulterers and blasphemers will not enter the kingdom of heaven."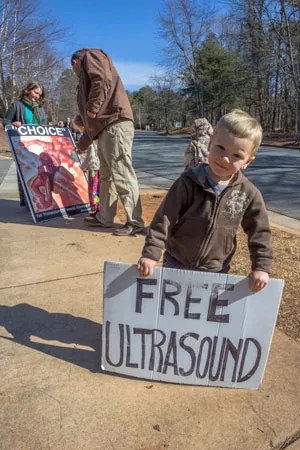 Grant Baldwin

Protesters and their children stand outside the A Preferred Women's Health Center, sharing their message.
A man in a Sonics cap leans on the front stoop of the clinic. He says he's been here since 10 a.m. "They wild, I don't think they should be allowed to be out here," the 24-year-old said, asking that his name not be divulged. "I'm pretty sure some of the stuff they're saying is illegal. You have a right; America is free. It's harassment. They do more than abortions here. Some people are here for a pap smear."
I ask the registered nurse who runs the ultrasound machine inside the RV how many women have "chosen life" today. None, says Courtney Parks. They borrow the unit from Help Crisis Ministry center in Monroe. The mobile center enables the group to give women a free confirmation of pregnancy, which they can use to apply for Medicaid, Parks says. Of course, the real purpose is to get women out of the clinic.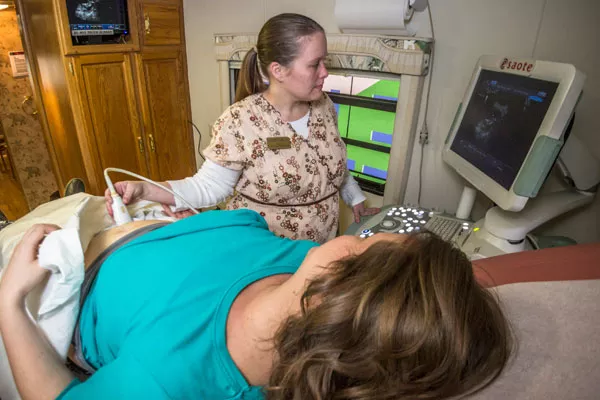 Grant Baldwin

To protect the anonymity of women seeking counseling, Courtney Parks, R.N., demonstrates the ultrasound procedure she performs on women considering abortion using Christina Parker. The two attend the same church in Concord.
"People feel like they have no choice. There has to be a standard of compassion; they're not coming here because they woke up and said, 'Y'know, today feels like a good day for an abortion'," Parks says. She was a teenage mother at 15, but acknowledges she was "lucky" to have a mother who helped her.
The older-model recreational vehicle has a sharp, unidentifiable odor, dirty carpet and a couch covered in a blanket. But once you pass the "living room," a tidy kitchen is set up for intake counseling, and a bathroom is equipped with a shower. The very back room, which was likely a bedroom previously, has been upfitted with a reclining chair and an ultrasound machine.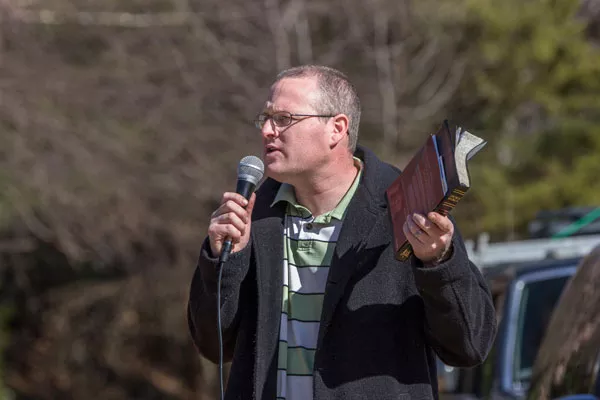 Grant Baldwin

Daniel Parks preaches in front of A Preferred Women's Health Center
Parks' husband Daniel, the junior pastor who was on the loudspeaker, enters shortly after us. He's more guarded, and it's clear he doesn't trust me. Daniel fully supports wars and the death penalty, but considers abortion murder. He pooh-poohs the notion that if abortion is legalized, women will continue seeking them illegally, with many more potential deaths. "Hangers? That's a long shot," he says. "You let God measure the worth of a life."
Courtney, who is part of a team of several RNs who volunteer on the RV, stays quiet while her husband talks. But when she speaks, her words have stronger import than his entire speech on the microphone. "These young mothers, lots of times, just need someone to talk to. I relate from my own experience and try to help."