You can change the world.
No, really ... you can.
OK, so the Bush administration -- through near-fascist policies like the Patriot Act, warrantless wiretapping and more -- is doing everything in its power to stifle the voices of the people. But that doesn't mean you can't still get out there and put a hurting on "The Man."
And no, we're not telling you to "Vote or Die." Real change comes from those who are brave enough to actually do something by any (and all) means necessary.
In the next few pages, you'll find Creative Loafing's Political Action Handbook -- it's chockfull of advice from experts on how you, the average American Joe, can effect change through petitions, boycotts and other forms of "radicalness" you've seen or heard about but were afraid to try yourself.
Your mission, should you choose to accept it, is to get out there and make the world a better place.
Organize a Boycott
Kentucky Educational Television
LONG WALK: The documentary Signpost to Freedom: The 1953 Baton Rouge Bus Boycott, produced by Louisiana Public Television, tells the little-known story of the eight-day boycott of the bus system by the African-American citizens of Baton Rouge, La.
The boycott has a special place in American history. It was essentially a 10-year boycott of English goods starting in 1765 that made the British recognize our political rights as people and led to the birth of our nation. It is simply in our nature as Americans to question authority and protest injustice. Here are some tips for organizing your own boycott:
• Do your research. Charlotte is in a unique position as a financial hub, boasting Fortune 500 companies like Bank of America and Wachovia -- both of which have seen their fair share of protests. But before you go marching into your local branch making demands and before you call the media, it's important to do your research. Nothing makes you or your organization look worse than not knowing all the facts about the situation you're causing a fuss over. Spewing misinformation will quickly lead to you being embarrassed. It's important to research the history of that company, what principles they were founded on, their history in the community and previous public relations battles.
• Be organized. You better believe that large corporations have the money and the PR power to crush a disorganized uprising. But being organized is harder than it sounds. First of all, you should have a chain of command in your group. "Generally we have a few spokespeople for each campaign to talk to the media, a few people to negotiate and talk to the company and somebody to rally support worldwide," says Matt Prescott, manager of factory farming campaigns for People for the Ethical Treatment of Animals. Every successful boycott has had a face that was leading the rallying cry. You need someone outspoken, but rational, near the top.
• Set realistic goals. The chances of you hurting the pockets of a billion-dollar company are slim to none, but you can take minor victories -- from shining a negative light on a company, receiving a financial settlement or having that company fund something positive in your community, like an after-school program or a park. "It's important before launching a campaign to try negotiating," Prescott says. "We find often we're ready to launch a boycott against a company but it often doesn't come to that because the company does what we asked them to." Prescott also cited a PETA boycott of Kentucky Fried Chicken that's been going on for four years. "We're not asking them to sell only soy chicken but to improve conditions for their animals. We'd love it if they stopped selling chicken entirely, but it's not a realistic goal right now."
One North Carolina-based boycott that's gaining steam is against Charlotte-based Bank of America. The boycott urges people to cut ties with the company because of its alleged role in giving illegal immigrants access to bank accounts and credit cards. Although the boycott hasn't hurt the company's bottom line, it has been a black eye on Bank of America's reputation.
For more tips, read the Boycott Organizer's Guide, a step-by-step manual for effective boycotts published by the non-profit organization Co-Op America. In the guide, Co-Op America highlights boycott victories and helps you choose your boycott target while also setting your goals and getting it off the ground.
– Mike McCray
Contact Your Congressman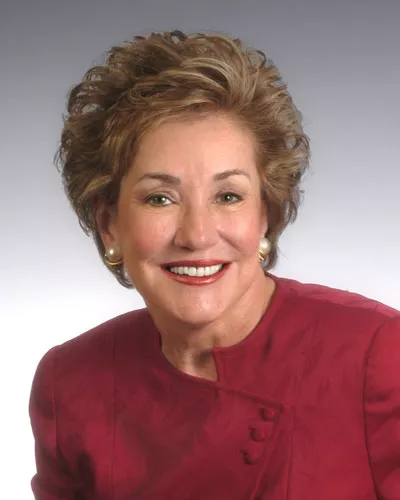 STATE TREKKER: Sen. Elizabeth Dole
OK, you're pissed about that new law that requires you to recycle kitty litter and you want to complain to the nearest elected official. But face it, you can barely find the number to your neighborhood Quizno's -- so, honestly, you've got no idea how to contact your district's representative. Well, follow these simple steps and, before long, you could be speaking directly to your congressman:
• Build your numbers. Show your congressman that this is a serious issue that concerns all constituents. "Numbers who are interested more than anything else," says Corey Little, the press secretary for Rep. Mel Watt (D - NC, 12th District), on which issues get the most attention.