Jeans-clad twentysomethings file into the stark, black space of Actor's Theatre on Stonewall Street near downtown. Some clutch cups of Caribou coffee; others look as if they could have spent a few more minutes with a comb this morning. The seats aren't yet filled when the band kicks into action. Like the audience, the members of the band are outfitted in the ubiquitous causal wear of Old Navy or Abercrombie & Fitch. The music is best described as alternative rock, I guess. If you came looking for "Onward Christian Soldiers" or "Rock of Ages," you've come to the wrong place.
As the drums roll to a finish, co-pastor Matt O'Neil pulls up a stool and announces that he just opened his first Myspace.com account. "Now, I'm officially cool," says O'Neil, who at 40 is one of the older people in the theater today. Mention of the popular online social site is met with laughs from the audience ... er, congregation.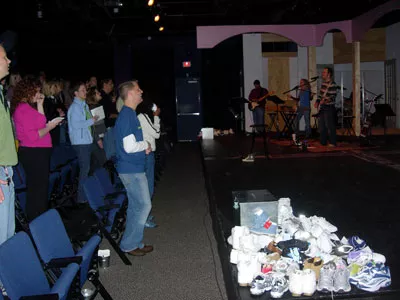 Watershed congregation listens to an alt-rock church band at Actor's Theatre.
Welcome to Watershed, where the service is called "Transit" (its Web site even uses the London Underground logo) and the bulletin is named "Frank." If the name Watershed doesn't tell you -- and how would it? -- this is a church. A bona fide, preaching-the-Gospel, Jesus-loving, Bible-reading church, affiliated with the Southern Baptist Convention. But there's nary a hint of fire and brimstone. And you don't need to dress up to come here. You don't even need to comb your hair.
Watershed is one of several churches in Charlotte hoping to attract the young, the non-believer, the seeker. Many of the churches spring from the so-called "emerging" church movement (adherents prefer the term "conversation" over "movement"). The congregations, mostly white, mostly middle-class, worship in non-traditional styles. Believers use terms like "postmodern," "authentic," "community." Of course, the churches aren't all alike. Some congregations focus on the here and now; others harken back to earlier Christian rituals. But one thing's for certain: This isn't the Old Time Gospel Hour, Hour of Power, PTL or the 700 Club. And the names Jerry Falwell, Pat Robertson or Jim Bakker aren't likely to be invoked here.
For those who prefer their spirituality without self-righteousness and judgment, it's refreshing. Instead of passing the plate, people can drop a few bucks into a metallic silver box as they usher in and out. There's no call today for congregants to make the long walk down the aisles to the sounds of an organ and give their hearts to Jesus.
That's precisely how O'Neil and co-pastor Scott Hofert prefer this church environment. They don't want people to feel pressured or to feel as though they're being sold something. And please, don't worry if you don't already believe. "We've got atheists that come to Watershed; we've got agnostics that come to Watershed. We've got Muslims that come to Watershed," says Hofert.
"Although we would say that we definitely are a Christian church, we are profoundly open to letting people discover God in this venue. Our agenda is not necessarily to try to give them all the answers. Our agenda is to ask the right questions."
But set aside the T-shirts and jeans, the guitars and coffee, and what's left? Are emerging churches really places for people turned off by organized religion, or is this just fundamentalist casual Friday? "It's a journey," says 30-year-old Steven Seibold, who's been coming to Watershed since its beginning, six months ago.
The Life Pursuit
"People are looking," says Hofert, 36, sitting inside the Caribou Coffee Shop in Dilworth, a place he refers to as his "office." Hobert has blondish hair cut in a casual, hip style and a warm, toothy smile. "I think people are fundamentally craving that spiritual journey. They're just trying to find a place that resonates with them."
Hofert and his wife, music director Taryn, came to Charlotte to create that place. They had determined that the average age of people living downtown was pretty young, and that those people needed a church that spoke to them. Last summer, Watershed began by hosting movies in Freedom Park, fare like Spider-Man 2, that adults could enjoy with their children.
Armando Bellmas/www.bellmas.com
Pastor Howard Brown of Christ Central, which meets at a NoDa theater.
They mailed thousands of invitations and approached people they met in coffee shops and around town. One of those people was Seibold. "He [Hofert] asked me some really interesting questions, and I asked him some very interesting questions back," Seibold recalls. "What I enjoyed was just the dialogue. Sometimes things are answered, sometimes they're not."
"It's been an interesting journey to watch how people have kind of said, 'Alright, you'll let me discover here. You're not putting a gun to my head,'" Hofert says. "In some institutions, you have to belong before you become. In other words, you have to be a member before you can become a part of that faith, or a part of that structure."