TRUTH
**1/2
DIRECTED BY James Vanderbilt
STARS Cate Blanchett, Robert Redford
OUR BRAND IS CRISIS
**
DIRECTED BY David Gordon Green
STARS Sandra Bullock, Billy Bob Thornton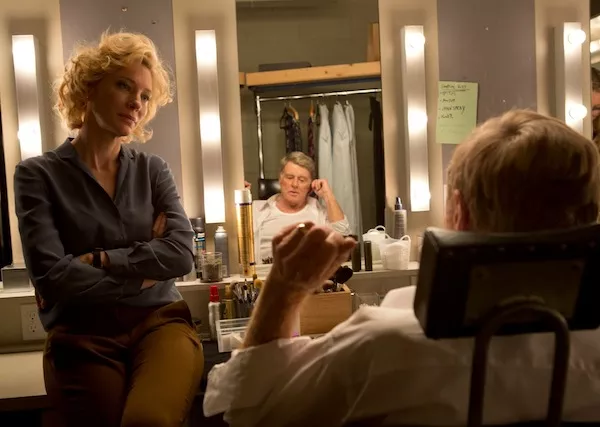 Cate Blanchett and Robert Redford in Truth (Photo: Sony Pictures Classics)
It's politics as usual as two left-leaning films hit theaters in an effort to rock the Oscar vote. Given the results, though, it's doubtful either will remain in (box) office long enough to gain any sort of foothold.
Of the pair, Truth is the superior picture, and with a little more polish, it perhaps could have been an awards contender come December and beyond. It certainly boasts one performance worthy of consideration, with Cate Blanchett superb as Mary Mapes, the award-winning news producer (she uncovered the Abu-Ghraib abuse scandal) whose career went down in flames as she pursued a story for 60 Minutes and CBS News regarding the preferential treatment George W. Bush (then up for reelection) had received decades earlier when he was in the National Guard. Some inexcusable lapses in judgment pertaining to sources left Mapes and her team, including veteran journalist Dan Rather (Robert Redford), open to criticism from largely anonymous bloggers — the same sort that now roam the Internet spewing misogyny and racism at every turn (the online comments Mapes is shown reading are disgusting ... and all too typical) — and with the timid mainstream media absolutely cowed during the Bush regime's eight-year reign, it's no surprise that heads went rolling and the real story got buried.
The fundamentals of Truth's narrative are sound, but writer-director James Vanderbilt has an unfortunate tendency to force his actors to deliver portentous speeches rather than speak naturally. And while most of the performers were well-chosen for their roles (Dennis Quaid and Stacy Keach among them), Redford is hopelessly miscast as Rather. The actor is far too recognizable in his own right to blend into the role, which is what happens when a marquee name is selected instead of someone who might actually nail the role (maybe Dan Hedaya?).
Incidentally — and this will surprise absolutely no one — CBS (under parent company Viacom, a target in the film) has refused to run ads for the movie. Truth will out, indeed.
Sandra Bullock and Billy Bob Thornton in Our Brand Is Crisis (Photo: Warner Bros.)
The truth is more evasive in Our Brand Is Crisis, based on the 2005 documentary of the same name. That picture related how James Carville and his team were hired to put candidate Gonzalo Sánchez de Lozada over the top in the 2002 Bolivian presidential election. For some reason, this fictionalization changes names and even a gender, so we're basically left with Sandra Bullock playing James Carville. Her character, "Calamity" Jane Bodine, is a political strategist with a rocky résumé, but she's nevertheless up to the challenge of trumpeting a candidate (played by Portuguese actor Joaquim de Almeida of Desperado and Fast Five) who trails in the polls by 28 points, even if the frontrunner is being handled by her sworn enemy, a slick operator with a Cheshire cat grin and the moniker Pat Candy (Billy Bob Thornton).
Perhaps mindful that he's working under David Gordon Green, the man who directed Your Highness and The Sitter, scripter Peter Straughan packs the proceedings with numerous moronic interludes, the sort more at home in a broad Will Ferrell comedy than an ostensibly hard-hitting political drama. Even worse than the frat house humor, though, is the naiveté that's often displayed in this type of picture, where seasoned vets are shocked — shocked, I tell you! — to learn that politicians are crooks and liars (see also Green Zone). Ultimately, the movie's brand isn't crisis as much as it's absurdity.