They were supposed to be the good old days. A hundred years ago, we've all been told, there was no need to lock the doors, children didn't have to worry about "strangers" and violence was a rarity. But in the last few decades, the story goes, we abandoned our morals and society went to Hell.
Or did it?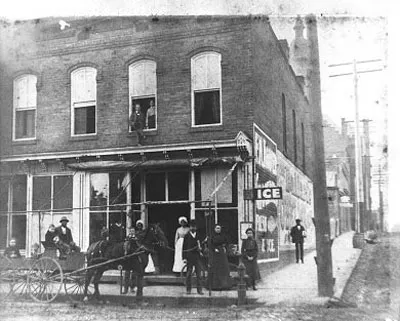 A typical corner store in Charlotte, circa the early 1900s.
These days, it's rare for a week to go by in Mecklenburg County without at least one murder, rape or stabbing making headlines, which means things are pretty much exactly as they were 100 years ago. In 1900, it also was rare for a week to go by without at least one rape, stabbing or murder making headlines. The only real difference between then and now is that there were only 55,000 people living in the county a century ago; there are about 830,000 living here today.
A review of thousands of court documents and several years worth of the Charlotte News (1899 to 1926), showed that Charlotte has a surprisingly violent, bloody past that most people probably aren't aware of.
No agency kept crime statistics back then, but anecdotal evidence shows that the roots of the culture of violence that Charlotte would develop later in the century can be traced to the early 1900s. During that period, racial tensions simmered as whites moved to lock blacks out of the political process and the rural poor began relocating to population centers in large numbers, bringing their desperate poverty with them. Many people worked on the county's 4,100 farms or in the mills, earning $15 to $20 a month, barely enough to survive on.
With so little to lose and tempers pushed to the limit by the realities of life, violence at the slightest provocation was common. Husbands shot wives dead in the streets and jealous boyfriends gunned down their sweethearts for walking home from church with another man. With a rifle costing an average of two months' salary, many desperate people were forced to make do with simpler weapons. People often used razors in assaults. Popular weapons of choice for bashing each other's brains out were rocks, axes, sticks and in one case, a large table fork. Violence with rocks was so common that two separate assault charges were developed for rock-based crimes -- one if the rock weighed more than three pounds and another if it weighed less.
Back then, people charged with crimes had their first court appearances before the mayor. It wasn't unusual for two people arrested on assault charges to appear before him the next day alongside folks who'd committed the most common lesser crimes of the day, such as larceny, gambling, vagrancy, selling whiskey and having sex outside marriage. The mayor had little incentive to dismiss crimes, because forced convict labor during that period built most of Charlotte's public infrastructure. Even the simplest crimes, like playing a card game for money or stealing an old pair of shoes, could earn an inmate a month or several months on a chain gang.
But there were ways around a stiff sentence. Justice in Charlotte 100 years ago was as much a popularity contest as it was a revenue generator. If reports of your crime in the newspaper won the public's sympathy, the mayor often dropped the charges against you. It wasn't unusual for the Charlotte News to report that someone had been let off on larceny charges because he was "good looking" and the will of the public was behind him. Of course, "good looking" was in the eye of the (white) beholder.
The legacy of that period of Charlotte's history was a rolling crime wave that would grip the city for more than six decades. By the early 1940s, Charlotte had the highest violent crime rate in the South. Twenty years later, according to FBI crime reports, Charlotte had the highest homicide rate of any city in the nation. Since then, it's gotten better and then worse again. But it's nowhere near as crazy as it was in 1900.
ROCK, SCISSORS, HAMMER, RAZOR: Sam Maxwell and Josie Covington were arrested in August of 1912 for fighting in public with deadly weapons. One used a razor, the other a hammer. They were both sentenced to 60 days in jail, during which time they were to be hired out to work by the county commission.
• Two months later, Allen Jackson was arrested for the same crime, but he only got 30 days in jail, during which time he was assigned to work the roads.
SCARLET LETTER: Law enforcement priorities were a bit different a century ago. Back then, merely shacking up could earn you a jail term. On May 1, 1902, Joe McClure and Maria Morrow were arrested and charged with cohabitation while not being married.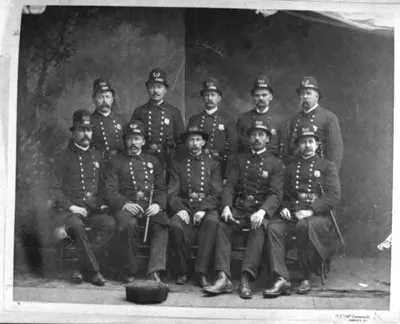 The Charlotte police force, ca. late 1800s.
• Robert Stevenson and Maggie Stilwell, who were described in court documents as "lewd and lascivious persons," were arrested in January 1902 for adultery and fornication. Both cohabitation and the charge adultery and fornication seemed to be common during the period, and multiple examples appeared in the court records.
THROW THE BUM IN JAIL: At the beginning of the last century, homelessness wasn't just a social problem, it also was a crime for which people were regularly arrested by Charlotte police. In April 1902, Son Woods was arrested for vagrancy and having no means of support despite being "physically able to work." Woods was found guilty. After losing an appeal to superior court, he was sentenced to 30 days in the county jail, where he was assigned to "work the public roads" as part of his punishment.
• Georgia Gilbert was arrested in May 1912 for "becoming a vagrant by leading an immoral life." She was later sentenced to 30 days in jail.
• John Chipperfield was arrested in September 1900 on vagrancy charges. Chipperfield was a "good looking white boy," according to the Charlotte News, and the mayor took pity on the defendant because he claimed to be looking for work. The mayor dropped the charges against Chipperfield in return for a promise that he would leave town.
• The same day, John Glover also went before the mayor on vagrancy charges. The News described Glover as a "little negro ragged and dirty who finds pleasure in curling up and going to sleep in a coal car or under a house." He was fined $2.50 and sent to work on a chain gang.
TO GIVE HIS WIFE BREAD: In August 1900, a young white man named Ed Ross was arrested for stealing a pistol from M.M. Thomas. When he went before the mayor, Ross told of how he and his wife, who had just been married the week before, were robbed of $23 on their way to Charlotte. He stole the gun and resold it to feed his wife because she was hungry, he said. Prison officials reported that the young wife sat by her husband's cell all night and wouldn't leave.
"As soon as the facts were known, the sympathetic heart of the public said, 'He is guiltless,'" the Charlotte News reported.
A glowing article in the News announcing that the mayor had dropped the charges ended with this: "Ross is a nice looking young man. He has a pleasant face and manner. He is going into business here, and is to establish a bicycle messenger service."
WOMEN BEHAVING BADLY: Estelle Ivens of Huntersville was charged with assault and battery in April 1911 for bashing her friend Jane Johnson over the head with a three-pound rock and shooting her. Johnson survived the attack and testified against Ivens. The verdict recorded in the court file was in illegible handwriting and is unknown.
• In August 1911, two women, Julia Sims and Mary Ellis, were charged with arson after they attempted to burn down a store owned by J.J. Padgett.
• Paw Creek Township authorities originally arrested Lillie Watts for beating Emma Houston with a rock weighing more than three pounds in October 1911. A jury later found both women guilty of beating each other with large rocks. Their sentences weren't recorded.
• Mr. P. Vanderburg limped to town in February 1889 to file charges against his wife, whom he claimed had "beaten him up with a stick" for the second time in 24 hours, which he told the Charlotte News was "one time too much." The attack left Vanderburg with a mangled, bloody hand, a knot on his elbow and a "lame" leg. "Jealous implications appear to have been the trouble," the paper reported.
• In February 1913, Hattie Ponders assaulted Dora Alexander with a knife, cutting her several times. Ponders was sentenced to 30 days in jail during which time she would be hired out during the day by the county commission.
• When Constable J.A. Porter tried to arrest Grace Miller on larceny charges in April 1902, she refused to go and beat him over the head with a pint bottle. Miller was eventually arrested. Assault and resisting arrest charges were added to her record.
• In March 1912, Hattie Flack of the Paw Creek Township was arrested for assaulting William Westbrooks with an ax.
JAIL BREAK: Lucille Boyd, 18-year-old wife of James Norwood, was arrested for sneaking hacksaw blades to her husband in jail, which he and other inmates used to break out. Several of the other inmates got away, but Norwood, who was considerate enough to allow them to go first, never made it outside the jail.
THE GREAT CHICKEN HEIST: C.M. Mears was indicted on charges of stealing 12 chickens from farmer W.L. Ware in April 1912.
MOWED DOWN: In August 1912, Troy Harwell of Davidson "maliciously and negligently" plowed into Anna Black and her friend while riding his bicycle, knocking both down and injuring them. Harwell was later found guilty and fined $2.50.
• Sam Culp was arrested in 1901 for assaulting Ida Henderson with an electric car. According to witnesses, Culp ran his car at a very fast speed and did not give any warning or try to stop before he plowed into Henderson's buggy.
SHORT TEMPERS: In March 1900, Jim Byers was arrested for the murder of Fannie Gillespie. She was visiting Byers' father at the time and asked Byers to return some money she lent him. He flew into a rage and shot her dead while she held her newborn baby in her arms. Gillespie collapsed on top of the baby, which died a few hours later. Byers got 12 months in prison for manslaughter.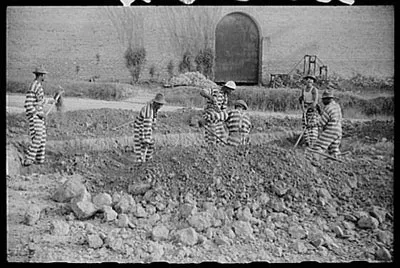 That's the sound of the men working on the chain gang.
FAMILY MATTERS: Mack Fesperman shot and killed his alienated wife, Irene Fesperman, in 1900. The two had parted ways and Irene was living with her sister when Mack got his hands on a love letter to Irene from her new boyfriend. Mack confronted her and she refused to stop seeing the other fellow, and even volunteered that she planned to meet the guy the next night. Mack followed her and gunned her down as she made her way down Trade Street.
A jury sentenced him to hang for the crime, but two days before the execution, Mack made a heartfelt plea in the Charlotte News: "Other people have done what I did and people thought it was alright, but I guess they (the people) think I am a Negro and cannot feel as they do about family matters."
Despite the segregationist times, Mack's plea struck a chord with white and black readers alike and the editorial staff, who apparently thought it was OK to kill your wife if she cheated, and Charlotte News reporter C.A. Matthews wrote the governor, begging for clemency and explaining that the "public's sentiment was for Fesperman." The governor commuted the death sentence, and Fesperman was given life in prison.
JUST A GIGOLO: In March 1902, George Knox was arrested on seduction charges for seducing Maggie Coletrane with a promise of marriage, but not following through after they did the deed.
RAZOR GIRL: In May 1925, Nellie Freeman, 20, greeted her soldier husband, Alton Freeman, with a hug and a slit to his throat, nearly decapitating him. The trial was big news and concessionaires sold miniature souvenir razors outside the courthouse. Male jurors in the case believed she was guilty, but they couldn't bring themselves to sentence a woman to death, so they found her not guilty.
"Many of the jurors stopped to congratulate the girl, looking unusually fresh and dainty in her white dress, pink scarf and chic new pink hat," the News reported.
Freeman called the verdict "better than I expected" and later asked the judge if she could keep the razor and the blood-soaked dress. She would begin her new life in "better surroundings than she had ever known," the paper reported, because a prominent Charlotte citizen planned to take her in and charities formulated a plan to care for her.
DRUNK 'N CUSSIN': J.M. Crowell was convicted on disorderly conduct charges for being drunk in public and recklessly riding his horse through the streets of Matthews, "terrorizing and endangering the lives of the inhabitants of the town." At his trial, the jury also found that he used profane language, including the words "Damn, God Damn." He was found guilty and fined $50.
• In January 1902, Bruno Redman was arrested on Graham Street for drunk and disorderly behavior and using profane language in public. He was sentenced to 30 days in jail and ordered to work on a chain gang, a pretty standard sentence for a fairly common crime.
YESTERYEAR'S DRUG DEALERS: Ada Adkins was charged with "retailing" or selling alcohol, which was illegal during prohibition. Adkins was arrested in February 1910 for selling John Downover a pint of whiskey. The pair was found guilty and sentenced to two months in jail.
• In January 1913, Henry Miller was arrested for selling J.H. Taylor two pints of whiskey. He was sentenced to four months in jail during which time he was to serve among the jail crews working on county roads, a typical sentence for this very common crime.
DOMESTIC VIOLENCE, THEN AND NOW: In May 1902, William McClain and Eliza Mason were both arrested for public affray, or fighting, after one of them attacked the other with a weapon. The arrest warrant describes the weapon as a table fork "one foot long and two inches thick." Each was released on a $25 bond and ordered to show up for trial in superior court the following month.
• Levy Dawkins was arrested in April 1912 for "assaulting and cutting" Rosie Springs with a razor. He was sentenced to 12 months in jail, during which time he would work the county roads.
• Sam Broom was arrested in July 1911 for "assaulting and cruelly whipping" Viola Connell with a whip.
• In August 1902, Chas Johnson was arrested for "assaulting and cutting" Anna Torrence with a butcher knife.
• On the warrant for the arrest of Lee Gabriel, the charge of "assault" is crossed out and the word "homicide" written below it. In May 1902, he hacked his wife Pauline Gabriel to death with an ax.
Thomas B. Hoover in the early 1900s on a carriage outside his livery stable at 21 North College Street.
• In October 1913, Will Morris shot and killed his wife, Minnie Morris, after she hit him over the head with a chair.
HIGHWAY ROBBERY: Charlotte's current vehicle theft problems may go back further than anyone realizes. In February 1912, R.C. Bowden and Ed C. Boswell stole a horse, buggy and lap robe from J.E. Little. The two were arrested shortly after Boswell resold the horse and buggy, valued at $225, to W.G. Ross for $125. Ross paid Boswell with a check from his account at Charlotte National Bank, which was later used as evidence against the two men. Both were charged with larceny.
ALIMONY FROM HELL: In April 1910, Frank Pendelton was arrested on abandonment charges for failing to support his wife, Mady Pendelton. He was sentenced to four months of labor on the county roads.
• Leroy Robinson sent his wife, Maybelle Robinson, money and food from time to time after he left her, but it wasn't enough. In March 1912, he was arrested for failing to adequately support his wife and sentenced to six months in jail.
BREAKING AND ENTERING: Today's burglars carry away televisions, computers and DVD players. A century ago, crooks were less ambitious. Mostly they stole things they could eat or wear.
• In June 1912, John Slutz was arrested for breaking into the home of Lon Severs and stealing two bushels of corn valued at $2.50.
• Crouse Friday was arrested for stealing watermelons from the watermelon patch on L.E. Baker's farm in August 1911. Baker later agreed to drop the larceny charge and change it to a trespassing charge in exchange for Friday repaying him for the watermelons.
WEAPON OF CHOICE: In September 1900, Charlie Burton was arrested for beating John Moore with a three-foot-long buggy shaft after a disagreement over the price of a buggy. Burton was sentenced to 30 days in jail.
DOUBLE LIFE: After his marriage to Hattie Hollingsworth, it was discovered that Cliff Watts had a second wife in Atlanta. Watts was charged with bigamy in November 1911.
BULLETS FOR BRUNCH: Cy Spiers was arrested in July 1900 on murder charges after he shot and killed Mary Hilton on her way home from church because she chose to walk home with another man. Spiers suffered a "fit of jealousy," the Charlotte News reported, because Hilton usually walked home with Spiers.
• A similar shooting took place a week later, when William Kell, 18, gunned down Anna Ardrey, 16, in front of the African American church in Providence Township after she decided to walk home with another boy.
OUCH: In November 1910, Will Leecraft was sentenced to 90 days of labor on the county roads for embezzling $1 from Sam Alexander.
• Will Edwards broke into the home of Sam Neely in January 1910 and stole some clothing and a bunch of keys. He was sentenced to two years of labor on the county roads. In modern-day Charlotte, Neely would be lucky if the cops even showed up to take a police report.
SEX FOR SALE: The police appear to have cracked down on brothels in 1901, shutting down three in two months. The services Kitty West provided to early Charlotteans must have been pretty popular, because in May 1901 she got off with a slap on the wrist for running two brothels, or "bawdy houses," as the court agreement she signed calls them. In the agreement, West pledged she and her "employees" would not reoccupy a house she was renting on the corner of Third and C streets. In addition, a house she owned in Second Ward would not be used as a bawdy house or be rented to Viola McRea and "other tenants," who were given 30 days to vacate.
In exchange, West was given a prayer for judgment that subjected her to arrest if she violated the agreement. Interestingly enough, the prayer for judgment did not ban her from opening bawdy houses in other locations, and it expired after a year.
• West wasn't the only madam who got off easy. The courts cut Florence Long a similar deal in November 2001 -- a prayer for judgment in return for not reopening her bawdy house. The deal didn't appear to make much of an impression on Long. She was arrested a year later for running another brothel, the first of three more arrests before 1910. No record of Long doing any jail time could be found.
The bar at Gem Restaurant in the Central Hotel at 7 South Tryon Street.
• Ten years later, Dora Allison wasn't as lucky. After her July 1912 arrest for keeping a "disorderly house," another term for a brothel, she was sentenced to four months in jail.
FOUL-MOUTHED BASTARDS: In January 1902, John Hemphill (alias Bruno Rodman) was arrested on profanity charges for being drunk in public and using profane language. His sentence was 30 days in jail, to be spent working on a chain gang.
• Dink Crowell was arrested for using profanity on a public street in September 1910. According to his indictment handed down by the grand jury, the words he spoke were "Damn" and "God Damn."
• E.L. Madison was arrested in July 1911 on charges of slandering a woman. According to his indictment, he had both spoken and published statements that accused her of "incontinency," a word that people used often in the late 1800s and early 1900s that meant unchaste. More than 30 witnesses were summoned to appear at Madison's trial, including witnesses to the "crime" and supporters of both the woman and Madison. The verdict in the case was not recorded.
• In January 1902, Maria Young was arrested for slander for spreading rumors that Lelia Chrisholm had participated in unwholesome activities and given birth to an illegitimate baby.
ANIMAL RIGHTS: Lon Donaldson was arrested on animal cruelty and larceny charges in June 1912 after he was a day late bringing back a horse and buggy his friend M.M. Warren had lent him. According to the arrest warrant, Donaldson had maliciously overdriven the animal and beaten it with a whip.
YESTERYEAR'S SEX OFFENDERS: J.W. Youngblood was the first of about a dozen men arrested on "assault" charges against young girls in the first decade of the last century. In Youngblood's case, the girl was 9. As in most of these cases, what the "assault" consisted of wasn't included in the newspapers or court documents.
WHIPPED: In August 1900, Forest Elmore, a white man, was confronted on a county highway by a group of five black men and three black women who asked if Elmore was a Democrat and if he had voted for a recent amendment that made it harder for blacks to vote. After Elmore volunteered that he was a Democrat and had voted for the amendment, the men and women tied him to a tree and whipped him, the Charlotte News reported. (Payback's hell, isn't it?) Because it was dark, Elmore didn't get a good look at his attackers and they were never caught.
HIGHWAY CANNIBALS: Chas Knox went to town to buy whiskey and was attacked on the long walk back to Squire Henry Bryant's farm in the Providence Township of south Mecklenburg, where Knox lived and worked as a servant. Somewhere along the rural highway, he was attacked by someone who fractured his skull and bit off his finger. Knox passed out in the front yard and his family found him there the next morning. Gangrene set in quickly, and doctors later had to remove Knox's arm. The attacker, whom Knox didn't get a good look at, was never caught.
BUT SHE LOOKED 16: In October 1912, Allen Jackson was arrested on charges of carnal knowledge of a child under 14. He was accused of having sex with 12-year-old Rosa White.
• According to court documents, Sam Harris "enticed, induced and persuaded" Addie Falls, who was under the age of 14, to flee town with him in April 1911. Harris, whom court documents noted was a married man, was arrested on charges of child abduction.
RAILWAY CHASE: Luther Foard, 20, was arrested by police for trying to elope with Bertha Everhart, 15. Everhart's father chased the two from Lexington to Charlotte. They gave him the slip in Salisbury, but the father wired ahead to Charlotte, asking police to arrest Foard when the train stopped. Police were waiting for the couple and arrested Foard when he got off at the Trade Street stop. She sat by his cell all night, holding hands with him through the bars, until her father showed up the next day to reclaim her.
GUNNED DOWN: Before he left town for a few days in August 1900, Mr. Parks Kirkpatrick gave the servants and farm hands who worked on his estate in the Sharon township permission to hold a picnic and jubilee. After drinking heavily, Wash Clark, angry at a call in a baseball game, picked up a gun and began firing it at people. Jesse Ross rushed into the house and got a shotgun and gunned Clark down. Ross was arrested for manslaughter.
PROMISCUOUS CHAIR THROWING: In May 1889, the Charlotte News published the following report: "After a dance at the park auditorium last night, a young fellow attempted to get gay by throwing chairs around promiscuously. He was promptly suppressed and faced the mayor this morning, getting a sharp lecture." In the future, a police officer would attend such events to keep this from happening again, the paper reported.
RACIAL SCANDALS: Prison superintendent J. Stancil was suspended from his duties after causing the biggest racial scandal in Charlotte in 1900. Prison inmate John Crowder was a white man assigned to a chain gang after he couldn't pay his $5 fine for being drunk. For reasons that were unclear, Crowder was put on a black chain gang overseen by another African American inmate. An outraged crowd gathered as the men made their way down Trade Street, with Crowder chained to another black man. John P. Morris, a prominent Charlotte citizen, immediately paid Crowder's $5 fine. The story was the headline in the paper the next day. Stancil was eventually fired.
• Though it didn't happen in Charlotte, both North and South Carolina carried news for weeks about the arrest of U.T. Steen, John Jackson, Benjamin Jackson and Harvey Jackson for murder in Columbia, SC, in March 1900. After the men, who were white, discovered that Cassie Boone, who also was white, lived with a black man, they kidnapped her and burnt her alive at the stake.