(View From The Couch is a weekly column that reviews what's new on Blu-ray and DVD. Ratings are on a four-star scale.)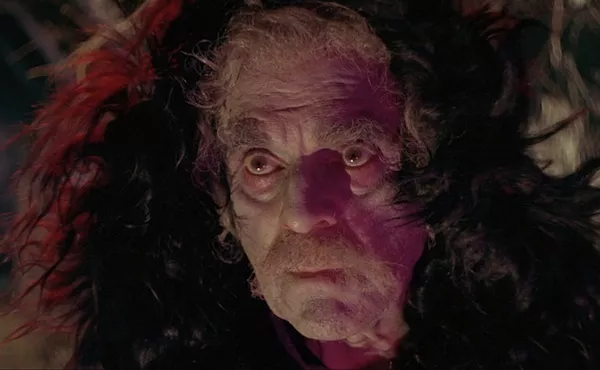 Boris Karloff in Black Sabbath (Photo: Kino)
BLACK SABBATH (1963). Just as the Kino Lorber label presented the original Italian cut of Mario Bava's 1960 Black Sunday on Blu-ray in 2012 and then followed that up earlier this year by offering the altered U.S. release version, it now likewise presents the U.S. cut of Bava's 1963 Black Sabbath after serving up the Italian take back in 2013. With both films, the Italian originals are the preferred versions, but the changes initially made for wimpy American audiences in the 1960s aren't by any means detrimental, even if the obvious lesbianism flowing through one segment in Black Sabbath has been completely obliterated. That would be "The Telephone," a taut thriller in which the title device connects the beautiful Rosy (Michele Mercier), her friend Mary (Lidia Alfonsi) and a mysterious figure out for revenge. "The Wurdulak," based on a piece by Tolstoy, rekindles that Black Sunday ambiance in a period tale that stars Boris Karloff as the patriarch of a family plagued by vampires. And "The Drop of Water," adapted from a Chekhov story, features what might be the creepiest corpse in cinema history, as a nurse (Jacqueline Pierreux) makes the mistake of swiping a valuable ring from the body of a newly deceased clairvoyant. Not as spellbinding as Black Sunday but still a highly entertaining watch, Black Sabbath proved to be influential on at least two fronts: The heavy metal band featuring Ozzy Osbourne took its name from this film, and Quentin Tarantino has stated that the picture's three-part structure largely informed his own creation of Pulp Fiction.
Blu-ray extras consist of audio commentary by film historian Tim Lucas and the theatrical trailer.
Movie: ***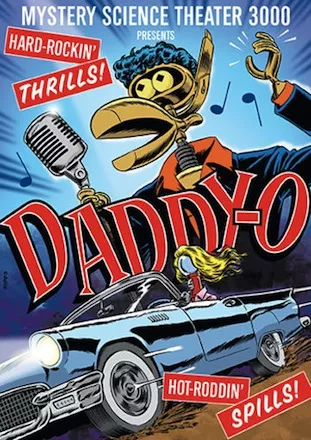 MYSTERY SCIENCE THEATER 3000: VOLUME XXXIII (2015). Time marches on, and so does Shout! Factory with its always-welcome collections of venerable MST3K episodes.
Sure, we now know him as the prolific composer for such smash hits as Jaws, Star Wars and E.T. The Extra-Terrestrial, but if there's one fact that the Mystery Science roasting of Daddy-O (movie made in 1958; featured on MST3K in 1991) brings to our attention, it's that John Williams first cut his teeth by scoring this grade-Z effort a long time ago in a soundstage far, far away. The movie itself, about a hot rodder who gets mixed up with drug smugglers, is the usual cut-rate '50s fare aimed at juveniles (delinquent or otherwise), but Joel and his robot friends gleefully dismantle it with the assistance of such pop-culture touchstones as Citizen Kane, Ben-Hur and, of course, the David Janssen series Harry O. Best bit: The Mads' invention is an alien face-hugger pacifier for babies.
Don't quote me, but I believe writer-director-producer Bert I. Gordon has had more movies skewered on MST3K than any other filmmaker. Eight of his features have been targeted by the Satellite of Love crew, including The Amazing Colossal Man, The Magic Sword and Earth vs. the Spider (movie made in 1958; featured on MST3K in 1991). The title's a bit misleading — Residents of a Small Town vs. the Spider would be more accurate — but Crow and Tom Servo bravely lead the charge, even invoking the catastrophic likes of (gasp!) Bruce Willis' Hudson Hawk in their neverending search for the ultimate quip.
Teen-Age Crime Wave (movie made in 1955; featured on MST3K in 1994) is more '50s fodder about youth gone wild — in this case, taking a farm family hostage — but what makes this episode are the wraparound segments, whether it's Mike, Crow and Servo paying tribute to the "doughy guys" so prominent in pictures of the era or the SOL crew opening up their own deli shop, complete with a Torgo-inspired Manos: Hands of Fate sandwich featuring a "special sauce" (ewww). Nothing can top the ending, though, which finds its humor in the ceaseless repetition of Dr. Forrester causing harm to TV's Frank again and again ... and again.
Agent for H.A.R.M. (movie made in 1966; featured on MST3K in 1997) was produced as a pilot for a proposed television series but then given a theatrical release instead. This was doubtless an attempt to nab some of those millions being made by James Bond and the era's other super-spies, but given the desultory result, the boob tube would have provided a better home. Chance, Adam Chance, is the dull hero, and he must stop the villains from releasing a deadly substance that turns human flesh into mush. But while Chance vanquishes the villains, he's in turn defeated by Mike and the Bots, who release their intricate knowledge of Happy Days, Green Acres and other prime-time offerings.
DVD extras include retrospectives pieces on Daddy-O and Earth vs. the Spider; interviews with Tommy Cook (Teen-Age Crime Wave) and Peter Mark Richman (Agent for H.A.R.M.'s Adam Chance); and the theatrical trailers for Earth vs. the Spider and Teen-Age Crime Wave.
Collection: ***
Danny Glover and Sally Field in Places in the Heart (Photo: Twilight Time)
PLACES IN THE HEART (1984). The movie crop of 1984 was so excellent that it inspired me to pen a Creative Loafing cover story last year marking its 30th anniversary. A sidebar piece (go here) cited the best (and worst) films of that glorious year, titles such as Amadeus, Stop Making Sense and The Terminator. The list was presented alphabetically; had it been in preferential order, then the #1 slot, unchanged in my mind for the last three decades, would have gone to writer-director Robert Benton's utterly astonishing Places in the Heart. The most successful of the year's three so-called "save the farm" films — the others were the solid Country, starring Jessica Lange, and the so-so The River, with Sissy Spacek — this somewhat autobiographical tale finds Benton reflecting on growing up in Waxahachie, Texas, during the Great Depression. Sally Field stars as Edna Spalding, who's in danger of losing her children (Gennie James and Yankton Hatten) and her home after her husband (Ray Baker) is accidentally killed. Her loving sister (Lindsay Crouse) and brother-in-law (Ed Harris) can only offer limited assistance, so she enlists the aid of a blind war veteran (John Malkovich) and a black laborer (Danny Glover) in a last-ditch effort to save everything that matters to her. This is the sort of special movie one doesn't want to end, blessed with superlative performances (especially by Glover and Malkovich, the latter making his dynamic film debut), an intelligent screenplay, and a genuine sense of time and place (Nestor Almendros' cinematography is astounding). And then there's that miraculous ending, certainly one of the best denouements I've ever had the pleasure to witness. Nominated for seven Academy Awards (including Best Picture, Director and supporting bids for Malkovich and Crouse), this won for Best Actress (Field's second, after 1979's Norma Rae) and Best Original Screenplay.
Blu-ray extras consist of audio commentary by Field and film historian Nick Redman; the theatrical trailer; and an isolated track of John Kander's score.
Movie: ****
Russell Crowe in The Water Diviner (Photo: Warner Bros.)
THE WATER DIVINER (2015). Taking a page or 12 from the playbooks of Mel Gibson, Kevin Costner and other A-list actors who decided to try their hand at directing on an epic scale, Russell Crowe made his own feature-film debut with The Water Diviner, a sincere if dramatically shaky picture set after the close of World War I. Crowe stars as Joshua Connor, an Australian farmer who journeys to Turkey with the intention of locating the bodies of his three sons and bringing them home. All were presumably killed in the Battle of Gallipoli, but Joshua is informed that civilians are not allowed at Gallipoli, which is now one massive graveyard. Undaunted, Joshua is determined to follow through on his mission, receiving unlikely assistance along the way from a Turkish officer (Yilmaz Erdogan) who commanded enemy troops at Gallipoli and a war widow (Quantum of Solace Bond girl Olga Kurylenko) who's managing a hotel in Istanbul. Unlike, say, Costa-Gavras' exemplary 1982 film Missing, this isn't a muck-raking expose as much as it's a personal tale told against an international canvas. That's not to say the movie doesn't comment (subtly and otherwise) on the absurdity of armed conflict, but it's clearly more interested in following Joshua as he undergoes his arduous task against impossible odds. But the more Joshua searches, the sillier the film becomes, as the palpable sense of loss and regret that hangs over the first half like a London fog eventually dissipates in the wake of more conventional elements (daring escapes! last-minute rescues! a lady for every fella!) that seem at odds with the more elegant movie the actor-director was apparently trying to make. The Water Diviner qualifies as a valiant, even worthwhile, effort, even if in the long run it's nothing to, err, crow about.
Blu-ray extras include a making-of featurette and a look at the Battle of Gallipoli on its 100th anniversary.
Movie: **1/2
Peter Sellers in The World of Henry Orient (Photo: Twilight Time)
THE WORLD OF HENRY ORIENT (1964). Peter Sellers delivered four of his greatest performances in 1964, with three of them — Doctor Strangelove, President Muffley and Captain Mandrake — appearing in Stanley Kubrick's classic Dr. Strangelove or: How I Learned to Stop Worrying and Love the Bomb and the fourth — the bumbling Jacques Clouseau — courtesy of Blake Edwards' The Pink Panther and its immediate follow-up A Shot in the Dark. Far less famous — but certainly worth at least a footnote — is his amusing turn in the same year's The World of Henry Orient, a coming-of-age yarn directed by future Oscar winner George Roy Hill (The Sting). Sellers receives top billing, but his is really a supporting turn, with the focus on a pair of precocious 14-year-old girls in NYC. Both lacking in friends, Marian "Gil" Gilbert (Merrie Spaeth) and Valerie "Val" Boyd (Tippy Walker) become instant BFFs, and their madcap flights of fancy result in them repeatedly bumping into Henry Orient (Sellers), a dedicated pianist and even more dedicated womanizer. Their presence unnerves Henry, who's attempting to jump-start an affair with a married woman (Paula Prentiss); also roped into the girls' shenanigans are Gil's patient mom (Phyllis Thaxter, perhaps best known as Ma Kent in 1978's Superman) and Val's parents, the self-centered Isabel (Angela Lansbury) and the more understanding Frank (Tom Bosley). Working in tandem with her father, the veteran screenwriter Nunnally Johnson (The Grapes of Wrath, The Dirty Dozen), Nora Johnson turns her own novel into a memorable picture in which youthful exuberance believably gives way to the bracing pain of parental betrayal and dashed expectations. Neither young actress stuck with acting for long, and it's a shame in both cases — with Walker, because she delivers an incandescent performance as Val, and with Spaeth, because she would eventually become a Republican p.r. flunkie known for coaching the vile Ken Starr in his Clinton witch hunt and, worse, advising the reprehensible Swift Boat Veterans for Truth in their vilification of John Kerry's war record.
Blu-ray extras consist of audio commentary by film historians Jeff Bond, Julie Kirgo and Nick Redman; the theatrical trailer; and an isolated track of Elmer Bernstein's score.
Movie: ***