PITCH PERFECT
***
DIRECTED BY Jason Moore
STARS Anna Kendrick, Rebel Wilson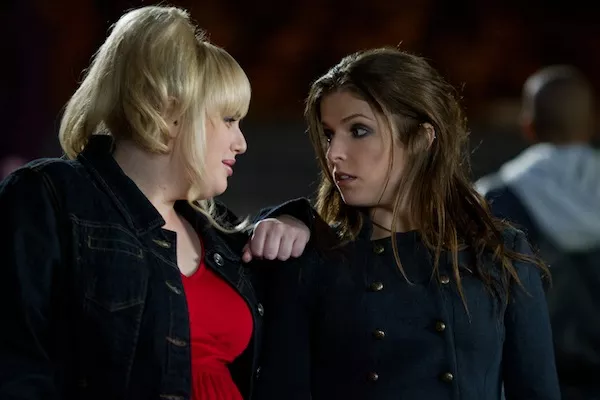 Rebel Wilson and Anna Kendrick in Pitch Perfect (Photo: Universal)
With the musical comedy Pitch Perfect, a fat star is born.
I called Rebel Wilson a fat star? Yeah, so you twig bitches out there won't do it behind her back.
I'm paraphrasing, of course, but this line of defense is employed by the character Fat Amy in this winsome film that generates an awful lot of off-kilter laughs. On paper, Pitch Perfect sounds like it's one step removed from Glee or two steps removed from High School Musical. In actuality, it marks the feature-film debuts of both Broadway director Jason Moore and TV writer Kay Cannon, and their creds — Avenue Q for him, 30 Rock for her — hammer home the fact that this won't be the usual teenybopper romp. Admittedly, the film's resolutions are never in doubt, and, as with all modern comedies, there has to be at least one gross-out scene (the fluid of choice here is vomit). Yet the movie is exquisitely cast down to the smallest role, and when the laughs flow, they do so with relentless fury.
Anna Kendrick, whose Oscar-nominated turn in Up in the Air guaranteed that she now won't have to spend the rest of her life talking up her tiny Twilight role at conventions (I kid; she's also a Tony-nominated actress), stars as Beca, a college freshman who's corralled into joining the all-girl a capella outfit, the Bellas. Captained by a shrill martinet named Aubrey (Anna Camp), the group hopes to snatch the national trophy away from its hated cross-campus rivals, the all-male Treblemakers. But given Aubrey's conservative nature — she has the outfit perform Ace of Base's "The Sign" in every single competition — there's not much chance of that. Luckily, new blood Beca and Fat Amy might be able to shake the group out of its stodgy stupor, but only if Aubrey loosens the reins.
As with Bridesmaids (which this movie clearly tries to emulate, right down to that copycat poster), there's a richness to the leading characters that's punched across by the energized actresses. Kendrick projects edgy intelligence (and can she sing!), Brittany Snow offers good cheer as the bubbly Chloe, and Camp is so brittle, you fear she might crack in two. Yet the movie clearly belongs to Rebel Wilson. While a delight in Bridesmaids (as one of Kristen Wiig's daft British roommates), she was competing against a wide range of scene-stealers. Here, she clearly takes the trophy for her raucous performance as Fat Amy. What's most refreshing about the character (and kudos to Cannon for writing her this way) is that she's all about being confident and taking control — a rare break from American movies that do nothing but marginalize, mock or pity their plus-sized women. There's only one scene in which Fat Amy endures a standard movie humiliation (it involves a thrown burrito), but even here, it's not so much about her embarrassment as much as painting the perpetrator as a complete jerk. (Curiously, this character, the most odious in the film, never gets his comeuppance. An oversight, or a desire to deviate from the expected norm?)
How cool is Pitch Perfect's attitude toward its MVP? When we see Fat Amy on spring break, she's in a swimming pool surrounded by attentive hunks. Rarely has girl power seemed so rockin' on screen.