PITCH PERFECT 2
***
DIRECTED BY Elizabeth Banks
STARS Anna Kendrick, Rebel Wilson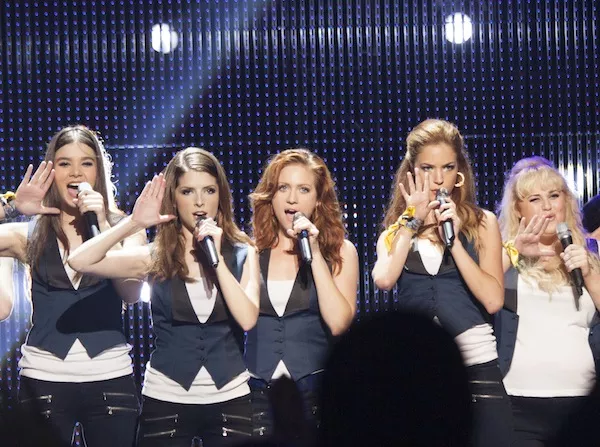 Hailee Steinfeld, Anna Kendrick, Brittany Snow, Alexis Knapp and Rebel Wilson in Pitch Perfect 2 (Photo: Universal)
Without the sort of studio hype and movie-website presence all but required these days to make a dent in the public consciousness, the winning 2012 comedy Pitch Perfect nevertheless proved to be a stealth performer at the box office, earning enough bank to convince the studio that a sequel wouldn't be a bad idea. And thus we get Pitch Perfect 2, and the good — nay, make that great — news is that it's almost equal to its predecessor. As before, an ingratiating cast, some catchy musical arrangements and a raft of killer quips make for an irresistible combination. And like the previous entry, the picture doesn't exactly cater to any lowest common denominators: A hilarious gag involving Sonia Sotomayor earned a hearty laugh from maybe a dozen people at the advance screening, and it's guaranteed the silence wasn't because the joke bombed but because that name was (sadly) unfamiliar to most in attendance.
Actress Elizabeth Banks, who co-produced the first picture as well as appeared as commentator Gail (alongside the equally amusing John Michael Higgins as her partner-in-catty-crime John), here makes her feature-film debut as director (not counting her short segment from the horrific anthology flick Movie 43). She and scripter Kay Cannon (returning from co-writing the original) smoothly continue the saga of the college a capella outfit the Barden Bellas, now three-time national champions but caught up in scandal when a wardrobe malfunction occurs at an event attended by the First Family (cue amusing reactions shots of Barack and Michelle). The only way to salvage the group's tarnished reputation is for the ladies to win the world championship, something no American team has ever done before because, as a guffawing John and Gail point out, "The rest of the world, they all hate us!" Undeterred, the Bellas set out with the intent of besting all rivals, particularly the loathsome German team The Sound Machine. But despite the welcome presence of a newcomer in the group, a freshman named Emily (True Grit's Hailee Steinfeld), there's trouble in the ranks when it becomes clear that Beca (Anna Kendrick) is already looking at life past the Bellas, trying to jumpstart her career as a music producer by landing an internship under an acerbic, Grammy-winning sharpshooter (a wonderfully written role for Keegan-Michael Key of MADtv and Key and Peele).
Apropos its school setting, Pitch Perfect 2 feels like a jovial class reunion where everyone manages to make an appearance. Naturally, the mainstay likes of Fat Amy (Rebel Wilson) and Chloe (Brittany Snow) are on hand, and we expected to see the smarmy Bumper (Adam DeVine) pop up, but the callbacks don't end there. As for the leading ladies, Kendrick often seems as checked out as her character, but Steinfeld is a bright presence, Snow again nails Chloe's peppy intensity, and Hana Mae Lee quietly (and I mean quietly) steals scenes as the whispery Lilly. And Wilson, who was the first picture's breakout star, is equally uproarious here — she's a fearless actress who's game for anything, though it's a shame Banks and Cannon take advantage of her willingness this time around. One of the beauties of the first Pitch Perfect was how an overweight character was allowed to be confident, sexy and not the butt of a series of derogatory jokes. That stance is unfortunately missing here, as Amy finds herself humiliated at nearly every turn — did we really need a scene in which she announces that she's going to use the side of a tent as toilet paper? Her treatment is even more baffling considering how expertly this film pushes the notion of the benefits of female solidarity in an often cruel and unjust world (for instance, unlike the NFL, where the player rather than the team is punished for a mistake, the Bellas are all punished for an error made by one member).
Pitch Perfect 2 is stellar entertainment, but in this regard, it manages to strike its one sour note.