Without further ado -- or any ado at all, for that matter -- here are my picks for the best fiction and non-fiction books published in 2006. My partiality to history and politics, and their influence on everyday people's lives, will no doubt be obvious.
Fiction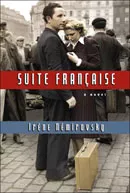 Suite Francaise by Irene Nemirovsky (Knopf). Nemirovsky, a Ukrainian Jewish immigrant in Paris, and a best-selling author of the 1930s, began writing a planned five-novel suite as she and her family fled Paris in 1940, mere hours ahead of the German army. Suite Francaise is the first two parts of the planned work. Shortly after finishing the second volume in 1942, she was deported to Auschwitz, where she died at age 39. Now finally published, Nemirovsky's novel about the German occupation of France overflows with surges of lyrical writing and intensely focused observations worthy of Chekhov. The first half is an unforgettable panorama of human action under stress, as the author brings to life a disparate cast of Parisians swept up in the chaotic evacuation of the city. The second half is set a year later in a farming village, where residents come to terms in different ways with the fact that life continues despite the German occupiers. Nemirovsky's writing is clear, radiant, and filled with empathy for everyone suffering from the war, even German soldiers.
A Disorder Peculiar to the Country by Ken Kalfus (Ecco Press). Joyce and Marshall Harriman, a New York couple in the midst of a nasty divorce, are both disappointed when the other accidentally avoids being killed in the 9/11 attacks. The new "war on terror" becomes an uneasy counterpoint to their own personal wars in this dark comedy about our national post-9/11 psyche. They engage in psychological warfare; he taps her phone; she suspects he's sent an anthrax envelope to her office; he studies how to make a suicide bomb. Kalfus' style is engaging, almost breezy, bolstered by a brutally detached cleverness.
Eat The Document by Dana Spiotta (Scribner). Spiotta's taut, semi-satirical novel revolves around Mary Whitaker and Bobby DeSoto, two counterculture radicals forced to live separate, secret lives on the run after an early-70s protest action goes dreadfully wrong. Spiotta uses a fractured narrative style, building tension as she careens between Mary and Bobby's stories, and serving up scathingly funny but empathetic portraits of 1960s rebels' post-60s evolution.
The Inheritance of Loss by Kiran Desai. (Atlantic Monthly). Winner of the prestigious Man Booker Prize, Desai's second novel is set in mid-80s northern India, where Jemubhai Popatlal, a retired judge, lives with his granddaughter, his cook and his dog. His self-satisfied life is contrasted with that of the cook's son, who works in horrendous Manhattan restaurants, and with his granddaughter's affair with her tutor, a political insurgent. As the rebellion closes in on the judge's Anglophile existence, questions are raised about the prices of colonialism, exile, and a life based on materialism. For all its heavy themes, however, the story is very down-to-earth, human, and often comical.
By A Slow River by Philippe Claudel (Knopf). This atmospheric, "serious" whodunit in World War I France folds piercing character studies into a riveting triple mystery. Claudel transcends crime novel conventions as he poses the conundrum of why the story's villagers are infinitely more upset by three local deaths than the endless slaughter going on at the front lines a few miles away. The elegantly written novel offers a spellbinding story that pivots on moral ambiguity -- that staple of modern life and lit -- while evoking nothing less than the historical beginnings of our conflicted modern psyches.
NonFiction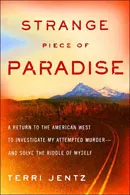 Strange Piece of Paradise by Terri Jentz (Farrar, Straus and Giroux). In summer 1977, a man with an axe attacked author Terri Jentz and her roommate in rural Oregon while the pair were on a cross-country bicycle trip. Both women survived, but no one was ever arrested for the assault. Fifteen years later, Jentz needed to know what had happened that night. Strange Piece of Paradise is the story of her return to the scene of the crime to find the attacker, mend her wounded psyche and put her life together again. From that search, she created a remarkably well-told and chilling tale.
The Worst Hard Time: The Untold Story of Those Who Survived the Great American Dust Bowl by Timothy Egan (Houghton Mifflin). We mostly know of the Dust Bowl as something people escaped, as in The Grapes of Wrath. Egan's haunting book tells the stories of those who stayed amid what was probably the largest man-made ecological disaster in history. Beautifully written, heartbreaking in its depiction of the Dust Bowl's human costs, and infuriating in its tales of reckless land promoters, the book is as moving as good social history gets.
Breach of Faith: Hurricane Katrina and the Near Death of a Great American City by Jed Horne (Random House). Jed Horne led the New Orleans Times-Picayune's Pulitzer-winning coverage of the Katrina disaster. His book tells the gripping story of what happened in, and to, the Crescent City and its residents during and after that catastrophe. This is first-rate reportage, presented in riveting human stories and driven by Horne's own sorrow and anger. Tales of residents', and some officials', remarkable courage and resilience stand in vivid contrast to the incompetence and criminal neglect of those who were supposedly in charge.

Mayflower: A Story of Courage, Community and War by Nathaniel Philbrick (Viking). The best history writing brings the past to life while transforming famed heroes and villains into flesh-and-blood people. Philbrick does all that in his enthralling examination of the history of Plymouth Colony, which was at times a model of inter-cultural cooperation, and at others a landscape for war's horrors and follies.
Driving With The Devil by Neal Thompson (Crown). As writer Paul Hemphill has noted, most Americans have a "vague notion that stock-car racing sprang from moonshine-hauling in the southern Appalachians," but the lives and exploits of those "whiskey trippers" have largely remained a mystery. Thompson's book fills in many missing details of stock car racing's hell-raising early days in the 1930s and 1940s, and it's a hell of a ride. I'm not even a racing fan, but I found these tales of stock car racing's criminal-laden, whiskey-soaked birth a fascinating look at history that goes against NASCAR's sanitized corporate image.