For Pepperbox founder Alex Beebe, loving doughnuts was always in the genes: "My dad and my granddad always really enjoyed them, so it kind of passed down the family line."
A self-described cook by trade, Beebe had clocked plenty of kitchen hours, but had never tried his hand at baking the family dessert of choice, until a craving called.
Pepperbox doughnuts (Photo courtesy of Alex Beebe)
"I just got a recipe and started tweaking it," he recalls. Unbeknownst to Beebe, that decision would kick-start a quest for the perfect doughnut that would occupy his kitchen for the next two years, and would ultimately make him a main-player in the Charlotte craft doughnut scene.
"For me, without any bakery experience, it was all trial and error. For a while I was coming out with these flat little discs that weren't risen properly, or came out too dense," he says. "I got to where I am today after two years of working at it. It all just comes with learning the dough and how it reacted, how I mixed it, how hot it was that day...taking all of those little things into account and learning how the dough was going to react."
While it may have taken Beebe a while to perfect the formula, one thing was certain from day one: "It absolutely had to be yeast, and it had to be fried. In my opinion, those are the two components that make a good doughnut."
The great yeast debate has long created a divide in the doughnut community; though early recipes always included the leavening agent, more recent incarnations have dropped the extra step in favor of a more dense cake-batter base, creating, as Beebe puts it, "basically just a cake in the shape of a doughnut."
Alex Beebe of Pepperbox doughnuts (Photo courtesy of Alex Beebe)
"A yeast doughnut is unique," he explains. "It takes a lot of time and effort, but that really comes through in the taste. There's nothing else really like it."
The kitchen experiments were a success, and after perfecting his formula, Beebe decided to try selling his homemade doughnuts. All he needed was a name.
"We were about to do our first pop-up," he recalls. "A friend of mine did some research and came back with Pepperbox. Apparently there's this legend that the doughnut hole came from an old 1600s sea captain who was tired of the center of his doughnuts having uncooked dough, so he took his pepperbox pistol and punched a hole through the center."
The name stuck, and so did the pop-ups. Beebe's calendar quickly filled up with weekend pop-up shops, and his menu of unique offerings grew: blackberry candy kiwi (a reigning crowd favorite), espresso glazed, and cocoa pebbles with cereal milk frosting, to name a few.
"The menu changes every week," Beebe says, listing off some new flavors he has in the works. "I try to stay close to what's in season. Right now, that's something light and refreshing since it's 190 degrees out. Lots of fruit and berry flavors."
Beebe hopes to bring his pop-up shops to a permanent home in the near future.
"A permanent location is the ultimate goal," he says. "We're pretty open to locations, so we're looking all over. Plaza would be great, NoDa would be great, maybe west side."
NoDa's newly-opened Joe's Doughs had similar beginnings. Last year, founder Joe Pepe was making doughnuts in his kitchen and carting them to pop-up shops. This month, he opened the doors on his permanent storefront.
For Pepe, doughnuts were a hobby born out of boredom between touring the country with his band, Sleeplust. "I had time off between tours and I wanted a hobby," he explains, "So my wife and I just started making doughnuts."
When asked how he made the transition from the stage to the kitchen, Pepe laughs and credits "Google University" and "trial and error."
"I made a lot of really bad doughnuts and eventually I just got it right," he says. Nailing down the right recipe might have been a challenge, but for self-proclaimed foodie Pepe, coming up with new flavors was easy work.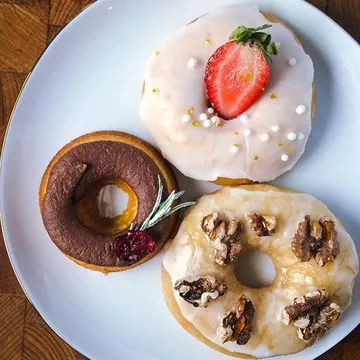 Doughnuts from Joe's Doughs (Photo courtesy of Joe Pepe)
"I'm always trying new things, then wondering, 'How can I turn this into a doughnut?'" he says. "The goat cheese strawberry balsamic, probably the one I'm most proud of, was actually an appetizer I had at a restaurant. It was bread with a sweet balsamic reduction with the strawberry, and I was like, 'I can put this on a doughnut!'"
Pepe's pop-ups were a quick success, but when it came time to tour again, it was hard to strike a comfortable balance: "I'd play until 1 a.m., then get up two hours later and make doughnuts. It just wasn't working."
With a demanding tour schedule on top of plans to make the move from Charlotte to Los Angeles, Pepe ultimately decided to hand over the daily doughnut operations. It was just a matter of finding the right person for the job. Enter Jaclyn Parzygnot.
"I put the word on Instagram and she was one of the people that replied. I really liked her resume and we had mutual friends," Pepe says.
Jaclyn got to work immediately, running pop-up shops while Pepe began negotiations with investors who wanted to bring Joe's Doughs to a brick-and-mortar shop in NoDa.
Joe Pepe and Jaclyn Parzygnot of Joe's Doughs.
Pepe, who now resides in California, plans to continue managing Joe's Doughs, particularly the menu, from the West Coast. "We all talk every day. I plan all the special events. I do all the menus with Jaclyn. Honestly, I'm more involved now than I probably was when I lived here. I just don't make the doughnuts because getting up at 3:30 in the morning isn't my thing!"
The NoDa location may have only just opened its doors, but Pepe already has another project up his sleeve: commissioning Charlotte art duo Matt Moore and Matt Hooker (aka The Matts) to create a custom mural on the white-brick side of Joe's Doughs.
"We're giving them freedom to do whatever they want," Pepe says. "It incorporates the whole Charlotte skyline and city, and donuts, and the lifeblood of the city."
Doughnuts as part of the lifeblood of Charlotte? We like the sound of that.