Diverse backgrounds have clearly been an outstanding influence on California Guitar Trio's music.
The group consists of Paul Richards, who immersed himself in rock and blues while attending The University of Utah's jazz guitar program; Bert Lams, who graduated from the Royal Conservatory of Music in Brussels and specialized in classical guitar; and Hideyo Moriya, who journeyed from Tokyo to Boston to study at Berklee.
They all met as guitar students around 1987 in California and by 1991 they were performing as the California Guitar Trio.
The band meshes everything from Bach to the spacey Pink Floyd classic "Echoes," instrumentals like "Sleepwalk" to Queen's "Bohemian Rhapsody," playful surf numbers and spaghetti Western tunes, while crisscrossing jazz, rock and classical music.
After performing for 25 years, the band is currently on the road plugging a new recording Komorebi, which, in Japanese, roughly translates to "Sunlight shining through the leaves of trees."
California Guitar Trio performs at the Neighborhood Theatre on Dec. 18.
Creative Loafing spoke with Paul Richards about the band's quarter century of work.
On Meeting
"The three of us met while we were studying with Robert Fripp. He booked tours with students and the touring group was named League of Crafty Guitarists. And that was an amazing way for us to learn to go out and play live. At that point we didn't know we were going to form a trio. It was during that time we found some common interests including in musical diversity; classical music, rock, jazz, blues...so many different things that we enjoyed combining all together. Also during that time, we became quite good friends and began hanging out."
On Influences
"That's a big part of our sound, we are very unlikely characters who would have never met if not at these (Fripp's) classes. We were all into British rock bands and Hendrix, but what set us apart was Hideyo's interest in traditional Japanese music. He has done arrangements of Kodo music, on the current tour he did an arrangement of a Japanese composer named Ryuichi Sakamoto, that's one example of what he has brought from Japan. Bert from Europe, he's the real classical player of the three. He graduated from the Royal Conservatory of Brussels and has the more real European classical sense at the same time he was a huge Hendrix fan. So he is combining these elements and when we combine them all three of us and do it on acoustic guitars that we end up with such eclectic array of music. I grew up listening to lot of American and English rock bands and I used to play in rock and blues bands as a teenager."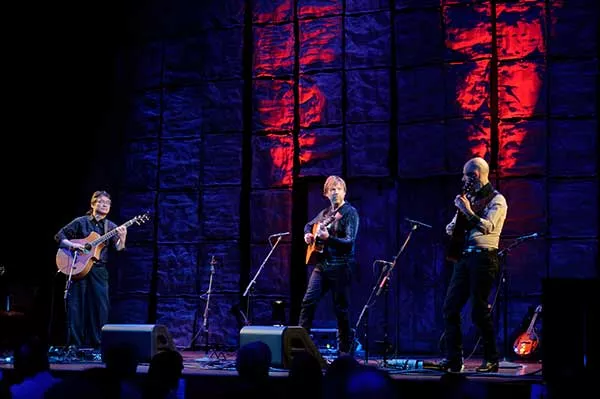 Paolo Aizza
CGT will play at Neighborhood Theatre on Dec. 18.
On playing "Bohemian Rhapsody"
"It kind of happens naturally because each one of us has our own specialties and after 25 years of playing together we recognize those specialties and even early on. For example, Hideyo is the fastest player among the three of us so if we ever need anything superfast he is able to do those things. Bert is perhaps the most melodic player and with my rock background I play some of the heavier parts. When we first started playing together we realized each of us could do quite a lot. We just released a new album on which Bert plays some beautiful solos. All three of us have some solos, but Bert is the one that really shines playing solos, so it's really developed naturally but also paying attention to what the music needed. That's also what's exciting about playing live, because on the recordings you can only imagine who's playing what part or what's going on. Live shows in one moment we would all be playing bass and then switch to a melodic part and we're always trading parts. It keeps things interesting for us and the audience."
On the current tour
"On this tour we're featuring an arrangement from Bert of Beach Boys' 'Good Vibrations' and in that piece you can see us trading parts, really exposing the brilliance of Brian Wilson's composition. When you break it down to three acoustic guitars and with us finding ways to play the layered parts of the original, the brilliance of the composition comes through.
We've gone through a phase where we used lots of effects. This latest album takes a step back and takes a break from using any type of effect. There's a tiny bit of reverb but other than that its pure acoustic guitar. These current shows it's just the three of us, though in the past we've had guest musicians."