The following is Part 2 of a two-part story. It is the result of a partnership with the Indy Week in Raleigh. When we left off with Part 1, Ronnie Long had been charged with a brutal rape that occurred in Concord on April 25, 1976, after being identified as a suspect through questionable means.
At trial, Ronnie Long's defense rested on his alibi. His attorneys called several witnesses who testified that they had seen him on the day of the assault.
His then-girlfriend — and the mother of his 2-year-old child — testified that Long called her just after 9 p.m. and spoke to her for about 45 minutes, ending the call at around 9:45, the time the victim said the attack took place.
Long's mother recalled interacting with him during that time frame as well. She testified that Long came home at about 8:30, then went upstairs to his room. Just after 9, she testified, Long, who was on the phone with his girlfriend, said his son was on the phone. Long's mother picked up and talked to her grandson for about five or 10 minutes; when she hung up, she testified, Long stayed on the line. He came downstairs at about 10:25 and told her he was on his way to a party in Charlotte. She told the court that there was no way anyone could have gotten out of the windows in Long's room; she also said she would have seen him if he'd come downstairs before she saw him at 10:30.
Hospital records indicated that the victim fought off her attacker — even bending back her fingernails while trying to scratch him — but witnesses testified that Long was unscathed when they saw him later that night, saying they saw no scratches, bruises, or blood on his body.
In his closing argument, the prosecutor referred to the footprint left at the crime scene. Whomever it belonged to, he said, was responsible for the attack. But he admitted that the shoes that made the mark couldn't definitively be tied to Long. During the trial, an SBI officer who examined the footprints testified that he couldn't say for certain that Long's shoes made the prints — just that they "could have."
Nevertheless, the prosecutor argued that if "we had simply presented to you the testimony of [the victim] and [the victim] alone, with no other evidence whatsoever, that would have been sufficient for you to consider this matter directly on the charges as they are now up here."
The jury agreed. On October 1, 1976, Long was convicted and sentenced to two concurrent life sentences. When the guilty verdict was read, pandemonium broke out in the courtroom. "Whites cheered; blacks jeered and cried in outrage," his former defense attorney, James Fuller, later testified.
Ronnie Long and his wife, Ashleigh, during a recent visit. (Photos by Caitlin Penna)
Later that night, Long rode with two white sheriff's deputies to Raleigh's Central Prison. He sat in the car, heavily restrained, as Daryl Hall's "She's Gone" played softly on the radio. He thought about the woman he was dating and his uncertain life ahead. He gazed out the window and wondered, "Man, what have I gotten myself into?"
As the car inched toward the prison, Long took in his surroundings. He felt like he was looking at an odd, twisted castle out of a Frankenstein movie — "old walls with these big old stones, church windows with the bars and pigeons flying in and out."
One of the deputies, Long remembers, told him to look to his left at his new home. "He said, 'Nigga, you won't be back. You think you tough? They go'n show you what tough is behind these walls.'"
After Long's conviction, Concord bubbled over with fury. The next day, hundreds of protesters descended on the city's downtown, staging a demonstration in front of the courthouse and a nearby park. For days, 50 police officers in full riot gear stationed themselves at the park. The police chief warned protesters that violence would be met with force.
Long's case garnered widespread attention even before the verdict. Two months before his sentencing, 300 people rallied in support of Long in front of the courthouse. A handful of speakers denounced his arrest. "We're gonna let them rich folks that run this town know they're gonna free Ronnie Long," one declared. "We're gonna let this Klansman judge get an idea ... We're gonna start dealing with all these racists."
According to newspaper clippings and other documents, the fact that there was an all-white jury was a big deal.
"Long's story was over before the judge entered the courtroom," reads a "Free Ronnie Long" flyer distributed after the conviction by the Southern Conference Educational Fund. "Of the 49 people summoned for jury duty, only four were Black. Defense challenges against the jury pool, admittedly selected by the sheriff who arbitrarily removed all 'undesirables' from the jury list, were rejected by the judge. The handful of Blacks were dismissed and an all-white jury selected, half of them associated with Cannon Mills. Was this a jury of Ronnie's peers?"
Meanwhile, in prison, Long assumed he'd be out in a matter of years — five, perhaps, until he proved his innocence. But five years bled into 10, 10 to 15, 15 to 20. Long spent his 20s in prison, his 30s, his 40s, his 50s, now his 60s. During that time, his grandmother, two sisters, and father all died. His mother, Elizabeth, says she's "just waiting on Ronnie to get out. God let me live to see him get out of here."
For years, Long filed appeals and argued his innocence, to no avail. But the case got a boost in 2005, after the UNC Innocence Project took up his case and filed a motion to preserve evidence in Cabarrus County Superior Court. The court ordered the district attorney's office, as well as the State Bureau of Investigations and Concord Police Department, to find and preserve physical evidence in the case and hand over all related test results and reports to the defense. The court also ordered NorthEast Medical Center — formerly Cabarrus Memorial Hospital, where the victim was examined — to turn over biological evidence.
The police department located a file from Detective Van Isenhour that contained a list of items he collected from the crime scene and then brought to the SBI. The SBI located a file with the test results. None of the items taken from the crime scene showed a match to Long. For example, the SBI compared a sample of Long's hair to a hair found at the crime scene. They didn't match. The leather jacket, gloves, and toboggan found in Long's car were tested for paint and carpet fibers. No dice. A comparison of matches found at the crime scene to matchbooks also taken from Long's car didn't turn up anything, either.
The existence of that SBI file was never disclosed to Long's defense attorneys before his trial. Indeed, when Isenhour took the stand and was asked about the items he brought to the SBI, he said he had only taken Long's shoes and shoe impressions.
Moreover, the defense was never told about the existence of a rape kit that the police department obtained. It, too, never came up at trial — and now it's nowhere to be found. The NorthEast Medical Center told the court that the hospital did not have any remaining evidence and turned everything over to the Concord police in 1976. In 2007, Long's attorneys filed another motion to preserve evidence, this time to UNC Hospitals, which at the time of the crime conducted blood tests. In response, the attorneys learned that the system had no records in Long's or the victim's name.
"I think the test results on the jacket would have been absolute dynamite for a trial attorney who knew what he or she was doing back in 1976," said one of Long's attorneys at a 2008 hearing. "And in fact it probably, it could well have been the most critical piece of evidence in the case, because without the test we tried to argue, and it's hard to argue when you don't have the test result."
A private investigator who worked with Long's defense team said he was "stunned" to learn that nearly all of the physical evidence in the case had been sent to the SBI for testing, and the results linked none of it to Long.
At that hearing, the original prosecutor did something unusual: he testified for the defense, saying he had no recollection of seeing Isenhour's or the SBI reports. If he'd seen them, he said, he would have turned them over to the defense. He also said he did not know about the swabs or samples taken from the victim at the hospital, and if he had known about them, he would have sought further testing.
That wasn't all that came to light. In 2015, the North Carolina Innocence Inquiry Commission, a state agency that investigates inmates' innocence claims, found latent fingerprints collected from the crime scene by the Concord police. According to a May 12, 1976, report by Isenhour, nearly 70 fingerprints had been collected from the crime scene and repeatedly checked against suspects. But the cops weren't able to find a match.
The commission asked the Concord police to run the fingerprint lifts through a fingerprint identification system. In 2015, the police department issued a one-page report concluding that the search returned "no possible contributors." (The police department's report did not provide any information about the scope of the database — whether it was local, statewide, or national.) In response, Long asked for the commission's file on the case, but the district attorney's office objected, and the commission declined to provide the file.
When Long found out about the new evidence, he was floored.
"I wish I had known this in '76," he says. "Lawd, I wish I had known this in '76."
Despite this new evidence, however, Long's case didn't make much headway in the courts. His earlier appeals, which argued that his lawyers' failure to challenge the jury-selection process constituted ineffective counsel, went nowhere. After obtaining the new evidence in 2005, Long tried to get a new trial, but the Cabarrus County Superior Court ruled that the new items wouldn't have changed the jury's mind.
Long's defense team appealed to the N.C. Supreme Court. In 2011, the court deadlocked 3–3 on a decision to reverse the superior court's ruling. The split affirmed the status quo, and the lower court's order remained in place.
That's when Long's case moved to federal court. In 2016, his lawyers filed a habeas petition with the Middle District Court of North Carolina. But the court dismissed the case on the basis that Long had not litigated the new fingerprint evidence in state court. Long's team appealed to the Fourth Circuit Court, and in October, the court agreed with Long, sending the petition back to the district court, where it is today.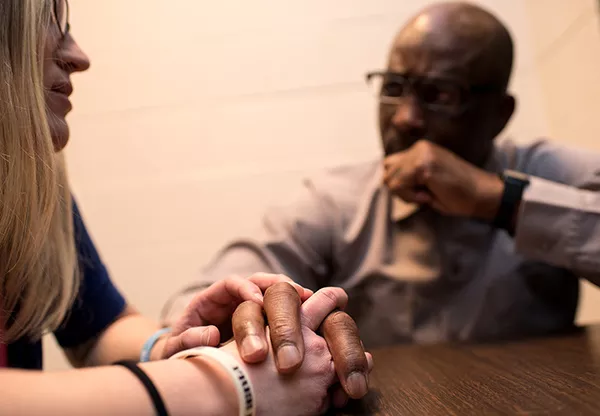 Ronnie and Ashleigh Long.
Long's attorneys are asking to have his conviction vacated, but they're aware that anything could happen — including another dismissal, which they would then appeal again. As for Long, he says his hopes are simple: he just wants the judge ruling on the petition to "apply the law."
"If she applies the law, then I'll walk up out of here," he says. "Why am I still behind these bars? What have I got to do to prove that I'm not the man that y'all are looking for? I'm tired. Forty-two years. I mean, what do you want from me? What do you want?"
A few years ago, Long's personal life took an unexpected turn. In 2013, he received a letter from a stranger. Long opened the envelope, sent from a woman named Ashleigh Ward, and began reading the note, dated July 28. She'd come across his case, she wrote, and wanted to help.
Ward was a student of criminal justice and criminology at the University of North Carolina at Charlotte (she later dropped out to pursue his case full-time). She included her phone number in case he was willing to talk.
When she mentioned she was white, Long paused. He wondered if he should even bother. But Long sent her a letter, and the two struck up a correspondence. Their first phone call was quick, and Long thanked her for her interest.Ward found him intense and fun to talk to. She insisted on helping him, whether he agreed to it or not.
Ward says she felt his innocence deep in her gut.
"That's all it's ever been. The guy didn't do it," she says. "Even when he drives me nuts, it's like, 'Free Ronnie Long.'"
The couple's first in-person visit came about two months after she dropped the letter in the mail: October 3, 2013. Ward drove three hours from Concord, where she was living, to the Harnett Correctional Institute in Lillington. They took a photo of the visit. His expression is haunting: no smile, and a stare that cuts straight into the camera.
They kept up their correspondence, and Ward, a few months later, realized she was developing feelings for Long. It dawned on her on a Saturday afternoon in the winter. She was in a McDonald's, using the free wi-fi to work on Long's case, and her phone rang: it was him on the other line.
"I think I'm falling in love with you and it's weird!" she blurted out. Long laughed. "I'm like, the old man had some game, I guess," she says.
She suggested they get married. Long was hesitant. Nobody supported the idea — not their families or Long's attorneys. But they decided to do it anyway.
They submitted a request to Harnett, which then selected a wedding date for them: August 18, 2014.
The ceremony was at 10:30 a.m. They needed two witnesses; Ward's friends couldn't make it, so they used an inmate and his counselor. The couple read their vows and kissed. Then Long surprised her with their song: "If You Know Like I Know," by Teddy Pendergrass.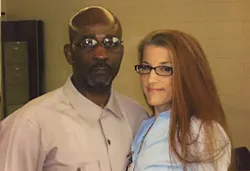 Ronnie and Ashleigh on their wedding day.
The next day, Ashleigh Ward became Ashleigh Long.
Joel Harlow, a conservative Texan who became an advocate for Long after learning of his case on Facebook, has a plan for when he gets out. Harlow's going to hop on a plane to North Carolina and treat him to a steak and a beer. And then, if Long agrees, the two will fly together back to Texas. Harlow's 84-year-old father, who writes and calls Long in prison regularly, will introduce himself. The three will go to church together. Long is welcome in their home anytime, Harlow says.
For Long to get that steak and beer, though, the chips have to fall just right. The courts have to decide that all of the evidence amassed since 2005 entitles him to a new hearing, even though, for a decade, they've been unwilling to do that.
If Long is one day exonerated, he'll join an ever-growing club. According to data from the University of Michigan's National Registry of Exonerations, 2,155 people have been wrongfully convicted and later exonerated since 1989, adding up to a total of 18,881 years lost. In North Carolina, 60 people have been exonerated during that time.
Taken across racial lines, the data is starker. African Americans comprise about 13 percent of the U.S. population but account for nearly 50 percent of all wrongful convictions. An African-American prisoner behind bars for sexual assault is three-and-a-half times more likely to be innocent than a white sexual assault convict, according to the registry.
In half of all sexual assault exonerations due to eyewitness misidentification, black men were convicted of raping white women. In a 2017 report, the registry concluded that the major cause of this disparity boils down to white victims misidentifying black defendants: "One of the oldest and most consistent findings of systematic studies of eyewitness identification is that white Americans are much more likely to mistake one black person for another than to mistakenly identify members of their own race."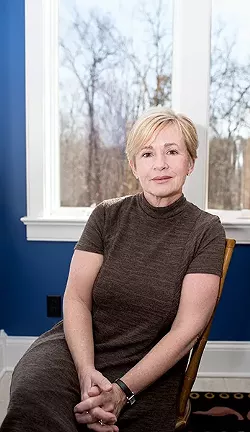 It's happened before in North Carolina. In 1984, a man broke into the apartment of a 22-year-old college student, Jennifer Thompson, and sexually assaulted her. The victim later picked Ronald Cotton, a black man, as her attacker in a photo and in-person lineup. Cotton was convicted and sentenced to life in prison. A decade later, however, DNA evidence cleared him; testing revealed that a different man, Bobby Poole, had committed the assault. Thompson apologized to Cotton after he was exonerated, and the two eventually became friends, even traveling the country together to raise awareness about wrongful convictions and the pitfalls of eyewitness identifications.
The mind is a powerful thing — and can convince itself of false memories. Thompson explains how this phenomenon can take shape: "For most of us crime survivors, who pick somebody out of a lineup and then are given confirmation, you can never regain your original memory. It's just gone. It's wiped out of your memory bank. Every rape survivor I've talked to, when it's led to a wrongful conviction, they will tell you that they can't get the face of the wrongfully accused person out of their head. It was years after Ronald was exonerated, I couldn't untangle Ronald's face from my nightmare. I knew he was innocent, but I had no memory of Bobby Poole. You can't do it. It's now a completely new memory."
Thompson adds: "As it relates to Ronnie, it's time for the system to do the right thing."
Today, Long is still inmate 0247905. His mother is still alive. Ward still visits him every week. Harlow and his father are still waiting to take him to church in Texas.
Long says he's about to run out of energy, but he's not done yet.
"You got to be strong," he says. "You got to be strong in order to come through here. Because if you fail, then they done defeated you. Your best weapon is to come through this."