POOL PARTY Brad (Patrick Wilson) and Sarah (Kate Winslet) have fun in the sun in Little Children.
This is why I love this time of year. It's January, and rather than subject ourselves to the new year's national releases -- studio tax write-offs starring the likes of Cedric the Entertainer and Freddie Prinze Jr. -- we can head to one of the numerous award contenders that opened in New York and Los Angeles late last year and are now making their way across the rest of the nation. Of course, at least one or two of these tony projects usually tend to disappoint, but not this week: It's a bumper crop from top to bottom. Here, then, are a half-dozen 2006 qualifiers opening in Charlotte on the first Fridays of 2007. And check out next week's CL for reviews of more Oscar hopefuls debuting locally, including Letters From Iwo Jima and Pan's Labyrinth.
A richly textured and profoundly pensive drama that missed making my 10 Best list by one slot, Little Children (***1/2 out of four) finds Todd Field returning to the battlefields of Everytown, USA, that marked his startling directorial debut, In the Bedroom. An adaptation of Tom Perrotta's novel, Little Children offers a petri dish dissection of several of the residents of a Massachusetts suburb in which most of the adults' lives are defined by the manner in which they relate to the kids who scamper around the margins of both their lives and the movie itself. Sarah Pierce (Kate Winslet) and Brad Adamson (Patrick Wilson) are both unhappily married stay-at-homes who engage in an adulterous tryst scheduled around outings to the pool and the park with their small fry. First, though, they have to navigate their way around the disapproving clucks of their neighborhood's battalion of soccer moms, robo-parents whose familial devotion has stripped them of anything resembling a personality or an inner life. And then there's Ronnie McGorvey (Jackie Earle Haley), a convicted sex offender whose emergence in this quiet community understandably draws attention, though it also allows the other residents the opportunity to smooth over their own flaws. The entire cast is superb -- as Ronnie's blind date, Jane Adams is sensational in a role that would draw award attention were it not so brief -- but it's former '70s child star Haley who's the most memorable. His sexual predator is by turns loathsome and sympathetic -- not unlike most of the "normal" characters in the film -- and Haley is able to locate the humane within the inhuman. It's a complex portrayal, perfectly suited to the weighty movie that shelters it.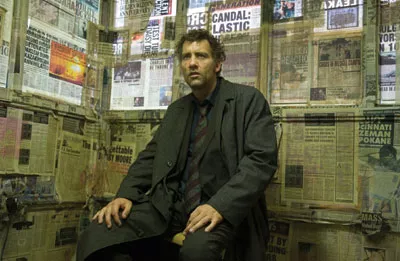 NEWS OF THE DAY Theo (Clive Owen) follows the paper trail in Children of Men.
No matter how closely I scoured each scene in Children of Men (***1/2), I couldn't find Charlton Heston lurking anywhere in the background. Yet a Heston cameo would have been apropos, given that this adaptation of P.D. James' book harkens back to the cinema of the early 1970s, when Hollywood was hell-bent on churning out nightmarish visions of the future in such works as THX 1138, Z.P.G., The Omega Man and Soylent Green (the latter two starring Heston). Yet whereas several of the '70s sci-fiers have ripened like cheese over time, it's impossible to envision Children of Men ever reaching similar camp status. Director Alfonso Cuaron, building a remarkably diverse filmography (Y Tu Mama Tambien, A Little Princess, even a Harry Potter sequel), is an absolute master behind the camera, and aided by spectacular cinematography and set design, he creates a future world (the film is set in 2027) that is utterly believable and quite frightening, not least because it looks so much like our present-day world. The premise here is that women haven't been able to get pregnant in nearly 20 years, meaning that humankind is on its way out. As a result, chaos is the order of the day, and only in London does there exist the pretense of a (barely) functional society. But when it's revealed that an immigrant (Clare-Hope Ashitey) somehow finds herself carrying a child, it's up to a working stiff (Clive Owen in a forceful performance) to protect her from the various warring factions that would exploit her for their own cynical means. The multi-tentacled storyline begs for a mini-series length that would allow for a detailed exploration of this society's clashing politics, philosophies and social orders, but armed with only a feature-film running time, Cuaron still manages to pack a lot of incident into this exciting tale of our world as one gargantuan war zone.
As chilly as Nova Scotia in December, Perfume: The Story of a Murderer (***) draws its fire not from its cold-hearted plotline but from director Tom Tykwer's passion for dressing up this tale with all manner of technical flourishes. Working from Patrick Suskind's worldwide bestseller, Tykwer (best known for the similarly audacious Run Lola Run) examines the life of a serial killer in 18th century France, a mass murderer with a singular -- and unique -- obsession. Jean-Baptiste Grenouille (Ben Whishaw) is an orphaned peasant who possesses the world's greatest olfactory mechanism, the ability to absorb and analyze each and every scent that exists on this planet. Eventually, Jean-Baptiste becomes obsessed with discovering the perfect scent, and so he starts murdering women in the belief that extracting their aroma will help him create this ultimate fragrance. Running overlong at 150 minutes, Perfume stalls during its final stages, culminating in a risible (and too-literal) finale that reminded me (though not in a good way) of similar setups in Shortbus. Yet Tykwer's startling stylistics tilt the film into the realm of pitch-black satire -- as straightforward drama, this would doubtless be too much of a slog -- and casting Dustin Hoffman and Alan Rickman in choice supporting roles doesn't hurt, either. Unpleasant yet intriguing, Perfume isn't exactly a breath of fresh air -- it's more like having smelling salts applied to one's cinematic experience.
Judi Dench is so good at what she does that in recent years, she's become something of a bore. Aside from her atypical role as an Alzheimer's victim in Iris -- the one time her character wasn't in control of everything happening on the screen -- she's always cast as the no-nonsense matriarch with more brains and gumption than anyone else in the room. Her career's been in a depressing holding pattern, culminating in an utterly unexceptional performance in 2005's Mrs. Henderson Presents. Notes On a Scandal (***) doesn't exactly find her breaking away from this mold, but because she's given so many more nuances to explore, she's able to excel via her finest work in quite some time. Here, she's playing a character so pitiless that she refers to a boy with Down's Syndrome as "a court jester." The lad is the son of Sheba Hart (solid Cate Blanchett, not surrendering an inch of the screen to her formidable costar), a newly arrived instructor at the same British school where the humorless Barbara Covett (Dench) also teaches. Initially irked by the presence of this luminous newcomer, Barbara eventually becomes her confidante, imagining in her mind that their affection for each other might even run deeper than mere friendship. After Sheba foolishly commences an affair with a 15-year-old student (Andrew Simpson), Barbara feels betrayed, but also realizes that she now has a perfect instrument of blackmail at her disposal. Notes On a Scandal is basically a lurid melodrama -- one that could benefit from some late-inning twists, I might add -- but Dench and Blanchett, slinging around juicy dialogue by scripter Patrick Marber (from Zoe Heller's book), turn this into something more. Think of it as Masterpiece Theatre filtered through Days of Our Lives.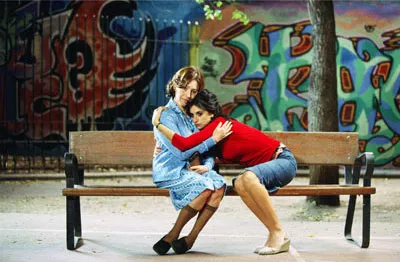 Emilio Pereda & Paola Ardizzoni /
El Deseo & Sony Pictures Classics
BENCH PRESS Raimunda (Penelope Cruz, right) finds comfort in the arms of her mother (Carmen Maura) in Volver.
Perhaps no performer gets lost in translation as much as Spain's Penelope Cruz. In her American titles to date, she's proven to be a big fat zero, yet return her to Spanish-speaking fare, and she reveals herself as a warm, witty and accomplished actress. That's especially evident in Volver (***), the latest confection from writer-director Pedro Almodovar. So memorable as the troubled nun in Almodovar's All About My Mother, Cruz is equally up to the task here; she portrays Raimunda, a headstrong woman who has her hands full managing the other females who inhabit her orbit. This would include her teenage daughter Paula (Yohana Cobo), who just killed the stepfather who was trying to rape her; Raimunda's sister Sole (Lola Duenas), a plain-Jane counterpart who tries to keep up with her glamorous sibling's whirlwind activities; Agustina (Blanca Portillo), a family friend trying to solve a mystery involving missing parents; and, most perplexing of all, Raimunda and Sole's mother Irene (Carmen Maura), who keeps popping up to offer advice even though she's been dead for several years. Almodovar's in a playful mood here (no other living director works with splashy colors as effectively), yet there's no mistaking the seriousness with which he takes the movie's theme of empowerment through sisterhood. Like George Cukor, another filmmaker known for being a "woman's director," Almodovar repeatedly draws superlative performances from his actresses, and in Penelope Cruz, he may have found his latest muse.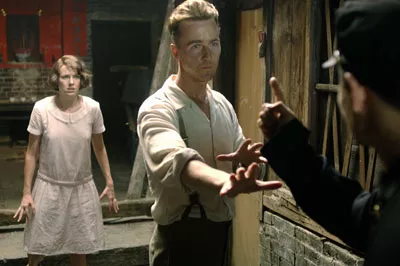 CULTURE CLASH Kitty (Naomi Watts) and Walter (Edward Norton) experience a run-in with a Chinese official in The Painted Veil.
Naomi Watts and Edward Norton are the leads in The Painted Veil (***), and the fact that they're also credited as two of the film's producers suggests that this adaptation of the 1925 Somerset Maugham novel might be little more than a vanity project squared. But despite some luminous shots of both attractive stars (filmed by ace cinematographer Stuart Dryburgh of The Piano), this isn't a parade of beefcake and cheesecake shots; instead, this tale of strangers in a strange land has been fashioned as a poignant love story, with its buried passions forcefully breaking the surface as the film rounds the bend toward its satisfying conclusion. Watts plays Kitty, a socialite who's rushed into marrying Walter (Norton), a doctor who barely raises her pulse. After the couple move to Shanghai, Kitty has an affair with a fellow foreigner (Liev Schreiber); learning about this deception, Walter drags Kitty along with him to the desolate Chinese countryside, where he's assigned to keep a cholera outbreak in check. Watts and Norton are so credible portraying spouses who grow to loathe the sight of each other that it's genuinely exciting to watch as they eventually discover the small spark that allows them to build a real marriage out of the heretofore dying embers. There's some Chinese political intrigue that rears its head every now and then, but Zhang Yimou has nothing to worry about in this department: The focus here is clearly the love story, and on that front, The Painted Veil will keep romantics content at least until Valentine's Day.