(View From The Couch is a weekly column that reviews what's new on Blu-ray, DVD and Streaming. Ratings are on a four-star scale.)
Omar Sharif in Genghis Khan (Photo: Twilight Time)
GENGHIS KHAN (1965). It was in 1956 that John Wayne was subject to the greatest miscasting mishap in his entire career, when the all-American actor eagerly (and awkwardly) played the Mongolian leader Genghis Khan in the Howard Hughes-produced drama The Conqueror. By comparison, Egyptian actor Omar Sharif joined the likes of Anthony Quinn and Yul Brynner in not only playing characters of countless races and nationalities throughout his career but being wholeheartedly accepted in these roles. Thus, it's hardly cringe-worthy seeing Sharif essaying the role of Temujin (aka Genghis Khan) in this ambitious epic — he's a bit dry in the role, but he tackles it with sincerity and zeal. Unfortunately, the movie surrounding him is inert and unimaginative, and while Sharif doesn't embarrass himself, the same can't be said of some of his co-stars. Many aspects of Genghis Khan's life are still fuzzy and thus open to debate among historians, so there's no harm, no foul in this production fabricating huge swatches of his story. The offense is in making the tale so dependent on contrivance and clichés, as the savage ruler is depicted as a standard Hollywood hero protecting the world from the machinations of his truly evil rival, Jamuga (Stephen Boyd). Boyd was far more effective as Charlton Heston's nemesis in Ben-Hur than as Temujin's sworn enemy in this picture, yet he's still easier to take than James Mason, whose portrayal of Chinese diplomat Kam Ling comes within shouting distance of Mickey Rooney's notorious turn as Holly Golightly's Japanese neighbor in Breakfast at Tiffany's. Not done yet, the film also offers Robert Morley as a veddy British Emperor of China and Eli Wallach bringing his Brooklyn twang to the role of an Iranian ruler.
Blu-ray extras consist of the theatrical trailer and an isolated track of Dusan Radic's score.
Movie: **
David Niven in A Matter of Life and Death (Photo: Criterion)
A MATTER OF LIFE AND DEATH (1946). Initially released in the United States under the moniker Stairway to Heaven, this British production from the tony team of Michael Powell and Emeric Pressburger (The Red Shoes, Black Narcissus) remains one of the most beloved of all their output. David Niven stars as Peter Carter, an RAF pilot who somehow miraculously survives a jump out of his airplane without a parachute. On the English shore, he meets June (Kim Hunter), the American radio operator who spoke to him as his plane began its final descent. A French emissary (Marius Goring) arrives from Heaven to inform Peter that (shades of 1941's Here Comes Mr. Jordan) a clerical mistake has been made, that Peter is actually dead, and that he must make his way to the afterlife posthaste. But having fallen in love with June, Peter is reluctant to go, thus setting up a celestial trial in which Peter must plead his case before a sympathetic judge (Abraham Sofaer) and an American — and decidedly anti-British — prosecutor (Raymond Massey). The decision to shoot all of the Earth-bound scenes in Technicolor and all of the Heavenly interludes in black-and-white is just one of the many unexpected touches in this pleasing fantasy yarn featuring superb cinematography by Jack Cardiff and astounding sets (including that stairway to Heaven) by Alfred Junge.
Blu-ray extras include audio commentary (from 2009) by film scholar Ian Christie; a new interview with Powell's widow, three-time Oscar-winning film editor Thelma Schoonmaker (Raging Bull, The Aviator); a 2008 interview with filmmaker and noted Pressburger-Powell fan Martin Scorsese; a 1986 episode of The South Bank Show featuring Powell; and The Colour Merchant, a 1998 short about Cardiff.
Movie: ***1/2
Eugenio Derbez and Anna Faris in Overboard (Photo: Lionsgate)
OVERBOARD (2018). Hollywood is often in the habit of remaking good movies, so why not remake middling ones as well? That was clearly the thought behind Overboard, and from a financial standpoint, it was a good call: While the 1987 original barely broke even at the box office, this overhaul offered a profitable ROI. As for the quality, it's only marginally inferior to its predecessor, meaning it's tolerable but forgettable. In the '87 version, Goldie Hawn headlined as a rotten rich person who loses her memory, thus becoming the "wife" of the struggling handyman (Kurt Russell) she had wronged. The genders are switched for this remake, with Eugenio Derbez cast as a rich playboy (Leonardo Montenegro) and Anna Faris playing the working-class woman (Kate Sullivan) he treats shabbily. Once Leonardo develops amnesia after falling off his yacht, he's easy pickings for Kate, who convinces him that he's her husband and the father of her three daughters. As before, the humbling experience turns the target into a better human being, but what's missing from this new take is any sort of bite. In the '87 model, Hawn and Russell played characters who truly could be nasty on occasion, but in the '18 offering, Kate is a complete sweetheart while Leonardo is less of a patronizing beast and more of an overgrown kid. This renders the comedy toothless, although the stars certainly do their best to lift the material.
Blu-ray extras consist of audio commentary by writer-director Rob Greenberg, co-scripter Bob Fisher, and producer Benjamin Odell, and a trio of behind-the-scenes featurettes.
Movie: **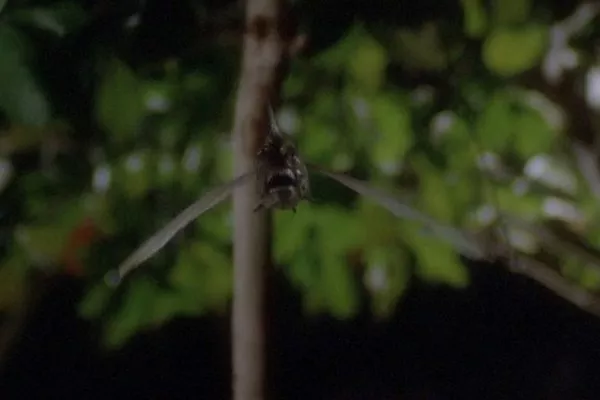 Piranha II: The Spawning (Photo: Shout! Factory)
PIRANHA II: THE SPAWNING (1982). An amusing line in Leonard Maltin's annual (and, thanks to the Internet, no longer produced) Movie Guide can be found in the blurb for this waterlogged sequel, where it's noted that "You'd have to be psychic to have spotted any talent from director [James] Cameron in this debut picture." One possible explanation is that the future Oscar-winning helmer of The Terminator, Aliens and Titanic was still learning the ropes – another equally likely scenario is the oft-reported tidbit that Cameron was severely limited by schlockmeister producer Ovidio G. Assonitis (Tentacles, reviewed here, and The Visitor, reviewed here), who lorded over his every move and subsequently fired the director, taking over editing duties himself. Regardless of who deserves the ultimate blame, Piranha II: The Spawning is a pretty sorry sequel to the Joe Dante-directed, John Sayles-scripted Piranha, the 1978 Roger Corman hit that arguably remains the best of the countless Jaws rip-offs. The plot of this follow-up sports connective tissue to its predecessor, as genetically altered piranha break loose and begin munching on the guests at a Caribbean resort. The fish in this flick can not only bite but can also fly — a twist that isn't terrifying as much as it's laughable. The effects are low-rent (look for a steal of the chestburster scene from Alien), and the proceedings are dominated by a soggy triangle between a professional diver (Tricia O'Neil), her estranged husband (recent Charlotte Mad Monster Party guest Lance Henriksen), and an obnoxious guest (Steve Marachuk).
Blu-ray extras consist of interviews with co-star Ricky Paull Goldin (who plays the teenage son of O'Neil and Henriksen) and special effects artist Brian Wade, and the theatrical trailer.
Movie: *1/2
Richard Egan and Jane Russell in The Revolt of Mamie Stover (Photo: Twilight Time)
THE REVOLT OF MAMIE STOVER (1956). This adaptation of William Bradford Huie's novel offers brunette Jane Russell with atypically red hair and brunette Agnes Moorehead with atypically blonde hair. And that's about it for novelty value when it comes to this fairly entertaining if also fairly ordinary melodrama from the tampered-down 1950s. Russell stars as Mamie Stover, who's run out of San Francisco for streetwalkin' reasons and lands in Honolulu, where she quickly find employment at a dance hall owned by the no-nonsense Bertha Parchman (Moorehead) and enforced by her thuggish right-hand man Harry Adkins (Michael Pate). Mamie quickly becomes the most popular draw at the establishment, but she bucks Bertha's rule that none of the working women can have boyfriends, as she has her eyes set on writer Jim Blair (Richard Egan). Jim, meanwhile, can't make up his mind on whether to pursue Mamie (quickly becoming known by her showbiz designation, "Flaming Mamie") or whether to remain faithful to his straight-laced girlfriend, Annalee Johnson (Joan Leslie). Russell delivers an animated performance as the title character, while Moorehead and Pate are solid in support; the only weak link is Egan, unbearably stiff as the man of two women's dreams. Incidentally, this marked the final silver screen appearance of Leslie, who would only appear sporadically in TV productions over the next 35 years until permanently retiring; although her role in this picture is threadbare, she had previously delivered memorable performances in the classics High Sierra, Sergeant York and Yankee Doodle Dandy.
Blu-ray extras consist of the theatrical trailer and an isolated track of Hugo Friedhofer's score.
Movie: **1/2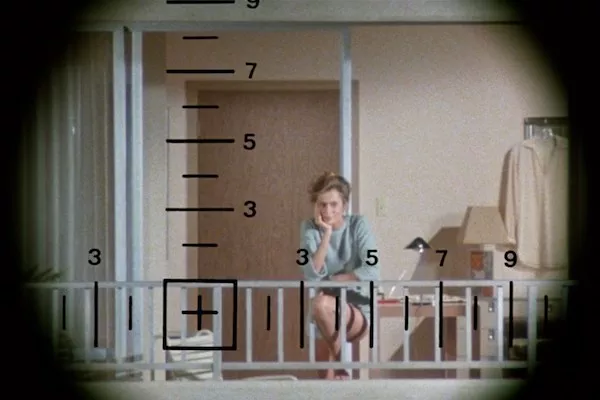 Lauren Hutton in Someone's Watching Me! (Photo: Shout! Factory)
SOMEONE'S WATCHING ME! (1978) / MEMOIRS OF AN INVISIBLE MAN (1992) / IN THE MOUTH OF MADNESS (1995). The Shout! Factory label has been quite receptive to John Carpenter, having released (by my count) nine of his movies on Blu-ray over the course of the past few years. Here are three more to add to the pile, with yet another (Starman) scheduled for release later this year.
It's hard to believe the best of this batch is the one that was made for television — then again, it was conceived during the period (mid-70s through mid-80s) when Carpenter was clicking on most cylinders. Someone's Watching Me! debuted on TV one month after Halloween hit theaters, although it was made first — like Michael Mann with The Jericho Mile (recently reviewed here), it ably demonstrated that here was someone too skilled to only be confined to boob-tube fodder. Lauren Hutton stars as Leigh Michaels, a TV news producer who moves into a fancy LA high rise, only to soon become the target of a psychopath who spies on women from the adjacent building. This inventive and exciting thriller co-stars Adrienne Barbeau (Carpenter's wife from 1979-1984) as Leigh's lesbian friend and Carpenter regular Charles Cyphers as an ineffectual cop.
Chevy Chase in Memoirs of an Invisible Man (Photo: Shout! Factory)
The noteworthy phase of Carpenter's career tragically ended with the 1980s, as the next decade (and beyond) was primarily spent putting out dismissible duds. First up was Memoirs of an Invisible Man, a $40 million production that managed to only gross $14 million. Carpenter is strictly a gun-for-hire on this picture, which boasts excellent visual effects but otherwise relates a mediocre story of a flippant businessman (Chevy Chase) who gets pursued by a diabolical government agent (Sam Neill) after he's accidentally turned invisible. The movie never hurdles over its tired plot, but Chase and Daryl Hannah are surprisingly effective as a romantic couple.
Sam Neill in In the Mouth of Madness (Photo: Shout! Factory)
Carpenter's next theatrical opus was In the Mouth of Madness, which, although far more reasonably budgeted ($8 million), barely made back its cost at the box office. Since then, it has developed a minor cult following, but while it's more ambitious than most Carpenter works from this period, it's not any more satisfying. Neill plays an insurance investigator who's hired by a book publisher (Charlton Heston) to locate bestselling horror writer Sutter Cane (Jurgen Prochnow), who has gone MIA even as his novels continue to drive many readers insane. Neill delivers a committed performance, but the script by Michael De Luca is stronger in conception than execution, and Carpenter too often passes up genuine atmospherics for cheap and ineffectual scares.
Blu-ray extras on Someone's Watching Me! include audio commentary by author Amanda Reyes (Are You in the House Alone?: A TV Movie Compendium 1964-1999); new interviews with Barbeau and Cyphers; and an interesting 2007 interview with Carpenter discussing the film. Blu-ray extras on Memoirs of an Invisible Man include deleted scenes; an informative vintage piece on the visual effects; and vintage interviews with Carpenter, Chase and Hannah. Blu-ray extras on In the Mouth of Madness include audio commentary by Carpenter and producer Sandy King Carpenter; separate audio commentary by Carpenter and cinematographer Gary B. Kibbe; a vintage making-of featurette; new interviews with co-star Julie Carman and special effects artist Greg Nicotero; and behind-the-scenes footage.
Someone's Watching Me!: ***
Memoirs of an Invisible Man: **
In the Mouth of Madness: **
Charlize Theron in Tully (Photo: Universal)
TULLY (2018). Diablo Cody clearly entrusts her best scripts to director Jason Reitman, as evidenced by the fact that he helmed the lovely Juno (for which Cody won an Oscar), the often overlooked Young Adult (for which stars Charlize Theron and Patton Oswalt were cheated out of Oscar nominations) and now Tully. Tully actually proves to be the least of three, and that's mainly because a terrific first hour gives way to a plot twist that places the final half-hour on shaky ground. Theron is excellent as Marlo Moreau, who's about to give birth to her third child. Her husband Drew (Ron Livingston) is supportive in his ofttimes limited way, and her second child Jonah (Asher Miles Fallica) has emotional issues that lead to uncomfortable adults dismissing him as "quirky." Marlo is already exhausted by life, and once her baby is born, she's poised to go under. Reluctantly, she agrees to call the night nanny gifted her by her wealthy brother (Mark Duplass); that turns out to be Tully (Mackenzie Davis), a youthful free spirit whose presence allows Marlo to not only catch up on her rest but also triggers a deeper understanding within herself. For the first hour, there's little about Tully that doesn't work, from its scintillating dialogue to its acute exploration of a woman who often feels crushed by the weight of motherhood (props, also, for the clever use of Cyndi Lauper's superb debut album, She's So Unusual, in one sequence). But the plot pirouette that opens the third act spins the story in another direction, one that offers some engaging food for thought yet also stops short of realizing its full potential. Some will see it as a brilliant narrative shift while others will feel it's a cheap dramatic device — neither party will be entirely right or wrong.
The only Blu-ray extra is a behind-the-scenes piece featuring cast and crew interviews.
Movie: ***