(See details about our Oscar contest at the bottom of this story.)
Forget heads or tails: In this year's Oscar race, choosing a winner seems like a choice between head and heart.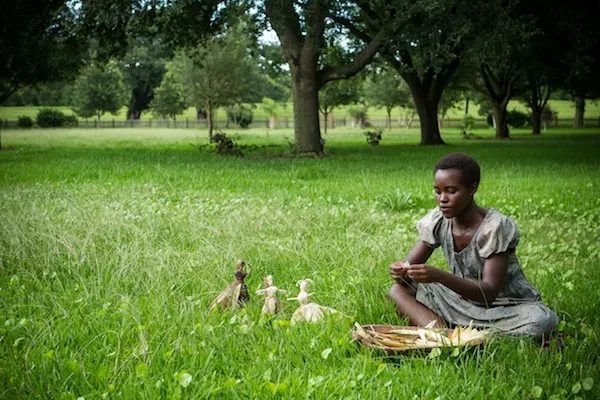 FIELD OF OSCAR DREAMS: 12 Years a Slave, starring Best Supporting Actress nominee Lupita Nyong'o, should do well on Sunday night. (Photo: Fox Searchlight)
Sunday, March 2, is when the 86th Annual Academy Awards ceremony takes place, and whereas the vast majority of prognosticators have in the past generally lined up behind one film in their Best Picture predictions (e.g. rare was the mortal who didn't pick The King's Speech or The Artist to win), this year marks more of a divided consensus. Three movies share front-runner status, although one of them, American Hustle, seems likely to win only if Academy members split the vote between the other two contenders. No, the race seems to be between 12 Years a Slave and Gravity, and I'm as divided as anyone in figuring out which one will emerge triumphant. My head says Gravity: It's a box office blockbuster (never a bad thing), it will almost certainly win the most Oscars (particularly in the technical categories) and it's the sort of "triumph of the human spirit" saga that plays well with voters. But my heart says 12 Years a Slave: It's powerful filmmaking, it's an important work from both historical and moral perspectives and it possesses the gravitas that Gravity lacks. Of course, it's also a downer, the sort of movie that conservative Oscar voters balk on watching when there are so many screeners piled up next to their home theater systems ("12 Years a Slave? Eh, I'll just watch Despicable Me 2 again!"). It also has a bit of that Brokeback Mountain feel to it, a progressive message movie that's guaranteed to rub older voters the wrong way (at least Brokeback antagonists Ernest Borgnine and Tony Curtis aren't around to blast it).
Here, then, are my predictions (and preferences) in the eight top categories. After going 7-for-8 in 2012, I went 3-for-8 last year, my worst score in the roughly three decades I've been doing this. Since this year we're attaching a contest to my picks, I'm going to have to step up my game and get back to my Oscar-winning ways.
BEST ADAPTED SCREENPLAY
Before Midnight, Richard Linklater, Julie Delpy, Ethan Hawke; Captain Phillips, Billy Ray; Philomena, Steve Coogan, Jeff Pope; 12 Years a Slave, John Ridley; The Wolf of Wall Street, Terence Winter.
The Writers Guild Award went to Captain Phillips, but that's almost certainly because — and no offense to scripter Billy Ray — John Ridley's screenplay for 12 Years a Slave wasn't eligible under the guild's stringent guidelines. After all, outside the WGA bubble, Ridley has nabbed 13 industry and critics' awards while Ray has nailed zero. Next to Ridley, the best track record belongs to the trio behind the beautifully written Before Midnight, but as this is the picture's only nomination, it stands little chance of winning.
Prediction: 12 Years a Slave.
Preference: Before Midnight.
BEST ORIGINAL SCREENPLAY
American Hustle, Eric Warren Singer, David O. Russell; Blue Jasmine, Woody Allen; Dallas Buyers Club, Craig Borten, Melisa Wallack; Her, Spike Jonze; Nebraska, Bob Nelson.
I might be going out on a limb with this one, considering Her has won both the Writers Guild Award and the Golden Globe, along with a decent amount of critical prizes. But I'm inclined to think American Hustle, which leads the Oscar field with 10 nominations (tied with Gravity), will be rewarded somewhere, and this seems like the likeliest category (more so since writer-director David O. Russell won't be winning Best Director). Of course, I said the exact same thing about Up in the Air a few years ago, and that ended up getting shut out. Still, I'm thinking that Russell's obvious popularity with the Academy — his last three pictures, The Fighter, Silver Linings Playbook and this, have netted a whopping 25 nominations between them — should give him the razor-thin edge.
Prediction: American Hustle.
Preference: American Hustle.
BEST DIRECTOR
Alfonso Cuarón, Gravity; Steve McQueen, 12 Years a Slave; Alexander Payne, Nebraska; David O. Russell, American Hustle; Martin Scorsese, The Wolf of Wall Street.
The Directors Guild Award may not have lined up with Oscar last year — Argo's Ben Affleck famously wasn't even nominated by the Academy — but its standing as a remarkably accurate barometer should resume this year. Alfonso Cuarón took the DGA (and the Golden Globe, while we're at it), and he's been nothing but congratulated for his technical savvy in putting together the space flick. But let's not completely rule out Steve McQueen, who looms as a formidable challenger since his film has a great chance of winning Best Picture; plus, he would become the first black person to win Best Director, something that should have happened with Spike Lee for 1989's Do the Right Thing. It's been almost a quarter-century since that injustice, but since McQueen deserves the honor, it's not too late to right a wrong!
Prediction: Alfonso Cuarón, Gravity.
Preference: Steve McQueen, 12 Years a Slave.
BEST SUPPORTING ACTRESS
Sally Hawkins, Blue Jasmine; Jennifer Lawrence, American Hustle; Lupita Nyong'o, 12 Years a Slave; Julia Roberts, August: Osage County; June Squibb, Nebraska.
Look, we all love Jennifer Lawrence, and it seems as if she can do no wrong. Academy members are clearly among the smitten, but let's hope they don't give her another Oscar just one year after she scored one for Silver Linings Playbook. She gives a superlative performance in American Hustle — heck, all five nominees are terrific — but nobody, nobody, comes close to the mesmerizing turn by Lupita Nyong'o in 12 Years a Slave. Hawkins, Roberts and Squibb don't have a chance — and, in a just world, neither would Lawrence.
Prediction: Lupita Nyong'o, 12 Years a Slave.
Preference: Lupita Nyong'o, 12 Years a Slave.
Oscar nominees Bradley Cooper, Amy Adams and Christian Bale in American Hustle. (Photo: Columbia Pictures)
BEST SUPPORTING ACTOR
Barkhad Abdi, Captain Phillips; Bradley Cooper, American Hustle; Michael Fassbender, 12 Years a Slave; Jonah Hill, The Wolf of Wall Street; Jared Leto, Dallas Buyers Club.
To be honest, I'm not all that enthused over this category, since my three faves of the year — Inside Llewyn Davis' John Goodman, Enough Said's James Gandolfini and Rush's Daniel Brühl — were all ignored. Of the actual nominees, I like Bradley Cooper, who displays an intensity in American Hustle that I've never seen from him before. But regardless of who I prefer, the winner almost certainly will be Jared Leto, whose charge through award season brings to mind General Sherman's march through Georgia. Many of his speeches have rubbed some people the wrong way (too flippant, too self-important, etc.); that might help Fassbender (arguably his closest rival) gain some ground, but probably not enough to provide an upset.
Prediction: Jared Leto, Dallas Buyers Club.
Preference: Bradley Cooper, American Hustle.
BEST ACTRESS
Amy Adams, American Hustle; Cate Blanchett, Blue Jasmine; Sandra Bullock, Gravity; Judi Dench, Philomena; Meryl Streep, August: Osage County.
The event's locks? Frozen for Best Animated Feature, Gravity for Best Visual Effects ... and Cate Blanchett for Best Actress. Blanchett has been winning awards left and right for her work in Blue Jasmine, and even the wafting odor from the Woody Allen scandal won't hurt her chances (nor should it). Recognized as one of the best actresses of her generation, she won a supporting Oscar for The Aviator but needs a lead one to reflect her royal status. Still, my Upset Special for this year is Amy Adams. This is her fifth nomination in nine years; she has yet to win; and she did score a Golden Globe for Best Actress — Comedy (the Best Actress — Drama winner was, of course, Blanchett). Besides, she's excellent in American Hustle, just a sliver above Blanchett (and a sliver below Blue Is the Warmest Color's non-nominated Adèle Exarchopoulos) on my own ballot.
Prediction: Cate Blanchett, Blue Jasmine.
Preference: Amy Adams, American Hustle.
BEST ACTOR
Christian Bale, American Hustle; Bruce Dern, Nebraska; Leonardo DiCaprio, The Wolf of Wall Street; Chiwetel Ejiofor, 12 Years a Slave; Matthew McConaughey, Dallas Buyers Club.
Like Best Supporting Actress, this category contains five superb performances, four of which can be considered contenders. Only Christian Bale, a recent Best Supporting Actor winner for The Fighter, can be ruled out. Bruce Dern, last nominated for 1978's Coming Home, gets the "veteran actor" edge, while Leonardo DiCaprio, with his fourth nomination, gets the "overdue" edge. DiCaprio might surprise, but the race is mainly between two actors who are in competition simply because their turns are so riveting. Matthew McConaughey seems to have most of the heat at the moment, but Chiwetel Ejiofor is right behind.
Prediction: Matthew McConaughey, Dallas Buyers Club.
Preference: Matthew McConaughey, Dallas Buyers Club.
BEST PICTURE
American Hustle (Columbia); Captain Phillips (Columbia); Dallas Buyers Club (Focus Features); Gravity (Warner Bros.); Her (Warner Bros.); Nebraska (Paramount); Philomena (The Weinstein Company); 12 Years a Slave (Fox Searchlight); The Wolf of Wall Street (Paramount).
The Academy's silly new system (implemented for the 2011 race) allows for up to 10 nominees but so far has produced nine nominees in all three years. This cut-off disappoints those of us who hoped that Inside Llewyn Davis, the real best picture of the year, would be included, although, truth be told, that last slot probably would have gone to the feel-good Saving Mr. Banks over the more weighty Coen brothers flick. At any rate, several of the nominated films stand as little chance of winning as any non-nominated effort; this group consists of Captain Phillips (too conventional), Her (too quirky) and Nebraska (too small). Philomena has the Harvey Weinstein machine behind it, though that probably won't make much of a dent this year. Dallas Buyers Club is the surprise contender of the season: While no one doubted that its two male stars would make their presence known, the fact that it landed six total nominations (including an out-of-left-field one for Best Film Editing) means that it's popular with Oscar voters. Equally accepted is The Wolf of Wall Street, which managed to cut through all the controversy regarding its heated subject matter to swipe five nods, all in major categories. Still, even these two titles are also-rans when stacked up against the three movies all sharing frontrunner status. American Hustle is a huge hit with critics, audiences and Academy members, although one can't completely ignore the vocal minority shouting that the emperor (presumably David O. Russell) has no clothes. Gravity is an even bigger across-the-board smash, and my gut tells me that I might be blowing it for not picking it to win Best Picture. But for all its hosannas, I think voters may balk at handing its top prize to a movie that only gave significant parts to two actors (the largest Academy voting bloc). Hesitantly, I'm predicting that the organization will honor 12 Years a Slave, considering it's both an important movie and an emotional watch. American Hustle and 12 Years a Slave were number two and number three on my 10 Best list, so a victory by either would send me over the moon.
Prediction: 12 Years a Slave.
Preference: American Hustle.
Outguess Our Oscar Oracle! Beat Brunson's picks, win a cool prize. Details here.