Greensboro-based musician Dan Briggs should be tired. He's just returning home from an extensive European tour with Between the Buried and Me, the progressive rock band he's played in since his early 20s. But Briggs, now 31, is currently preparing to hit the road with one of his side projects, Orbs. The band, which formed in 2007, consists of Briggs on guitar, as well as singer Adam Fisher of Fear Before the March of Flames and keyboardist Ashley Ellyllon (formerly of Cradle of Filth and Abigail Williams), bassist Chuck Johnson and drummer Matt Lynch.
The group will be in Charlotte for a performance at Lunchbox Records on July 30, while touring in support of its sophomore record, Past Life Regression, released on July 15. The album is a follow-up to the band's 2010 debut, Asleep Next To Science. For the making of both albums, the band heavily conversed back and forth by email and traveled for songwriting sessions.
Briggs notes that a lot has changed in the five years since the band last toured together. This time around, Ellyllon, who wrote the music for both albums along with Briggs, won't be on the touring lineup. She currently resides in Los Angeles, California, and motherhood calls. She is staying home to take care of her one-year-old child.
On top of Briggs and Johnson living in Greensboro and Ellyllon being based in L.A., Fisher resides in Long Beach, Calif., and Lynch lives in Georgia.
Coming together involves a journey — or multiple journeys — oftentimes by plane. A musician from England is flying over to replace Ellyllon on the upcoming tour.
For Briggs, who is used to playing bass/keyboards in Between the Buried and Me, this tour gives him the chance to switch out the gear he'll be playing. Instead of bass and keys, he'll be on guitar.
"It's a little nerve-wracking. It's nerve-wracking anytime you do something different," says Briggs. "The Between the Buried and Me stuff I've played hundreds and hundreds of times. You just step out on stage and there's no nerves, you just do your thing. But the nerves are good. It's going to be fun to have that adrenaline boost."
Briggs, who has played at the former location of Lunchbox Records, is excited to play with Orbs at the new location. Still small and intimate, it offers a change from playing large-scale venues like The Fillmore, which he frequents with Between the Buried and Me.
"I'm really excited for Scott [Wishart, owner of Lunchbox] and them because in 2016 it's really inspiring and cool to see a record store moving to a bigger location and not downsizing. He's killing it and they're doing it right," he says.
The band's music, a mix of progressive rock, emo and experimental soundscapes, makes a live show at a spot like Lunchbox quite interesting. Briggs, who is a self-proclaimed music geek, loves experimenting with song formats and arrangements. That's what forged his musical relationship with Ellyllon, who shares a similar musical passion.
"Orbs, to us, is just this rock band. But I think because Ashley has a classical background and I'm really rooted in like progressive rock from the '70s and fusion and stuff, our backgrounds just kind of lend to longer songs at times. We put different spins on things and we love doing variations on parts, so you hear the second verse of a song but it's totally turned inside out — same chord structure and everything, but the bottom maybe falls out or it has kind of a bigger feel to it," says Briggs. "It's really a mix of that classical and progressive rock longform writing but kind of in a rock setting."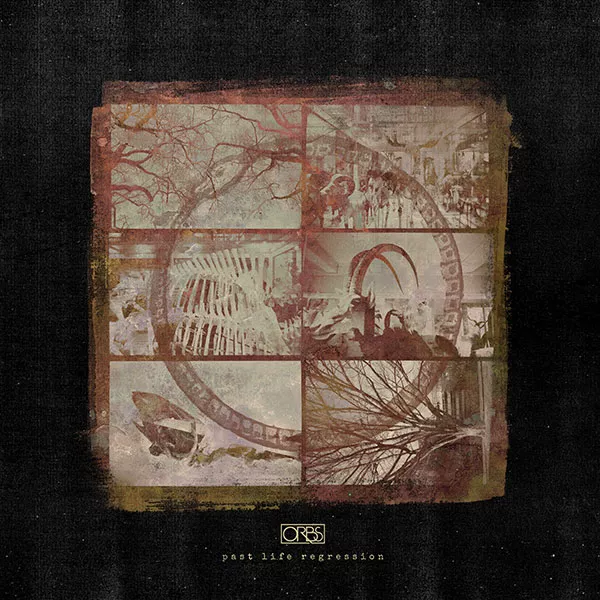 Orbs' Past Life Regression.
Themes on Past Life Regression revolve around reincarnation, death, guilt and grief. "Giving Tree Hanging Me" is a song about a criminal who is hung from a tree. While dangling, he feels the burden and shame that he's brought onto the tree and later he becomes one with the tree, his limbs fusing with the branches. Another song, "Death is Imminent," is about Fisher's dog that passed away after 12 years.
"It's about having to bury your furry friends but then having them grow into this tree, that at the end of the song, kids are playing around and there's a swing attached to the tree. The life continues and continues to bring joy and happiness," says Briggs. "It's a sad song with an uplifting twist."
The band name, which seems to play on band members' various backgrounds and the different influences and skill sets that they bring to the table — coming from other bands that fall into genres like progressive rock and black metal, and classical training — is also influenced by Briggs' and Ellyllon's strange system of songwriting.
"Ashley and I talked a lot in visuals when we first wrote the first album. She would chart out the songs in a really funny way and it was a great way, but she would chart it out in terms of colors and stuff. That helped her see sections that she could bring to life in a different sense with different keyboard patches or whatever," says Briggs.
"It was different word association that we used and that was really fun, especially for both of us because we come from a very schooled background."