ONLY LOVERS LEFT ALIVE
***1/2
DIRECTED BY Jim Jarmusch
STARS Tilda Swinton, Tom Hiddleston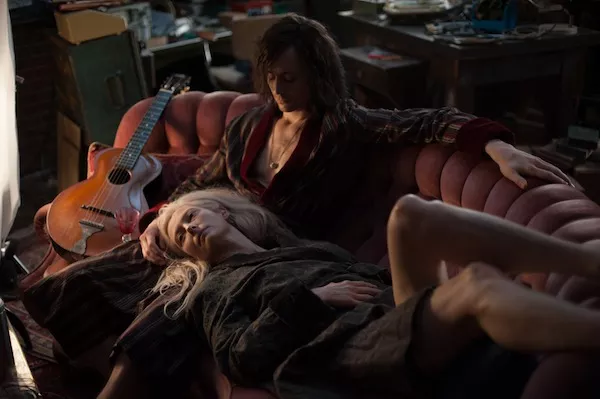 Tom Hiddleston and Tilda Swinton in Only Lovers Left Alive. (Photo: Sony Pictures Classics)
Trust Jim Jarmusch to craft a vampire flick that's less about frightful fangs puncturing exposed necks and more about the existential crisis that's rocking the modern world. With Only Lovers Left Alive, the innovative writer-director has fashioned a bloodsucker saga that's every bit as unique as the acclaimed Swedish import Let the Right One In.
A fixture on the indie scene for 30 years — his first film, Permanent Vacation, was released in 1980, but it was 1984's Stranger Than Paradise that put him on the map (see this issue's cover story) — Jarmusch makes films that are often difficult to accurately describe and even tougher to pigeonhole. Here, the auteur of such gems as Mystery Train and Night on Earth foregoes the usual vampire-friendly settings of Transylvania, London and even New York to set his story in, of all places, Detroit. That's where Adam (Tom Hiddleston) can be found; a centuries-old vampire with a fondness for music, he rarely ventures outside his apartment, trusting his only human friend, the unsuspecting Ian (a terrific turn by Anton Yelchin, Star Trek's latest Chekov), to bring him anything he might need (usually, vintage guitars for his collection). Adam has a lover named, naturally, Eve (Tilda Swinton), but she lives far away in Tangier, where she sometimes pals around with a fellow vampire named Christopher Marlowe (John Hurt). Yes, the Christopher Marlowe, and I won't go into details surrounding his identity except to say that there's a reason William Shakespeare is dismissed by the characters as an "illiterate zombie philistine." ("Zombie" is the name the vampires call all humans.)
Eve eventually travels to Detroit to be reunited with her Adam. It's a blissful existence for a while, with the lovers lounging around and enjoying the vials of "good blood" they're able to acquire (sucking directly from a person's neck is so old-school — or old-century, as it were). But trouble comes knocking in the form of Eve's little sister Ava (Mia Wasikowska), a party vampire who's selfish, obnoxious and prone to always getting in trouble (think either Paris Hilton or Lindsay Lohan with fangs).
Ava at one point calls Adam and Eve snobs, and she's not far off the mark. The pair do exist on a higher intellectual plane than most of those around them — humans or vampires — but they're the keepers of all that is artistic and inspiring in this world, and they repeatedly express their disgust at the way the "zombies" have managed to ruin the planet. Jarmusch has spent his career steering clear of helming Hollywood blockbusters, so it's easy to see him sympathizing with this doleful duo. Yet for all its esoteric claims, Only Lovers Left Alive isn't pretentious or inaccessible. There's genuine warmth emanating through a picture that initially appears chilly to the touch, thanks in no small measure to the performances by Swinton and Hiddleston. In fact, the movie's closest screen antecedent is one of those Hollywood blockbusters: Neil Jordan's 1994 hit Interview with the Vampire, with its similar roster of privileged bloodsuckers (as well as one character's eventual ties to the music industry).
With its languorous pace and decidedly low-key pleasures, Only Lovers Left Alive isn't a movie for all tastes, but those seeking something seductive and unexpected will want to sink their teeth into it and draw deeply.