(View From The Couch is a weekly column that reviews what's new on Blu-ray and DVD.)
Keira Knightley in Anna Karenina (Photo: Focus Features)
ANNA KARENINA (2012). Leo Tolstoy's literary classic hardly needs dressing up for the cinema, yet director Joe Wright and screenwriter Tom Stoppard have elected to have some fun with the source material, primarily by using a theater stage as the main backdrop to much of the action. Its device as a comment on the manner in which members of high society all have roles they're expected to play isn't exactly subtle, but it does allow for some ingenuity: When a character decides to head to the countryside, a door is flung open and cinematographer Seamus McGarvey immediately presents us with an enrapturing, expansive outdoors. Keira Knightley delivers an impassioned performance as Anna, the 19th-century Russian belle who's married to the stuffy government official Karenin (Jude Law) but enters into a torrid affair with the dashing Count Vronsky (Aaron Taylor-Johnson). The idea of an upper class as its own self-contained theatrical world hardly needs embellishment when being presented on the screen — Martin Scorsese's masterful The Age of Innocence is but one example of playing it straight — yet Anna Karenina's fanciful notions often engage the senses, whether it's the use of miniature models (including trains) or the innovative choreography of the ballroom sequences. Unfortunately, Wright doesn't know when to let go, and this frivolity becomes detrimental during the final act, when the tale's tragic developments should be allowed to flourish without any surface distractions. It's a credit to Knightley, Law and the supporting roster that their potency allows us to, if not accept, at least resign ourselves to the grotesque miscasting in the pivotal role of Vronsky. Taylor-Johnson turns the supposedly irresistible and robust Count into a jejune milquetoast who's about as exciting to behold as an industrial film on cattle-prod manufacturing. A supercilious dandy, he's seemingly more enamored with his own silly mustache than with Anna. This earned an Oscar for Best Costume Design.
Blu-ray extras include audio commentary by Wright; a behind-the-scenes featurette; deleted scenes; a look at the Oscar-winning costumes; and a piece on Knightley as Anna.
Movie: ***
Fred Astaire in Easter Parade (Photo: Warner Bros.)
EASTER PARADE (1948) / A STAR IS BORN (1976). One stars Judy Garland; the other is a remake of a film that starred Judy Garland. And the difference between them is as pronounced as, to borrow a song title from composer Cole Porter, night and day.
Gene Kelly was supposed to headline Easter Parade with Garland, but a sporting accident placed him out of commission, thereby leading him to implore his friend Fred Astaire to take the role. It was a fortuitous mishap in that it allowed two of our greatest stars their only opportunity to make movie magic together. Astaire plays Don Hewes, a (what else?) dancer who's incensed when his partner Nadine (Ann Miller) leaves their act for a more lucrative contract. In true Pygmalion fashion, he's convinced that he can pluck anybody out of a chorus line and make her a star replacement for Nadine; he nabs Hannah Brown (Garland), who's slow to start but eventually blossoms into a top talent. Easter Parade earned Johnny Green and Roger Edens an Oscar for Best Scoring of a Musical Picture, and small wonder: It's packed with well over a dozen Irving Berlin tunes, performed with gusto by the stars. The most famous act finds Garland and Astaire dressed as bums for the stage number "A Couple of Swells," but there's also Miller knocking "Shakin' the Blues Away" out of the park, the clever design of "The Girl on the Magazine Cover," Astaire taking over a toy store for "Drum Crazy," Garland and Astaire tackling the title tune, and — my favorite — Astaire showing off his incomparable tap-dancing prowess in the fabulously choreographed "Steppin' Out with My Baby."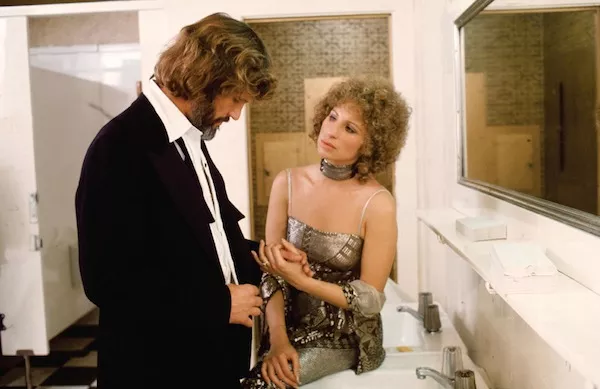 Kris Kristofferson and Barbra Streisand in A Star Is Born (Photo: Warner Bros)
Easter Parade and 1976's A Star Is Born were both the number two box office hits during their respective years (Easter under the Hope-Crosby outing Road to Rio, Star under Rocky), and both managed to win one Academy Award. Only one of them, however, is worthy of a Blu-ray purchase. A Star Is Born first hit the screen under that moniker in 1937 (an earlier 1932 version was called What Price Hollywood?), with Fredric March and Janet Gaynor as a couple whose acting careers are heading in opposite directions. A hit in its day (it was a Best Picture Oscar nominee), it has long been eclipsed by the classic 1954 version, starring James Mason as the alcoholic actor and Garland in her career-best performance as the rising star. In this 1970s take, it's star and executive producer Barbra Streisand who holds all the reins: She stars as Esther Hoffman, an unknown singer whose fortunes change after rock star John Norman Howard (Kris Kristofferson) becomes smitten with her. A hard-drinking man, he comes to love Esther but can't control his own demons and gets pushed to the background as she ascends to the top of the music world. Streisand fans won't want to miss this for anything, but it's a dreary and bloated production that can't sustain its 140-minute running time (the 1954 version is even longer at 176 minutes, but it feels like a live-action short when compared to this one). Streisand isn't very convincing as the modest superstar and even less so during the early scenes as the naive nobody; faring better is Kristofferson in a role that was originally earmarked for Elvis Presley. Incidentally, that's an unbilled Robert Englund, Freddy Krueger himself, as the obnoxious bar patron who picks a fight with John. Nominated for four Academy Awards, this earned the Best Original Song statue for Streisand and Paul Williams for their smash single "Evergreen."
Blu-ray extras on Easter Parade, all brought over from the 2005 DVD version, include audio commentary by Ava Astaire McKenzie (Fred's daughter) and John Fricke (author and authority on all things Judy Garland); a making-of featurette; and the deleted musical number "Mr. Monotony." What's not on the Blu-ray — even though it's listed on the back cover — is the American Masters episode Judy Garland: By Myself; apparently, someone failed to transfer that over from the DVD edition. The Blu-ray Digibook for A Star Is Born includes audio commentary by Streisand; deleted scenes; Streisand's wardrobe tests; and trailers for all three film versions.
Easter Parade: ***1/2
A Star Is Born: **
Philip Seymour Hoffman in The Master (Photo: Anchor Bay & The Weinstein Co.)
THE MASTER (2012). There's a great scene in Milos Forman's 1984 Oscar winner Amadeus when Mozart (Tom Hulce) tries to convince Emperor Joseph II (Jeffrey Jones) to allow him to stage a particular opera. Replies the Emperor, "You are passionate ... but you do not persuade." That snatch of dialogue might as well be the slogan for Paul Thomas Anderson's The Master, the latest from the writer-director of There Will Be Blood and the instant masterpiece Boogie Nights. The Master features passionate performances from Joaquin Phoenix, Philip Seymour Hoffman and Amy Adams, all of whom received Academy Award nominations. It's obviously a work of passion for its creator, who stages it with his typical flair and inventiveness. And yet it never quite persuades us to believe in its convictions, its viewpoints, even its sense of purpose. Phoenix essays the role of Freddie Quell, a World War II vet who returns to the world in a shell-shocked condition. An often temperamental man, he soon becomes a disciple of sorts to Lancaster Dodd (Hoffman), the founder of a religion known as The Cause. No one, not even Dodd's wife Peggy (Adams), can understand why such a cultured gentleman like Lancaster would hang around an uncouth thug like Freddie. But it's a relationship that works in spurts — and that pretty much describes the film itself. Although Lancaster Dodd and The Cause are clearly based on L. Ron Hubbard and Scientology, the film approaches the religion from such a safe, soft plateau that it's hard to get a proper slant on its inner workings and outer appeal. This problem would perhaps have been alleviated by making Lancaster Dodd, the picture's most interesting character, the protagonist, but this is clearly Freddie's story, thereby keeping audiences at an unfortunate distance. The Master contains some genuinely powerful scenes and potent performances, but for the most part, even true believers of Paul Thomas Anderson might lose some of their faith after kneeling before this heavily hyped, but curiously aloof, endeavor.
Blu-ray extras include a behind-the-scenes vignette; deleted scenes; and Let There Be Light, John Huston's 1946 documentary about World War II veterans suffering (like Freddie) from postwar trauma.
Movie: **1/2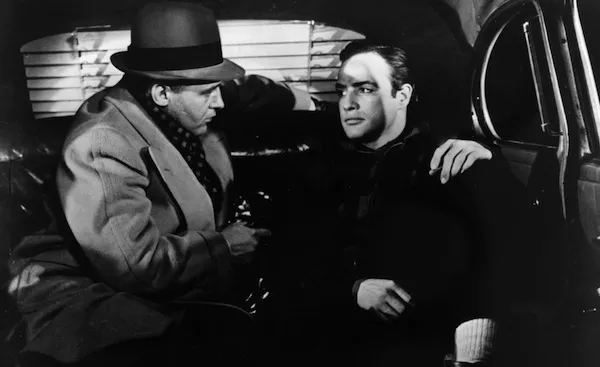 Rod Steiger and Marlon Brando in On the Waterfront (Photo: Criterion Collection)
ON THE WATERFRONT (1954). As far as the titanic teaming of director Elia Kazan and leading man Marlon Brando goes, I will forever remain partial to 1951's A Streetcar Named Desire. Yet I'll readily acknowledge that most film fans consider On the Waterfront the masterpiece in the Kazan canon and — with the exception of The Godfather — the Brando filmography as well. The actor brings his moody Method emoting to the role of Terry Malloy, a Hoboken, NJ, longshoreman whose brother Charley (Rod Steiger) serves as the right-hand man of Johnny Friendly (Lee J. Cobb), the ruthless gangster who has taken control of the local unions. Friendly orders the death of a worker who's about to testify against him; despite the insistence of the crusading Father Barry (Karl Malden) for someone to take a stand against corruption, Terry remains silent — at least until he becomes heavily involved with Edie Doyle (Eva Marie Saint), the sister of the murdered man and the first person who's ever been decent to Terry in his life. It's rather disingenuous how Kazan and scripter Budd Schulberg, two of the most prominent rats who named names before the House Un-American Activities Committee during the Hollywood blacklist, elected to follow that shameful behavior by making a movie in which the stool pigeon is the rightful hero, but as usual when attempting to enjoy art, it's important to separate the off-screen facts from the on-screen fiction. On the Waterfront is a powerful watch, thanks largely to an incredible cast, Leonard Bernstein's strong score, and a handful of iconic scenes, none better than the moving "I coulda been a contender" sequence. Nominated for 12 Academy Awards (including a nod for Bernstein and Best Supporting Actor bids for Cobb, Malden and Steiger), this won eight, including Best Picture, Director, Actor, Supporting Actress and Screenplay.
DVD extras include audio commentary by authors Richard Schickel and Jeff Young; a new conversation between director (and Waterfront enthusiast) Martin Scorsese and critic Kent Jones; a documentary on Kazan; a making-of featurette; a new interview with Saint; a 2001 interview with Kazan; and a piece on shooting the "contender" scene.
Movie: ***1/2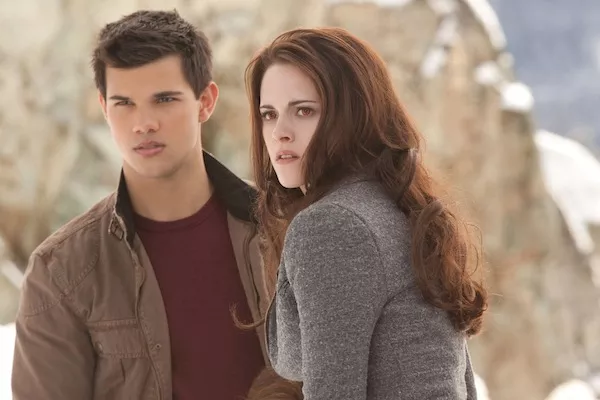 Taylor Lautner and Kristen Stewart in The Twilight Saga: Breaking Dawn - Part 2 (Photo: Summit)
THE TWILIGHT SAGA: BREAKING DAWN - PART 2 (2012). The Twilight films can hardly be considered cinematic masterpieces, but neither do they deserve the unfiltered fear and loathing emanating from the scores of male moviegoers who feel threatened by the very existence of any franchise primarily aimed at women (Sex and the City is another). While often sophomoric and artless, each film (especially the first one) has been able to tap into honest moments of insight pertaining to teen angst, unbridled passion and fevered desires, and all have cannily used two actors of limited range — Robert Pattinson and Taylor Lautner — in a manner that will probably never be replicated by any other movie that taps their services. Still, there's no getting around the fact that the last movie in the blockbuster franchise fares the worst in practically every regard. Like Breaking Dawn — Part 1, it begins slowly before building speed, yet the narrative ascension ends up derailing before the conclusion. The early going finds the now-vampiric Bella (Kristen Stewart) and Edward (Pattinson) raising their gifted child Renesmee (initially rendered by creepy CGI before actress Mackenzie Foy takes over the role), with Bella incensed that her trusted friend Jacob (Lautner) imprinted on the little girl while in wolf form (not recalling what "imprinted" meant in this context, I confused it with "marked his territory" and wondered why I couldn't recall such a disgusting scene from Part 1). Eventually, the Days of Our Lives interludes abruptly end when the Volturi, that evil coven of vampires, decides to destroy Renesmee. This leads to the best part of the movie, with the story deviating from its source material to such extremes that faithful readers at the theatrical screenings last fall shrieked with the same fervor as a 5-year-old watching her older brother tearing the head off her favorite doll. This unexpected departure is an audacious maneuver but, without giving too much away, it also turns out to be something of a cheat. And just like that, a series that was at its best when it got its own blood boiling disappointingly ends with ice in its veins.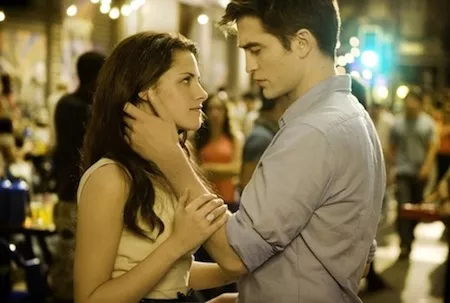 Kristen Stewart and Robert Pattinson in Part 1 (Photo: Summit)
In addition to the heavily promoted release of Breaking Dawn - Part 2 this upcoming Saturday, Summit Entertainment will also be unveiling a new Extended Edition of 2011's The Twilight Saga: Breaking Dawn - Part 1. But don't expect an extra hour of footage a la The Lord of the Rings; this expanded version only contains an additional eight minutes of new and extended scenes, with optional audio commentary by director Bill Condon.
Blu-ray extras on Breaking Dawn - Part 2 include audio commentary by Condon; a seven-part making-of documentary that's viewable in both regular format or as picture-in-picture; a JUMP TO feature specially designed for members of either Team Edward or Team Jacob, allowing viewers to immediately bolt to their scenes only; and the music video for Green Day's "The Forgotten."
Movie: **
Wreck-It Ralph (Photo: Disney)
WRECK-IT RALPH (2012). There's no better way to milk '80s nostalgia than to drag a long-forgotten performer from the era back in front of the movie camera for a cameo that will leave the Generation Xers cooing with delight. Ted saw fit to call upon Flash Gordon star Sam Jones, the animated Cloudy with a Chance of Meatballs allowed Rocky III's Mr. T to lend his vocals to the cause, and The Outsiders' C. Thomas Howell was briefly rescued from the vacuum of straight-to-DVD features for a small role in The Amazing Spider-Man. Wreck-It Ralph, though, tops them all: Who could possibly have expected to ever see Q*bert again? Despite gaming-industry attempts to resuscitate the arcade game starring the long-snouted whatzit, Q*bert remains firmly entrenched in the mythos of the 1980s, which means it nicely fits into the retro world of Wreck-It Ralph. The title character (voiced by John C. Reilly) has spent the past three decades as the bad guy in Fix-It Felix, Jr., a video game in which the hammer-fisted Ralph smashes an apartment building, only to watch as the perpetually chipper Felix (Jack McBrayer) repairs all the damage and curbs Ralph's destructive rage. An outcast among the other game characters, Ralph longs to be the good guy for once, but to do so, he must leave his game and prove his valor elsewhere. He ultimately lands inside Sugar Rush, a racing game set in a garish candyland. There, he meets Vanellope von Schweetz (Sarah Silverman), a little girl whose status as a "glitch" makes her as much of an outsider as Ralph. Wreck-It Ralph is consistently inventive, displaying a sturdy story structure that makes it more than just a simplistic romp for the Gen-X crowd. The rules of this gaming universe are clearly defined, and enough character exposition is provided to allow for some modest surprises toward the end.
Blu-ray extras include the Oscar-winning Paperman, the animated short that preceded Wreck-It Ralph during its theatrical run; a making-of featurette; deleted and alternate scenes; and video game commercials for Fix It Felix, Jr., Sugar Rush and Hero's Duty.
Movie: ***