Is 11 a.m. too early to talk about porn? That's my first question for comedian Dave Attell when we chatted recently. Even before hosting the Showtime television series Dave's Old Porn, Attell was comfortable with poking fun at the movie genre in his stand-up act. He's so relaxed discussing adult cinema's storylines and stars (and their grooming trends) that a scheduled 15-minute interview goes on for 40.
"It's never too early to talk about porn," Attell assures me.
Attell isn't a lecherous 48-year-old with only sex on the brain. He's an edgy, politically incorrect comedian who seeks out the fine line between hilarity and making people uncomfortable. His stand-up act — he'll perform at the Comedy Zone on April 26 and 27, with two shows each night — tackles sex as often as it does drinking, dating or other human behaviors. He just happens to be a porn connoisseur.
So, why not laugh about it? On Dave's Old Porn, Attell sat on a couch with a porn actor and comedian to make jokes, a la Mystery Science Theater, about classic skin flicks from the 1970s and '80s. For example, while watching a clip of two women playing with a large cucumber, Attell asks his guest, Chelsea Handler, "What happened to the salad? I thought they were making a salad." Or while watching a clip of The Devil in Miss Jones (1973), he wonders why actor Harry Reems didn't choose to go into gynecology instead of pornography.
While the show may not have been renewed for a third season, that hasn't stopped Attell from incorporating more porn jokes into his act, pondering future porn-related endeavors and keeping the concept of Dave's Old Porn alive on his website, www.davesoldporn.com.
Proving 11 a.m. wasn't too early, here are some of Attell's views:
ON PORN FROM THE 1970s AND 1980s
"The retro stuff is very story-driven. Back in the day, it was more of a party; now, it's a business. Back then, the stars didn't make much money, but they didn't care and not that many people were doing it.
"The old stuff is way cornier and funnier. They are so dramatic. There are fights. There's so much stuff you see in real movies, but then you realize it's porn. The early '70s to the mid- to late-'80s is considered the golden age of porn, but that's debatable."
ON MODERN-DAY PORN
"Today's porn — the girls are beautiful and the guys are all ripped, but I would say that there isn't the same kind of sexiness to it. It looks more like MMA or a sport than a movie. The girls and guys are all in shape. It's not as cinematic.
"The cool thing about porn stars today is that there's a lot more waxing and shaving going on. These kids — it's a job. They're smart and funny and show up on time. They have their own websites and they're tweeting and it's really the porn industry. Now, it seems like thousands of people are doing it, but I'm for it."
ON WHAT MAKES A PORN GREAT
"Eighty percent of it is the girl. There has to be a girl that you can somehow fantasize about. But really, all porn is good. The more you watch, the more you need — it's a lot like pizza."
ON WHAT MAKES A MOVIE BECOME A "CLASSIC"
Debbie Does Dallas is one of the most familiar adult films of all time, if only because of its title and "tribute" to the Dallas Cowboys cheerleader uniforms. Released in 1978, the movie follows a group of girls trying to raise enough money to send Debbie, played by Bambi Woods, to try out for the famous "Texas Cowgirls" cheerleading squad.
"Debbie Does Dallas is a classic movie because there's so much story in it and so much bad acting," Attell says. "Bambi Woods is this amazing blonde chick. She's every guy's fantasy. While she's saying lines in that movie, in today's movie the scene would already be over.
"I think what makes movies classic is that the girls are iconic," he adds. "In their heyday, compared to chicks of today, they were beautiful. None of the plastic surgery or waxing."
ON CONTINUING 'DAVE'S OLD PORN' ONLINE
"I'd like to put out a DVD of at least the first season," Attell says. "I'm also going to do quick reviews of some of the classic movies. I'd like to do more, but right now the network has the rights to that.
"The reason it wasn't picked up wasn't because of ratings — they just had enough to fill their late-night block of programming. In the world we live in now, the 'net is just as good as TV. And there are so many shows — Mad Men, Game of Thrones. I'm not in that category — this is just filth. It works well online because it's quick-paced and it's all jokes.
"I will also say it's not as funny when you see everything, as opposed to having my face or a couch block things like we did on the show. It's jarring and a little weird to see every bit of a porn while people are talking."
The website, davesoldporn.com, currently has clips from the television broadcasts as well as bonus footage that wasn't used.
ON DAVE'S FIRST PORN
"[My interest in porn] all started from being a horny dude," Attell says. "I know it was magazines first — either during a Boy Scouts camping trip or in a barber shop. My first movie — I think one of my friends had parents that were swingers and we looked at their porns."
Because everyone has a story of the first time they saw pornographic material, Attell has started a new feature on the website highlighting these, using outtakes from the television show. The first clip features comedian Whitney Cummings sharing details of finding photos of a relative performing oral sex on a boyfriend.
"It's hilarious to hear Whitney Cummings say that it was finding pictures of her aunt," Attell says.
In the clip, Cummings gestures wildly as she explains: "I found Polaroids under her bed of her blowing a dude. I was like, 'Is she throwing up a hose?' I had no idea what was happening."
ON BEING A PORN CONNOISSEUR
"It's great. The people who like this stuff are the best people, the best audience and the coolest people to talk to."
ON MEETING PORN STARS IN PERSON
"Meeting all these stars on the show has made it very hard to rub it out to them. It's great to meet Christy Canyon, Ginger Lynn, Ron Jeremy ... but in a way it warps [your view of them]. It's amazing that some of them are still in the business."
ON HAVING A PORN-RELATED CAREER IN THE FUTURE
"I would love it. Porn voice-overs and animal documentary voice-overs are pretty much the same thing."
ON PORN INFILTRATING HIS STAND-UP ACT
Between what was shown on-air and what was left on the cutting room floor, Attell had plenty of commentary about the porn movies he watched for the show.
"A lot of the jokes [from Dave's Old Porn] are in my act now and it's reaching the point where it's total filth," he says. "They're all my jokes that I thought up on the spot. We live in very politically correct times, but some people can only take a little bit of [being politically correct].
"All this politically correct stuff affects comedy and I think comedy is the last place we'll get to say a lot of things. A joke is a joke. I don't think anything I say is important. People are used to being hateful on the anonymous Web. If people come to my show and find it too offensive, they don't know me or my act."
---
The quotable Dave Attell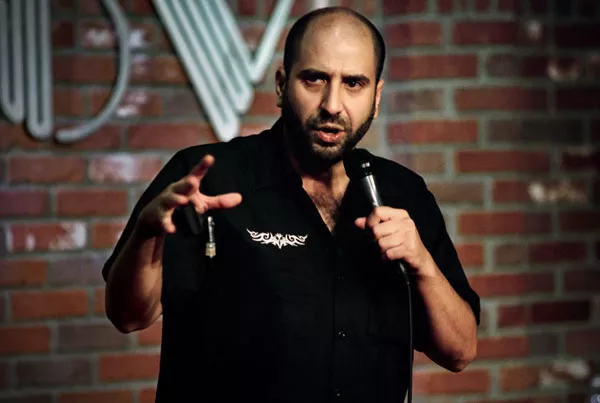 A few of the stand-up comedian's jokes about pornography
"Have you seen that magazine Barely Legal? That means when you look at it, you're 'almost' a pedophile."
"What do you do when you get caught masturbating? Well, here's a little tip. First, look surprised. And don't worry, you will be surprised. And then say this: 'Quick, get help! My hand and my penis are fighting!'"
"I masturbate! I do it like I think if I keep doing it, I'm gonna win something."
"I have a black belt in masturbation. I am the Jean Claude Van-Hand of masturbation. It's not my fault. Women have all the power, because they have all the vaginas."
"I'm very romantic when I masturbate. I light a candle, that's right. Then I try and shoot it out! Never invite me to a birthday."
"A guy gave me a blow-up woman, and ya know, at first I was kind of insulted, until he left. But then, I was excited. I only blow her up halfway and pretend I'm fucking a model."
"Is it really the size of a man's penis that matters? Some girls like a big one. Other girls say it doesn't matter, it's how he uses it. What if a guy has no penis, but has three testicles and one of them lights up. Does he ever get any action?"
"The Brazilian wax. I've never seen it. I've heard of it. I usually show up months later, when whoever that was for, it didn't work out. It now looks angry down there."
"I actually saw my first gay porn recently. It was called Twilight: New Moon."
"Some people are against porno movies. I say, hey — whatever a man and a woman, and another woman with a penis and a midget do, that's their business."
"The embarrassing thing is being caught watching a porno movie. You quickly put on another channel. Then you're caught with no pants watching 'How to build a ladder.' Hey, I've got a wood fetish, I'm sorry."